11:53am: Billups met with Gilbert at least twice to discuss the Cavs' position, but didn't confer at all with LeBron James or LeBron's agent Rich Paul, writes Joe Vardon of Cleveland.com. According to Vardon, Cleveland's offer was believed to be in the range of $2-3MM annually, and Billups was seeking more.
11:24am: In his full report on Billups' decision, Wojnarowski passes along a statement from his ESPN colleague.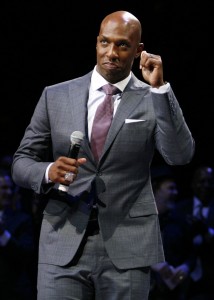 "I have great respect for [owner] Dan Gilbert and the Cleveland Cavaliers, and I greatly appreciate the discussions we had regarding their organization," Billups said. "As I have conveyed before, ultimately I would like to lead a team's basketball operation and be a part of a successful franchise. But presently, the timing just isn't right to delve into that role in Cleveland. In the meantime, I will continue to focus on broadcasting and my other business endeavors."
10:52am: Chauncey Billups, who was reportedly offered the top position in the Cavaliers' front office, has withdrawn from consideration, reports Adrian Wojnarowski of ESPN (via Twitter).
Cleveland extended an offer to Billups prior to last month's draft in the hopes of making him the team's new president of basketball operations, but the process has dragged since that point. The two sides reportedly went back and forth, with the former All-Star guard making a counter-offer to the club. But ultimately, it appears the Cavs and Billups couldn't agree on an arrangement that would work for both sides.
Reports had indicated that Billups had some apprehensions about the job, since he likes his current role as an NBA analyst and didn't necessarily want to uproot his family. He was also believed to have concerns about the fact that LeBron James could leave next summer, as well as the prospect of having to be objectively critical about head coach Tyronn Lue, who is a close friend.
ESPN's Jeff Goodman reports (via Twitter) that concerns about staffing and money may also have been sticking points for Billups, who has received a raise from ESPN, per Jeff Zillgitt of USA Today (Twitter links).
With Billups out of the mix, it's not clear who the next man up on the Cavs' wish list might be. In the wake of David Griffin's departure from the franchise last month, Cleveland quickly zeroed in on Billups, so no other candidates have really been linked to the job.
Since Griffin's exit, assistant general manager Koby Altman has essentially been serving as the de facto GM for Cleveland, making him a potential candidate for the full-time job. The team has reached tentative deals with Kyle Korver and Jose Calderon since free agency opened on Saturday.
Photo courtesy of USA Today Sports Images.