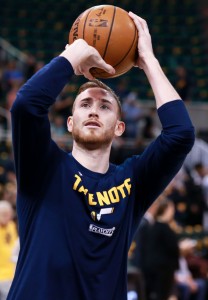 2:34pm: Hayward has changed his mind four times since Saturday, a source tells Tony Jones of The Salt Lake Tribune (Twitter link). Agents are speculating to Sean Deveney of The Sporting News that a sign-and-trade or possibly a separate Celtics deal is holding up a formal announcement (Twitter link).
2:25pm: Boston's offer is $127.8MM over four years, with a player option likely after the third season, reports A. Sherrod Blakely of CSNNE.
2:05pm: The leak regarding Hayward's decision may lead to a delay in his announcement, Himmelsbach tweets, with Bartelstein suggesting the situation may not be resolved today. "That was the goal," he said, "but now we've got to kind of regroup here a bit." 
Jazz president Steve Starks has tweeted a statement that reads, "We trust Gordon and his agent that no decision has been made. Good communication all day and a great relationship."
1:50pm: The Celtics haven't heard from Hayward yet, but they aren't denying the report from ESPN, tweets Mark Murphy of The Boston Herald. Sources are telling Adam Himmelsbach of The Boston Globe that the move is a formality and the teams just need to be notified (Twitter link).
1:40pm: Conflicting information is beginning to filter out concerning Gordon Hayward. David Aldridge of TNT claims Hayward has not reached a decision and is still weighing his options (Twitter link). Hayward's agent, Mark Bartelstein, says the same thing to Adrian Wojnarowski of ESPN.com. "Gordon hasn't made a decision yet," Bartelstein said. "We are still working through it." (Twitter link).
1:19pm: Gordon Hayward will announce today that he's signing with the Celtics, tweets Chris Haynes of ESPN.com.
The All-Star forward, who spent his first seven NBA seasons in Utah, was considered the top prize left on the free agent market. The Celtics, Jazz and Heat all held meetings with him over the past three days. The move will reunite him with Brad Stevens, his college coach at Butler.
Boston's belief that it had a shot at Hayward affected its decision to be conservative in its pursuit of Jimmy Butler and Paul George, according to Eric Pincus of Basketball Insiders (Twitter link).
With about $27MM in cap space, the Celtics don't have quite enough cap room to sign Hayward to a full max deal. Hayward could agree to accept a little bit less, or the Celtics could try to move some salary before the moratorium ends on Thursday. One path, Blakely tweets, is to pull their qualifying offer for Kelly Olynyk, renounce all their free agents, waive Jordan Mickey and Demetrius Jackson and trade away one other contract.
Hayward, 27, is coming off his best season, setting careers highs with 21.9 points and 5.4 rebounds per game. He gives the Celtics another dangerous shooter who can stretch defenses and share the scoring load with Isaiah Thomas.