A year after aggressively pursuing shooting guard Allen Crabbe as a restricted free agent, the Nets have landed their man. According to Adrian Wojnarowski of ESPN (Twitter link), the Trail Blazers are trading Crabbe to Brooklyn in exchange for forward Andrew Nicholson. Upon acquiring Nicholson, Portland will waive him and stretch his contract, Wojnarowski reports (via Twitter).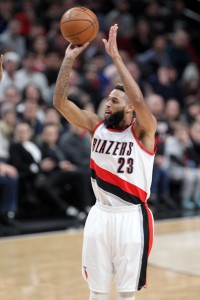 When Crabbe reached restricted free agency in 2016, he was one of a handful of players to sign an offer sheet with the Nets. That deal, worth nearly $75MM over four years, looked like an awfully steep price to pay for a player with 17 career starts to his name. However, the Blazers thwarted Brooklyn's attempts to poach Crabbe, matching the Nets' offer sheet and bringing him back to Portland.
A year later, that decision to match Crabbe's deal – while retaining other RFAs and adding Evan Turner – looks like it may have been a mistake. The Trail Blazers were in position to pay a huge tax penalty in 2018 if team salary remained as high as it was, and dumping a contract or two appeared to be an inevitability. By swapping Crabbe for Nicholson and stretching the $19MM+ left on Nicholson's contract over the next seven seasons, the Blazers will clear approximately $16.5MM from their 2017/18 cap, ending up only about $3MM above the tax threshold.
It remains to be seen if the Blazers have another move up their sleeves — the club has been linked to Carmelo Anthony, despite Carmelo's apparent unwillingness to waive his no-trade clause and accept a deal to Portland. Even if no second deal is coming though, the Blazers should be happy with this trade from a financial perspective. It will allow the club to shed more than $50MM in total projected salary and tax penalties.
From the Nets' perspective, the deal will allow them to land a player they loved at a slightly lesser cost, albeit a year after they had hoped to acquire him. Once the Blazers matched Crabbe's offer sheet last July, he was ineligible to be traded to Brooklyn for a full year, but once those 365 days passed, it made sense for the two teams to engage on trade discussions.
By sending out Nicholson in the swap, the Nets appear to have the cap room necessary to absorb Crabbe's salary without having to make any corresponding roster moves. According to Wojnarowski (via Twitter), Crabbe also waived his trade kicker, making things a little simpler for both teams. That decision will cost the 25-year-old some money, but he'll have a chance to assume a larger role in Brooklyn than he had in Portland.
In 79 games last season for the Blazers, Crabbe set new career bests with 10.7 PPG, 2.9 RPG, a .468 FG%, and a .444 3PT%. While it remains to be seen how Brooklyn's starting lineup will shake out, Crabbe figures to see plenty of minutes alongside D'Angelo Russell in a new-look Nets backcourt.
The Blazers will generate a trade exception worth $12,969,502 in the deal. That figures represents the difference between Crabbe's and Nicholson's salaries for 2017/18.
Photo courtesy of USA Today Sports Images.