JULY 13: The trade is now official, the Nets and Raptors announced today in a pair of press releases. Brooklyn receives Carroll, the Raptors' 2018 first-round pick, and the less favorable of the Lakers' and Magic's 2018 second-round picks. The Raptors receive Hamilton and create an $11.8MM trade exception.
JULY 8: The Raptors have agreed to trade DeMarre Carroll to the Nets in a salary-dump deal, reports Adrian Wojnarowski of ESPN. According to Wojnarowski, Brooklyn will receive first- and second-round picks for 2018 from the Raptors, and will send Justin Hamilton to Toronto.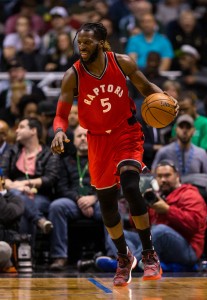 Even though they lost P.J. Tucker and Patrick Patterson in free agency, the Raptors' new agreements with Kyle Lowry and Serge Ibaka pushed them into luxury-tax territory. Team ownership had expressed a willingness to pay the tax in certain scenarios, but in this case, Toronto was believed to be looking for a way back below that threshold, having also reportedly shopped Cory Joseph and Jonas Valanciunas.
In Carroll, the Nets will be landing a veteran swingman who has battled health issues since leaving the Hawks in 2015. Carroll signed a lucrative four-year deal with the Raptors that summer, but only appeared in 26 games in his first season with the franchise, and never appeared to be back to his old self in 2016/17, despite starting 72 games. In 26.1 minutes per contest last season, Carroll averaged 8.9 PPG and 3.8 RPG, with a shooting line of .400/.341/.761.
Carroll is owed $14.8MM in 2017/18 and $15.4MM in 2018/19, while Hamilton's expiring contract is worth just $3MM. However, having had their offer sheet to Otto Porter matched by the Wizards, the Nets will have an excess of cap room to accommodate a salary dump of this nature, and should still have $15MM+ available if they want to pursue another free agent or take on another contract.
Meanwhile, the Raptors project to get out of tax territory by moving Carroll, and should have the flexibility to retain Joseph and Valanciunas, who are key pieces in their rotation. The team also still has its full mid-level exception available, though team salary isn't very far below the $119.266MM tax line, and using more than the taxpayer MLE would create a hard cap of $125.266MM. As such, the club may not be eager to use that MLE.
Hamilton, 27, will head to Toronto in the swap, coming off a career year for Brooklyn. The veteran center averaged 6.9 PPG and 4.1 RPG in 64 games (18.4 MPG) for the Nets. He also made a career-best 0.9 threes per game, albeit at a mediocre 30.6% rate. Hamilton could be an interesting addition to Toronto's frontcourt, but the Raptors figure to be on the lookout for help on the wing, with big-bodied swingman Carroll and Tucker both moving on this summer.
As for the draft picks changing hands in this deal, the Raptors' first-round pick heading to the Nets will be lottery-protected, per Jeff Zillgitt of USA Today (Twitter link). Toronto has already traded its own 2018 second-round pick, but holds the rights to the less favorable of the Lakers' and Magic's second-rounder, so that figures to be the other selection headed to Brooklyn.
The deal won't be finalized until the Nets' cap room for the Porter offer sheet officially opens back up.
Photo courtesy of USA Today Sports Images.