JULY 26, 5:07pm: The signing is official, according to the NBA's transactions log.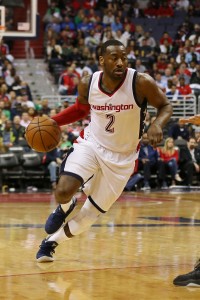 JULY 21, 9pm: The Wizards have agreed to sign guard John Wall to a four-year, $170MM extension, David Aldridge of TNT tweets. The deal will include a fourth-year player option and trade kicker that ESPN's Adrian Wojnarowski adds will be worth 15%.
The extension will take effect in 2019, at which point the All-Star's current deal will expire. Wall signed a five-year max extension back in the summer of 2013 just prior to the NBA's salary cap skyrocketing on the heels of a new TV deal.
As Zach Lowe of ESPN adds, one point worth noting is that this was a good time for Wall to lock in the extension. If he didn't make an All-NBA team in 2017/18 as he did in 2016/17, Wall would miss out on being eligible for the designated veteran extension supermax. The new contract mechanism rewards the league's superstars, opening them up to a higher tier compensation.
In 2016/17, Wall raised his game to a new level, playing a major role in the Wizards clawing their way back to contention in the Eastern Conference. The 26-year-old posted 23.7 points and 10.7 assists per game in 78 games.
Wall's major contract extension puts the Wizards in a precarious financial position, although the money that they've committed is primarily tied up in their own core. Per Bobby Marks of ESPN, Washington has $126MM, $126MM, $108MM and $98MM locked up over the next four respective seasons.
Photo courtesy of USA Today Sports Images.