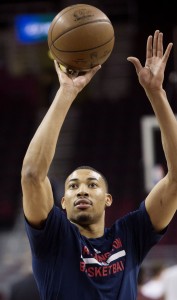 The Wizards announced they will match the Nets' four-year, $106.5MM offer to Otto Porter, tweets Candace Buckner of The Washington Post. Porter still has to pass a physical before the move becomes official, notes David Aldridge of TNT (Twitter link).
Washington had until 11pm Central to decide on the offer sheet, so the Wizards beat the deadline by about two hours. They had vowed to match any offer, even as Porter was negotiating with other teams.
The new contract will make Porter the team's highest-paid player next season with a $24.8MM salary, Buckner notes. It also pushes Washington above the luxury tax line for the first time ever.
The Wizards have $126.5MM in salary committed for the upcoming season with 13 guaranteed contracts and two non-guaranteed, along with an $11.4MM tax bill, posts Bobby Marks on ESPN Now.
The Nets' offer to Porter includes a 15% trade kicker and a player option for the fourth year, along with a provision stating that Porter will receive half of his annual salary by October 1st of each year.
By matching, Washington brings backs a key piece of last season's roster, as Porter appeared in 80 games, all as a starter, and averaged 13.4 points and 6.4 rebounds per night. He has been with the franchise since being taken with the third pick in the 2013 draft and has been a regular starter for the past two seasons.
For the Nets, it's the latest in a string of misses in restricted free agency. Over the past 12 months, Brooklyn has submitted offer sheets to Allen Crabbe, Tyler Johnson, Donatas Motiejunas and Porter, and all were matched by their current teams.
Tonight's decision won't free up the Nets' cap room right away. Porter has two days to undergo the team physical, then the Wizards have two more days to report the results to the league. So it's possible that Brooklyn's cap situation will not be resolved before Wednesday. Brooklyn will have $28.3MM once the process is complete, Marks posts.