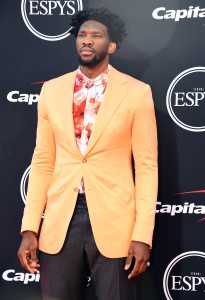 During the weeks leading up to TNT awards show in late June, one of the biggest mysteries was whether Sixers big man Joel Embiid would be named Rookie of the Year despite playing in just 31 games. Embiid clearly posted the biggest numbers and displayed more talent than any other first-year player in his limited body of work.
Ultimately, voters decided Embiid didn't play in enough games and handed the prize to Bucks guard Malcolm Brogdon.
The Sixers have an even bigger decision to make — does 31 games in three seasons equate to a max contract extension or something close to it?
That's the biggest dilemma currently hovering over the team's management, as it must determine what approach to take with the oft-injured Embiid. Virtually from the instant he finally took the court, Embiid essentially removed all debate over which of the three power forward/centers the Sixers invested high draft picks on in recent seasons — Embiid, Nerlens Noel and Jahlil Okafor — was the best of the trio.
Embiid averaged 20.2 PPG, 7.8 RPG and 2.5 BPG in those outings, even though the Sixers were being cautious about his minutes. In ESPN's Player Efficiency Rating, Embiid finished fifth among all centers. Embiid, whose career was stalled two full seasons by right foot ailments, still suffered another significant injury.
He was shut down at the beginning of March with torn meniscus and a bone bruise in his left knee. He underwent arthroscopic surgery later that month and has reached the point in his recovery where he's doing non-contract drills. He's expected to be ready for training camp and GM Bryan Colangelo has said that he anticipates Embiid will be able to play back-to-backs this season.
With all the time Embiid has spent in the trainer's room, it would be reasonable to assume that Sixers management would be reluctant to make a long-term commitment to him. Think again. Josh Harris, the team's managing owner, told reporters in late June he's focused on locking up Embiid before the October 31 extension deadline.
"Look, I'd just say we want Joel to be on the team for a long time," Harris said at the time. "We want us all to grow old together. That's the way I would put it."
How much would Harris and the rest of the ownership group have to fork over to max out Embiid? The current projection for a five-year max would be $147.9MM, while a four-year commitment would entail $114.24MM in resources.
If the Sixers could have any reasonable expectation that Embiid will stay in one piece for a majority of the next five or six seasons, the investment would pay off handsomely. With a core trio of point guard and top overall pick Markelle Fultz, point forward and 2016 top pick Ben Simmons and Embiid, Philadelphia projects to be one of the Eastern Conference's elite teams during that stretch.
It's hard to think that way with the injury issues that Embiid has endured since the tail end of his brief collegiate career at Kansas. Embiid missed the NCAA Tournament as a freshman with a back injury, then underwent his first foot surgery a week before Philadelphia selected him with the No. 3 overall pick in 2014.
It's been a long and ongoing process to get Embiid, who will make $6.1MM in the upcoming season, on the court since that point. If the Sixers decide to play it a little more cautiously, they could forego an extension to see how his health holds up and then extend a qualifying offer of $8MM next summer to make him a restricted free agent. Taking that approach would also allow the Sixers to see how Embiid's talents blend with Fultz and Simmons.
The Sixers would then have the option of matching any offer sheet but would also risk the possibility of Embiid gambling on his future and signing the qualifying offer. That would allow him to be unrestricted the following summer.
A more likely scenario is that the Sixers offer Embiid a max extension, or something very close to it, but insist on contractual protections in case his major injury problems persist. The easiest way to do that would be to purchase disability insurance on Embiid but as ESPN's Bobby Marks pointed out this spring, the Sixers probably won't have that option due to his injury history.
Instead, as Marks suggested, Philadelphia could follow the approach the Nets took when they re-signed another injury-riddled center, Brook Lopez. Under the multi-year terms of that deal, Brooklyn's contractual obligations would have been cut in half during the second year and down to 25% in the third year if Lopez had re-injured his right foot and wound up playing fewer than 60 games and averaging less than 15 minutes. The Sixers and Embiid's representatives could hash out similar minimums in terms of games and minutes played.
If the Sixers take that route, negotiations on an extension could get very sticky and go down to the wire. Should Embiid agree to such a deal, he'd once again be gambling on his health while allowing the club to hedge its bets. Philadelphia also has to be careful not to risk alienating a player who could be a perennial All-Star for years to come.
That's what makes Embiid's potential contract extension one of the league's most intriguing storylines right through training camp. He is the ultimate high-risk, high-reward Extension Candidate.