The Rockets can be forgiven for not coming to terms on a contract extension with 23-year-old Clint Capela so far this offseason, but despite the fact that the franchise is undergoing a change in ownership, the deadline for locking in fourth year players looms.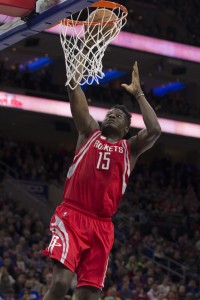 While Capela has been regarded as a low-key game-changer for Houston ever since a strong showing in the 2015 postseason, the steady strides that he's made ever since have put him firmly on the fringe of the mainstream hoops community's radar.
In 65 games for the Rockets last season, including 59 starts, Capela averaged 12.6 points and 8.1 rebounds per game. Those are per-minute production rates on par with some of the best versatile big men in the game. That the 6'10" center did so while shooting a staggering 64.3% from the floor puts him in a class of his own.
Houston will welcome Chris Paul this fall, and it's hard to imagine Capela's offense will do anything but continue to expand, considering the legendary playmaker's ability to work with athletic big men like Tyson Chandler and DeAndre Jordan.
Of course whether or not Capela has made a case for an extension is only half the battle. The team will need to justify spending the money, something that's not necessarily a given considering that the Rockets can so easily obliterate the luxury tax line in the coming years if they're not careful.
Per Kevin Pelton of ESPN (via ABC), Houston will presumably sign Paul to a max contract next summer. That, paired with James Harden's monster extension, will give the Rockets over $80MM in committed salary for their backcourt alone.
Throw in the fact that Houston will commit over $40MM to the trio of Ryan Anderson, Eric Gordon and P.J. Tucker through 2019/20 and it's not hard to forecast major luxury tax bills in new owner Tilman Fertitta's future.
Pelton projects that Capela and fellow free agent-to-be Trevor Ariza could seek a combined $20MM in salary (a figure that Capela alone could draw, if you ask me) and suddenly Houston runs the risk of annihilating the luxury tax line by nearly $20MM come 2019/20.
The Rockets, of course, could choose to let Ariza walk in the hopes of the recently acquired Tucker filling the role of scrappy perimeter defender, but even that scenario is complicated by the fact that Ariza and Paul have a close enough friendship to have supposedly influenced the trade that brought Paul over from the Clippers in the first place.
As Pelton suggests, the Rockets could make life considerably easier for themselves by finding a taker for the $60MM owed to Anderson through 2019/20. Doing so won't be easy though.
If Houston has a plan in place, it's not one that's been broadcast at this point in the offseason. In May, we discussed a rather innocuous quote from general manager Daryl Morey suggesting that it would be "normal business" to discuss an extension, but all has been silent since.
If the Rockets choose to hold off on extending Capela, the big man would become a restricted free agent next summer. While the 2018 offseason is projected to be slightly tamer than the ones we've seen over the past two years, it's hard to imagine Capela's value going anywhere but up, relative to where it is currently.
Relative, however, is the operative term. Should the parties decide to go that route, Capela will look to compete with potential free agent centers like Joel Embiid, Jusuf Nurkic and Nerlens Noel, all promising anchors for teams looking to build youthful cores at a time when available cap room, a bountiful resource in 2016 and 2017, normalizes.
So sure, at the end of the day, the Rockets may be able to sit tight on Capela in hopes of retaining him at a lower rate via restricted free agency next summer but doing so would run the risk of letting a team like the Nets extend to him a poison pill offer sheet that Houston would be pressured to match, lest they let a significant part of their core walk just in time for the last few great years Paul will have left in the tank.
Perhaps the best bet for the Rockets when the dust settles from the ownership transition, then, is to square things away with Capela at a generous rate prior to the contract extension deadline on October 16 and then challenge Morey with the task of making the numbers work before Paul's and Harden's annual salaries start escalating dramatically after next season.
Regardless, just how the team handles the Capela contract could really shed light on Fertitta's mentality with his new franchise. While it's only my speculation, it seems logical enough to infer that an individual who just spent $2.2B on a sports franchise (well over the projected value) wouldn't be opposed to shelling out extra luxury tax money to preserve one of the most talented cores of NBA players outside of the Bay Area.
Photo courtesy of USA Today Sports Images.