SEPTEMBER 25: The Knicks have officially traded Anthony to the Thunder for the package detailed below, the team announced today in a press release. In a separate announcement, the Knicks also confirmed they've waived Chasson Randle – as expected – in order to create room on their roster to accommodate the incoming players from Oklahoma City.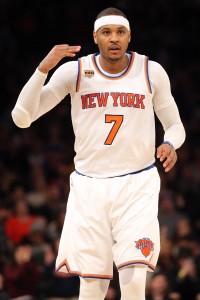 SEPTEMBER 23: The Knicks have reached an agreement with the Thunder that will send Carmelo Anthony to Oklahoma City, reports Adrian Wojanrowski of ESPN (Twitter links). According to Wojnarowski, New York will receive Doug McDermott and Enes Kanter in the deal, along with a draft pick. Shams Charania of The Vertical (Twitter link) indicates that pick will be the Bulls' 2018 second-rounder.
The trade call will officially take place Monday, Wojnarowski adds, as Russell Westbrook and Paul George were successful in their lobbying efforts to get Anthony to waive his no-trade clause for the Thunder (Twitter link). Carmelo also has a relationship with top Thunder executive Troy Weaver, who recruited him to Syracuse a decade and a half ago.
Anthony has agreed to waive his $8.1MM trade kicker, since the deal wouldn't have worked otherwise, according to ESPN's Bobby Marks (Twitter link). Anthony will retain his no-trade clause with the Thunder (Twitter link). Taking on his $26,243,760 salary will increase OKC's projected luxury tax payment by $12.4MM, up to a total of $27.8MM (Twitter link).
The Knicks were at the maximum of 20 players before the trade, so a roster move will have to be made by Monday in order to make room for the extra incoming player. New York has five non-guaranteed players coming to camp, so one of them will likely be waived.
The Knicks will incur Kanter's 15% trade bonus of $2.68MM, which pushes his cap hit for this season to $20.56MM (Twitter link). Kanter also has an $18.6MM player option for 2018/19 — his kicker doesn't apply to that salary since trade bonuses don't affect team or player option years. As for McDermott, he's making $3.3MM in the final year of his rookie contract and is eligible to receive an extension until October 16. He'll be on track to become a restricted free agent next summer if no agreement can be reached this year.
The Thunder obviously made the move with an eye toward winning this season, but it creates a fascinating scenario for the future of the franchise. Anthony, Westbrook and George are all currently eligible to become unrestricted free agents next summer, so this could be a one-year experiment.
Of course, the Thunder currently have an extension offer on the table for Westbrook, and Anthony has a lucrative player option for 2018/19, so there's no guarantee there will be a mass exodus out of OKC after this season. Still, it would be difficult financially to retain all three players — Marks estimates the cost of keeping all three would bring the Oklahoma City payroll to $157MM with an additional $143MM in taxes (Twitter link).
For the Knicks, it closes a long chapter in their troubled relationship with Anthony, who was hailed as a franchise savior when he was acquired from the Nuggets in 2011. He never delivered the playoff success that was expected and became the target of public criticism from former team president Phil Jackson. Having expressed a desire to go to the Rockets for most of the 2017 offseason, Anthony expanded his list of preferred teams this week, adding Cleveland and Oklahoma City, which allowed the Knicks to get something done.
New York has now fully committed to the rebuilding project that the new management team outlined when it took over. The Knicks were reluctant to trade Anthony to the Cavaliers because they wanted him out of the Eastern Conference, according to TNT's David Aldridge (Twitter link), although it's hard to understand why, giving the team's remote playoff chances. Even though Jackson was dismissed this summer, hard feelings with Carmelo remained and the organization wanted a fresh start (Twitter link).
The trade of Anthony represents the culmination of an eventful offseason that saw many of the East's best players join new clubs. Anthony is the sixth player from 2017's Eastern Conference All-Star squad to change teams, following in the footsteps of George, Jimmy Butler, Paul Millsap, Isaiah Thomas, and Kyrie Irving. Anthony, George, Butler, and Millsap all moved over to the Western Conference.
Photo courtesy of USA Today Sports Images. Luke Adams contributed to this post.