3:50pm: The Grizzlies have issued a press release formally announcing that they've parted ways with Fizdale.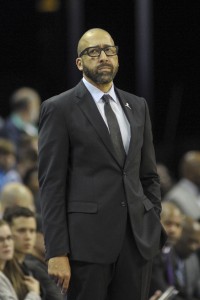 "After a thorough evaluation, I decided a change in course was necessary to move forward and provide the team and organization its best chance at success this season and beyond," Grizzlies general manager Chris Wallace said in a statement. "Coach Fizdale represented the Grizzlies and City of Memphis proudly, and we wish him well as he continues his career."
3:26pm: The Grizzlies have fired head coach David Fizdale, according to ESPN's Adrian Wojnarowski. Associate head coach J.B. Bickerstaff will take over as Memphis' interim head coach with Fizdale gone, Wojnarowski reports.
Fizdale's ouster comes as a surprise, but the Grizzlies hit a low point on Sunday when a home loss to Brooklyn extended the team's losing streak to eight games. In the wake of that defeat, star center Marc Gasol questioned Fizdale's decision to bench him in the fourth quarter, expressing anger and confusion at not getting to play while the game slipped away from the Grizzlies.
Still, Fizdale did a solid job last season in his first stint as a head coach, leading the Grizzlies to a 43-39 record and a playoff berth. The team had also gotten off to a good start this season, winning seven of its first 11 games despite losing veteran leaders Zach Randolph, Vince Carter, and Tony Allen in the offseason. Memphis' recent losing skid has taken place with standout point guard Mike Conley sidelined due to an Achilles injury.
Given Fizdale's respectable on-court results, it seems probable that the Grizzlies made the change due to concerns about his relationship with Gasol and other Memphis players. According to ESPN's Jonathan Givony (Twitter link), the word out of Memphis in the offseason suggested that Gasol and Fizdale were already on poor terms, with some confrontations taking place in practice. Firing Fizdale this early in the season should send a signal to Gasol that the franchise is fully committed to its veteran center.
Before joining the Grizzlies, Fizdale as served a highly-regarded assistant coach in Miami, and Chris Mannix of The Vertical suggests (via Twitter) that it wouldn't be surprising to see him eventually rejoin the Heat. However, it's not clear if Fizdale will seek out a new job as soon as possible or if he'll wait until after the 2017/18 season to try to return to the coaching ranks.
As for Bickerstaff, this is the second time in the last three seasons that he'll take over as the interim head coach of an NBA team. Following Kevin McHale's ouster in Houston in November 2015, Bickerstaff – a veteran assistant with the Rockets at the time – assumed head coaching duties. However, when the Rockets sought out a permanent head coach after the season, Bickerstaff withdrew his name from consideration as the team opted to hire Mike D'Antoni.
After a year in which no NBA team made a coaching change, Fizdale is the second head coach to be dismissed since the 2017/18 season began — Earl Watson of the Suns was the first.
Photo courtesy of USA Today Sports Images.