3:32pm: The Bucks have issued a press release confirming that they've officially relieved Kidd of his head coaching duties.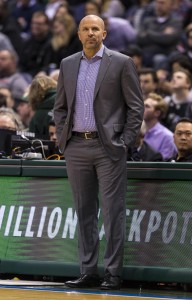 "We appreciate everything that Jason has done for the Bucks organization, but we have decided to make a coaching change," Horst said in a statement. "We believe that a fresh approach and a change in leadership are needed to continue elevating our talented team towards the next level, bringing us closer to our goal of competing for championships."
3:03pm: The Bucks have parted ways with head coach Jason Kidd, reports ESPN's Adrian Wojnarowski (via Twitter). According to Wojnarowski, assistant Joe Prunty will take over for Kidd as the interim coach in Milwaukee, beginning with tonight's game against the Suns.
Unlike Earl Watson (Suns) and David Fizdale (Grizzlies), who were the first two coaching casualties of the 2017/18 NBA season, Kidd wasn't at the helm of a lottery-bound team — the Bucks currently hold the No. 8 spot in the Eastern Conference. Still, Milwaukee only has a one-game cushion on ninth-seeded Detroit, and would be out of the playoff picture for the time being if not for the Pistons' five-game losing streak.
Given the expectations for the Bucks coming into the season – not to mention the in-season trade for Eric Bledsoe – team leadership was disappointed with the team's mediocre 23-22 record so far, according to Wojnarowski (via Twitter). Woj adds that "frayed relationships" within the organization and "general non-alignment" also contributed to Kidd's dismissal.
After coaching the Nets to a 44-38 record in 2013/14, Kidd made the move to Milwaukee, where he has coached the Bucks for the last three and a half years. During that time, he compiled a 139-152 record, leading the Bucks to a pair of playoff appearances — the team was ousted in the first round in both 2015 and 2017.
During that 2017 first-round loss to the Raptors, the young Bucks took a 2-1 lead and flashed tantalizing promise, prompting many NBA observers to forecast bigger and better things from the team this season. Despite Giannis Antetokounmpo's MVP-level play so far though, the Bucks have been up and down overall, particularly on the defensive end — as TNT's David Aldridge tweets, Milwaukee is currently tied for 24th in the NBA in defensive rating.
Antetokounmpo's presence will make the Bucks' head coaching job one of the most sought-after NBA roles this summer, though it will be interesting to see how the Greek Freak reacts to today's news. ESPN's Chris Haynes tweets that Antetokounmpo is "devastated" by Kidd's firing, with ESPN's Ramona Shelburne adding (via Twitter) that Giannis is close with Kidd and trusts him. Gery Woelfel of The Racine Journal Times doesn't contradict those accounts, but offers a different perspective, tweeting that Kidd "didn't endear himself to many players, including some of the important ones."
While Kidd reportedly had a lot of influence with Bucks ownership earlier in his tenure, that influence eroded significantly over the last year, according to Chris Mannix of Yahoo Sports (Twitter link). Milwaukee's ownership group is made up of three co-owners who often have differing opinions, so their levels of support for Kidd may have varied. Still, the club's decision to promote Jon Horst to general manager in the offseason might have been a signal that Kidd's influence was waning — Kidd was believed to have supported Justin Zanik, who was passed over for the GM job and ultimately left the organization.
Photo courtesy of USA Today Sports Images.