We've reached a point in the 2017/18 season where some front offices are facing a fork in the road, with one clearly preferable long-term path for their franchises' futures. Several of the clubs that find themselves atop our Reverse Standings have already begun to look past this season and into the future. Today, we're going to take a look at some of these bottom-dwellers from a fantasy perspective.
The Kings are one club that has started to focus on the long-term view. The team's plan is to sit at least two veteran players in every remaining game this season. The group of veterans includes George Hill, Kosta Koufos, Garrett Temple, Vince Carter, and Zach Randolph.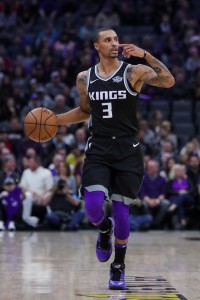 While the initial reaction is that all these vets lose value (and they do overall), there's an opportunity to be found in Sacramento's strategy. With two-plus players sitting out, it means the other players in the rotation are getting more run.
Hill, for example, stuffed the stat sheet in 37 minutes of action against the Jazz on Wednesday, as Carter and Temple watched from the sidelines. Hill accumulated 20 points, five assists and four rebounds and three steals in the loss and he should continue to be a fantasy contributor in games he plays.
Hill (available in over 77% of ESPN leagues) and Randolph (available in over 37%) are the only players of the bunch who should be considered for a roster spot in season-long leagues, and if I had to pick one, I'd take Hill over Randolph going forward. I have no problem giving Randolph one of my rotating spots at the end of the fantasy roster where players are added and dropped based on whether their teams play on a given night — I'd worry more about losing Hill in those daily shuffles.
Yet, any of the five Kings veterans could give you a spot start on nights they are suiting up. It's going to be frustrating to keep track of who's playing and who's not, but there's an edge to be had for those who take on the headache.
Here's more from the league's ping-pong hopefuls:
The Magic—owners of the worst record in the league—are expected to be sellers at the trade deadline and that could impact many of their players' values. Evan Fournier, one of many Southeast Division players who could be on the move, is reportedly being shopped.
Nikola Vucevic has been out of the Magic's lineup since late last month and his absence is giving Elfrid Payton more control of the offense. Payton has a usage rate of 22.9 since Vucevic went down (compared to just 20.2 prior) and he's seeing an uptick in points (16.1 vs. 11.3) and shooting percentage (54.2% vs. 50.2%). The point guard is also seeing a spike in assists, rebounds, and steals. With restricted free agency looming for Payton, Orlando figures to listen to any offers for him.
Dewayne Dedmon, who's available in roughly 77% of ESPN leagues, is averaging 8.4 points and 8.2 rebounds since returning to the court for the Hawks. Dedmon is a solid streaming option, though as Luke Adams of Hoops Rumors noted this week, he's a candidate to be traded before the deadline.
Ersan Ilyasova is also a candidate to be dealt, meaning there's a chance that the Hawks' frontcourt opens up and rookie John Collins gets more opportunity down the stretch. Collins is available in over 65% of ESPN leagues.
Bogdan Bogdanovic is owned in just under 30% of ESPN leagues, but that figure needs to be higher. The rookie is expected to continue to get steady minutes for the Kings, and he should be able to make the most out of his opportunities. Bogdanovic did just that against the Jazz on Wednesday, scoring a career-high 25 points.
Tyson Chandler signed a four-year, $52MM deal with the Suns back in the summer of 2015 and it seems like a tradition that every year the team takes his playing time and redistributes it to the team's youngsters. That hasn't happened quite yet in the 2017/18 season, and Marquese Chriss' hip ailment – which figures to keep him out for a matter days, if not weeks – contributes to the delay. Chandler remains an asset in the rebounds department, averaging 11.2 during the month of January (eighth-most in the league) and he should be available (as he is in over 88% of ESPN leagues) for those who need help in that category in Roto leagues.
Missed an earlier edition of Fantasy Hoops? Check out the entire series here.
Fantasy questions? Take to the comment section below or tweet me at @CW_Crouse.
Statistics are current through Friday morning. Photo courtesy of USA Today Sports Images