Al Jefferson's second season with the Pacers reminds him of his first season with the now-defunct Bobcats four years ago. Neither team was expected to be in playoff contention, but 57 games into the 2017/18 campaign, the 32-25 Pacers – currently in sixth place in the Eastern Conference — are on track for the postseason.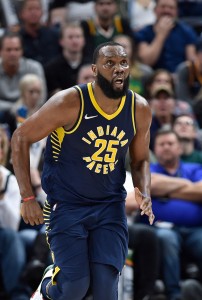 "Yeah man, it reminds me of my first year in Charlotte during the 2013/14 season," Jefferson said to Hoops Rumors in an exclusive interview before Wednesday's first-half finale against the Nets. "No one counted us, nobody thought we would be good, and nobody thought we would be a playoff team. We became a playoff team and did well."
The Bobcats won just 28 total games in the two years before Jefferson signed a three-year, $40.5MM pact with Charlotte. Conversely, the Pacers began their post-Paul George era with reduced expectations and unanswered questions. Would Victor Oladipo and Domantas Sabonis be a sufficient return for George? Can a team without an established star compete in the East? Could young players like Myles Turner take a step forward?
So far, the answer has been yes across the board.
Jefferson has 14 years in the NBA and five trips to the postseason to his credit. This season, the 33-year-old has accepted the role of reserve center and mentor. He has appeared in just 28 games, averaging 6.5 PPG and 3.8 RPG in 13.6 minutes per game – all career-lows.
The Pacers reportedly explored several trades at the deadline and Jefferson's name was floated in discussions. Ultimately, the organization stood pat as the deadline passed. Jefferson and other Pacers players were happy that ownership allowed the current group to continue its playoff push.
"People counted us out from the beginning and nobody thought we would be where we are now," Jefferson said. "We have a great group of guys that plays hard, that plays together, and wants to win, and nobody cares about anything else but winning."
Pacers general manager Kevin Pritchard shared the sentiment.
"They feel like they are overachieving and had a little bit of a chip on their shoulder," Pritchard told reporters, including The Indianapolis Star's Jim Ayello on Sunday. "They wanted to have the opportunity to finish this out and try to get into the playoffs. That carried a lot of weight with me."
At the All-Star Game this weekend, the Pacers will be represented by Oladipo, who is just the second Pacer not named Paul George to make the team since 2011. Indiana has also played well against the NBA's upper echelon, with wins over the Celtics, Spurs, and Cavaliers to the club's credit.
It will be a challenge to maintain their first-half level of play but Jefferson maintains the same confidence in the Pacers that Pritchard had when he decided to keep the band together.
"I think when you've got guys like that and a great coaching mindset like the coaching staff we've got, I think we could do something very special," Jefferson said. "I'm a believer in taking it one game at a time and seeing how far you can go."