It has been four months since we published the second installment of our 2018 free agent power rankings. Since then, we've seen certain players emerge and others fall off. Injuries have also had an impact on the outlook for certain free agents this offseason.
As such, it's time for our 2018 free agent power rankings to get an update. This time around, I've enlisted a little help for determining our rankings. Hoops Rumors writers Arthur Hill, Dana Gauruder, Austin Kent, and Clark Crum have added their top-20 lists to my own, so our new rankings reflect a combination of all five lists.
Players who are headed for unrestricted or restricted free agency are eligible for our list, as are veterans holding player options for the 2018/19 season. For the most part, players with team options – or on non-guaranteed salaries – aren't included here, since their teams will simply pick up those options if they want to keep those players. However, there's one exception in our top five, which we'll note below.
As usual, our list reflects each player's current expected value on the 2018 free agent market, rather than how we think they'll perform on the court for the 2018/19 season. For instance, an older player like J.J. Redick has excellent short-term value, but didn't make our top 20 because he's unlikely to sign a huge multiyear deal this summer. In other words, age and long-term value are crucial.
Our full list of 2018 free agents can be found right here.
Here's the third edition of our 2018 free agent power rankings: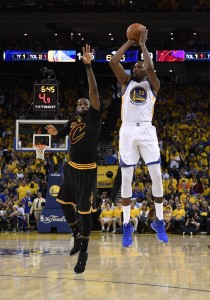 LeBron James, F, Cavaliers (player option)
Kevin Durant, F, Warriors (player option)
There's no question that James and Durant, the MVPs of the last two NBA Finals, are the top two free agents in the 2018 class. The only question is which player comes in at No. 1 — three of us listed James in that top spot, while two of us had Durant there.
Of course, there may not be much point in debating Durant's place in the list, since he has confirmed he intends to re-sign with Golden State and won't explore the open market. That leaves LeBron as this summer's most tantalizing target.
Paul George, F, Thunder (player option)
Nikola Jokic, C, Nuggets (team option; RFA)
Chris Paul, G, Rockets
DeMarcus Cousins, C, Pelicans
After a consensus top two, we have what essentially amounts to a consensus next four. Cousins' Achilles injury makes him something of a question mark, and likely cost him a higher spot on this list — a healthy Cousins may have ranked as high as No. 3. Still, his top-six ranking reflects our confidence that he'll be able to return from that injury and make a long-term impact for the Pelicans or a new team.
Jokic is the only player with a team option included in our list. While it may seem like a no-brainer for the Nuggets to exercise his incredibly team-friendly $1,600,520 option, doing so would put the big man on track to reach unrestricted free agency in 2019. Turning down the option would give Denver the chance to lock him up as a restricted free agent this summer. No matter which route the Nuggets choose, Jokic is extremely unlikely to change teams this offseason.
Clint Capela, C, Rockets (RFA)
DeAndre Jordan, C, Clippers (player option)
It's hard to know exactly how much of Capela's value stems directly from playing with James Harden and Chris Paul in a Mike D'Antoni system. It's entirely possible that his impressive numbers (14.3 PPG, 11.0 RPG, 1.8 BPG, .654 FG%) would take a hit in another situation. But we found it hard to overlook Capela's age (23) and the strides he has made in each of his four NBA seasons. He should be one of the most sought-after restricted free agents of 2018.
Jordan's skill-set is fairly similar to Capela's, but he'll turn 30 in July and there's some uncertainty about whether he's still a perennial Defensive Player of the Year candidate — his 1.2 blocks per 36 minutes this season are easily a career-worst. He'd do very well on the open market, but a long-term max deal is doesn't seem realistic.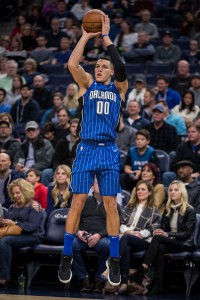 Aaron Gordon, F, Magic (RFA)
Julius Randle, F, Lakers (RFA)

Zach LaVine, G, Bulls (RFA)
Jabari Parker, F, Bucks (RFA)
Only four players signed rookie scale extensions during the 2017 offseason, which means there are plenty of 2014 first-rounders on track to reach restricted free agency this summer. Gordon, Randle, LaVine, and Parker are four of the best ones.
Gordon and Randle have enjoyed breakout seasons in 2017/18, with Gordon adding a fairly reliable three-point shot to his game en route to posting career highs in PPG (18.3), RPG (8.4), and several other categories. As for Randle, he has been particularly effective since entering the Lakers' starting lineup for good on December 29 — since then, he has recorded 17.9 PPG, 9.0 RPG, 3.2 APG, and a .566 FG% in 31 contests.
LaVine and Parker have major upside and could still turn into two of the league's best scorers, but ACL injuries have limited their development this season. The Bulls look like a virtual lock to re-sign LaVine, but Parker's future in Milwaukee is a little more uncertain. It will be interesting to see how heavily the Bucks are willing to invest in the former No. 2 pick this summer.
Tyreke Evans, G, Grizzlies
Enes Kanter, C, Knicks (player option)
A pair of players who didn't crack the top 20 in the first two versions of our 2018 free agent power rankings have earned spots on this list with strong 2017/18 performances.
Evans has once again battled some injuries, but when he's been on the court, he's been terrific for the Grizzlies, averaging 19.4 PPG, 5.1 APG, and 5.1 RPG with a shooting line of .453/.396/.797. Memphis is hoping to re-sign him this offseason, but it remains to be seen whether the mid-level exception will be enough to do it.
As for Kanter, some of his numbers don't look dissimilar to the ones he posted last season in Oklahoma City, but he has been doing it against starting units this season in New York, rather than simply as a scorer off the bench. Kanter's 10.8 RPG (in just 25.9 MPG) represent a career best, and he has received rave reviews as a teammate and locker-room presence with the Knicks. It's still possible he'll exercise his $18,622,514 player option for next season and put off free agency for one more year, but that's certainly not the lock it once was.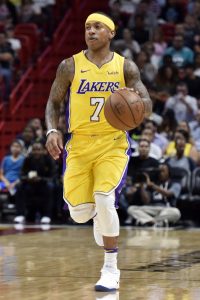 Jusuf Nurkic, C, Trail Blazers (RFA)
Isaiah Thomas, G, Lakers
Elfrid Payton, G, Suns (RFA)
Kentavious Caldwell-Pope, G, Lakers
Derrick Favors, F/C, Jazz
Avery Bradley, G, Clippers
Our list is rounded out by several players whose stocks aren't at their peak. Nurkic and Thomas had a chance to be top-10 free agents for 2018 with big seasons, but Nurkic has just been solid in Portland, while Thomas' hip issue has affected his playmaking ability.
Payton and Favors, former top-10 picks, have been somewhat inconsistent, but have looked good lately as they near free agency. Payton, in particular, has been a nightly triple-double threat since arriving in Phoenix (15.7 PPG, 7.7 RPG, 7.6 APG), though he has yet to show that he can do more than post big numbers on losing teams — Favors, at least, has displayed the ability to have a regular role on a playoff team.
Caldwell-Pope and Bradley, meanwhile, were once viewed as potential $20MM-per-year players, but I'm not sure that sort of offer will be out there for them this summer. Caldwell-Pope has the age and size advantage over Bradley, and has a career-high 3PT% (.386) this season, so he may have a better shot at a big payday.
Other players receiving votes:
Photos courtesy of USA Today Sports Images.