The Knicks have dismissed head coach Jeff Hornacek, reports ESPN's Adrian Wojnarowski. According to Wojnarowski, team management informed Hornacek of its decision upon returning to New York late Wednesday night following the Knicks' win in Cleveland. The club has since confirmed the move.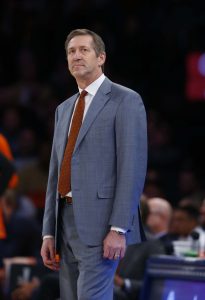 Hornacek, who previously coached the Suns, was hired by the Knicks in 2016. He took the reins from interim head coach Kurt Rambis., who stayed on as an assistant until he was also relieved of his duties today, per Marc Berman of The New York Post (Twitter link). In two seasons with the franchise, Hornacek led the Knicks to a 60-104 record (.366), missing the playoffs in consecutive years.
Having been hired by former Knicks president Phil Jackson, Hornacek was considered to be on the hot seat for much of the 2017/18 season. Expectations for the Knicks weren't high entering the year, particularly after the trade that sent Carmelo Anthony to Oklahoma City in September, so the team's 29-win showing wasn't necessarily a major disappointment. Still, there was a belief that the new regime – led by president Steve Mills and GM Scott Perry – would want to bring in its own head coach to lead the next stage of New York's rebuild.
It's not yet clear if there's a frontrunner to replace Hornacek on the Knicks' bench, but a few potential candidates – including Mark Jackson, David Blatt, and David Fizdale – have been mentioned multiple times over the past couple months. The Knicks plan to contact those three veteran coaches, league sources tell Wojnarowski.
In a piece for The New York Daily News on Wednesday, Frank Isola identified Doc Rivers, Jeff Van Gundy, and Jerry Stackhouse as other possible options to replace Hornacek. Wojnarowski confirms (via Twitter) that Stackhouse is on the Knicks' list of candidates to contact.
Isola also cited a source who named current Knicks VP of player development Craig Robinson as a "long-shot candidate" to move to the head coach position. While that scenario seems unlikely, Robinson was formerly a college head coach at Brown and Oregon State.
Hornacek is the fourth head coach fired by an NBA team during the 2017/18 league year, joining Earl Watson (Suns), Fizdale (Grizzlies), and Jason Kidd (Bucks). Phoenix, Memphis, and Milwaukee have hired interim coaches for now, but figure to conduct full-fledged searches soon, so the Knicks may have to compete with those clubs as they look to schedule interviews.
Photo courtesy of USA Today Sports Images.