The Timberwolves cashed in their cap space during the 2017 offseason, signing Jeff Teague and Taj Gibson to lucrative deals and trading for Jimmy Butler. With Andrew Wiggins now locked up to a max extension, and a new max contract for Karl-Anthony Towns likely to follow, it may be a while before Minnesota has cap room available again.
Here's where things currently stand for the Timberwolves financially, as we continue our Offseason Salary Cap Digest series for 2018:
Guaranteed Salary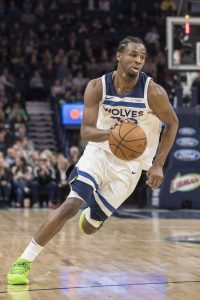 Andrew Wiggins ($25,250,000)1
Jimmy Butler ($20,445,779)
Jeff Teague ($19,000,000)
Gorgui Dieng ($15,170,787)
Taj Gibson ($14,000,000)
Karl-Anthony Towns ($7,839,435)
Justin Patton ($2,667,600)
Tyus Jones ($2,444,053)
Cole Aldrich ($2,056,021) — Partial guarantee. Non-guaranteed portion noted below.2
Kevin Martin ($1,360,304) — Waived via stretch provision

Total: $110,233,979

Player Options
Team Options
Non-Guaranteed Salary
Cole Aldrich ($4,900,000) — Partial guarantee. Guaranteed portion noted above.2
Total: $4,900,000

Restricted Free Agents
Nemanja Bjelica ($4,937,499 qualifying offer / $7,504,998 cap hold): Bird rights
Marcus Georges-Hunt ($1,699,698 qualifying offer / $1,699,698 cap hold): Non-Bird rights
Amile Jefferson ($1,537,872 qualifying offer / $1,537,872 cap hold): Non-Bird rights
Anthony Brown ($1,499,698 qualifying offer / $1,499,698 cap hold): Non-Bird rights3
Total: $12,242,266
Unrestricted Free Agents / Other Cap Holds
Jamal Crawford ($5,193,600): Non-Bird rights4
No. 20 overall pick ($2,142,395)
Aaron Brooks ($1,499,698): Non-Bird rights
Derrick Rose ($1,499,698): Non-Bird rights
Total: $10,335,391
Projected Salary Cap: $101,000,000
Projected Cap Room: None

If we assume the Timberwolves waive and stretch Aldrich and keep their other eight players with guaranteed salaries, we can add cap charges for their first-round pick and three empty roster slots to arrive at a total team salary of $113,499,626. That takes the Wolves well over the cap, and projects to take them near the luxury tax line too if they want to use most or all of their mid-level exception.
The Timberwolves currently only have about $43MM in guaranteed money on their books for 2019/20. However, once Teague's $19MM player option and new contracts for Butler and Towns are added to that total, Minnesota projects to have no cap room for the foreseeable future, barring major roster changes.
Footnotes:
Wiggins will have a maximum salary worth 25% of the salary cap. This projected max salary is based on a $101MM cap, but it could be higher or lower depending on where the cap lands.
Aldrich's salary becomes fully guaranteed after June 20.
Brown, who was on a two-way contract, is eligible for a qualifying offer equivalent to a standard, minimum-salary NBA contract, since he's no longer eligible to sign another two-way deal.
Crawford has reportedly decided to decline his 2018/19 player option worth $4,544,400.
Note: Rookie scale cap holds are estimates based on salary cap projections and could increase or decrease depending on where the cap lands.
Salary information from Basketball Insiders was used in the creation of this post. Photo courtesy of USA Today Sports Images.