The Thunder went all-in during the 2017 offseason, trading four key rotation players for Paul George and Carmelo Anthony. While George had a strong season, Anthony looked like a shell of his former self. Now, the Thunder will have to figure out how to bring back George and avoid paying Anthony upwards of $28MM in 2018/19.
Here's where things currently stand for the Thunder financially, as we continue our Offseason Salary Cap Digest series for 2018:
Guaranteed Salary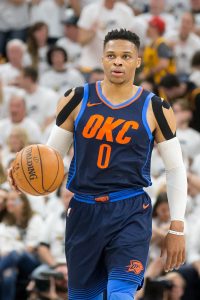 Russell Westbrook ($35,350,000)1
Steven Adams ($24,157,304)
Andre Roberson ($10,000,000)
Alex Abrines ($5,455,236)
Patrick Patterson ($5,451,600)
Kyle Singler ($4,996,000)
Terrance Ferguson ($2,118,840)
Dakari Johnson ($1,378,242)
Total: $88,907,222

Player Options
Team Options
Non-Guaranteed Salary
Restricted Free Agents
Unrestricted Free Agents / Other Cap Holds
Josh Huestis ($2,243,326): Bird rights
Corey Brewer ($1,499,698): Non-Bird rights
Nick Collison ($1,499,698): Bird rights3
Raymond Felton ($1,499,698): Non-Bird rights
Jerami Grant ($1,499,698): Bird rights
Total: $8,242,118
Projected Salary Cap: $101,000,000
Projected Cap Room: None

While the Thunder currently have less than $89MM in guaranteed salary on their books, Anthony's early termination option essentially eliminates the opportunity for cap room. And if the Thunder want to re-sign George after he declines his player option, they'll have to keep a massive cap hold on their books to retain his Bird rights. Even if George were to depart and Anthony were to be waived and stretched, the Thunder's total team salary would still be $101,541,846 (eight guaranteed salaries, Anthony's dead money, and cap charges for four empty roster spots).
If the Thunder had to account for Anthony's option and a max contract for George, team salary would balloon to $147,135,362 for only 10 players. That's simply not feasible for a small-market team, so if George wants to return, Anthony will have to go, via either trade, buyout, or stretch provision.
Footnotes:
Westbrook will have a maximum salary worth 35% of the salary cap. This projected max salary is based on a $101MM cap, but it could be higher or lower depending on where the cap lands.
Anthony's option is technically an early termination option. However, it essentially functions the same as a player option does. To opt into the final year of his contract, he'll simply have to decline his option to terminate it early.
Collison has announced his retirement.
Note: Rookie scale cap holds are estimates based on salary cap projections and could increase or decrease depending on where the cap lands.
Salary information from Basketball Insiders was used in the creation of this post. Photo courtesy of USA Today Sports Images.