After compiling a 75-253 (.229) record during Brett Brown's first four seasons in Philadelphia, the Sixers would have considered it a success to crack .500 and sneak into the playoffs in 2017/18. Instead, the club surpassed expectations by racking up 52 wins, earning the No. 3 seed in the East, and winning a playoff series, as Joel Embiid and Ben Simmons established themselves as NBA stars. With cap room to spare this summer, Philadelphia has the opportunity to add another major piece to its ultra-talented core.
Here's where things currently stand for the Sixers financially, as we continue our Offseason Salary Cap Digest series for 2018:
Guaranteed Salary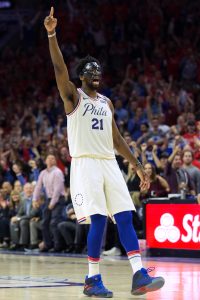 Joel Embiid ($25,250,000)1
Robert Covington ($10,464,092)
Jerryd Bayless ($8,575,916)
Markelle Fultz ($8,339,880)
Ben Simmons ($6,434,520)
Dario Saric ($2,526,840)
Justin Anderson ($2,516,048)
Furkan Korkmaz ($1,740,000)
Timothe Luwawu-Cabarrot ($1,544,951)
Total: $67,392,247

Player Options
Team Options
Non-Guaranteed Salary
Restricted Free Agents
Unrestricted Free Agents / Other Cap Holds
J.J. Redick ($27,600,000): Non-Bird rights
Amir Johnson ($13,200,000): Non-Bird rights
No. 10 overall pick ($3,522,533)
Anzejs Pasecniks ($1,746,957)4
No. 26 overall pick ($1,689,080)
Marco Belinelli ($1,499,698): Non-Bird rights
Ersan Ilyasova ($1,499,698): Non-Bird rights
Total: $50,757,966
Projected Salary Cap: $101,000,000
Projected Cap Room: $25,195,100

Our cap projection for the Sixers includes their nine guaranteed contracts, team options for Holmes and McConnell, and the cap holds for their two first-round picks. It adds up to a total team salary of $75,804,900.
That cap projection involves renouncing all their own free agents – including Redick – and still doesn't leave the 76ers with enough cap space for potential targets like LeBron James ($35.35MM) or Paul George ($30.3MM). Still, there are ways for the team to carve out more room. For instance, if they were to eliminate the cap charges for Bayless and their two first-round picks via trades (or draft-and-stash picks), the Sixers would have approximately $37.3MM in space.
Footnotes:
Embiid will have a maximum salary worth 25% of the salary cap. This projected max salary is based on a $101MM cap, but it could be higher or lower depending on where the cap lands.
Holmes' salary will remain non-guaranteed after his option is exercised.
McConnell's salary will remain non-guaranteed after his option is exercised.
Pasecniks was the Sixers' 25th overall pick in 2017, meaning his cap hold is equal to the rookie scale amount for this year's No. 25 pick. That cap hold will be removed if it's officially determined that Pasecniks won't sign with the Sixers for 2018/19.
Note: Rookie scale cap holds are estimates based on salary cap projections and could increase or decrease depending on where the cap lands.
Salary information from Basketball Insiders was used in the creation of this post. Photo courtesy of USA Today Sports Images.