The blockbuster 2013 trade with the Celtics continued to haunt the Nets in 2017/18, as the team found itself mired in the lottery race all season long despite not holding its own 2018 first-round pick. That selection (No. 8 overall) will end up with the Cavaliers, but there's a silver lining for Brooklyn: 2018's pick is the last remnant of that Paul Pierce/Kevin Garnett mega-deal. Starting next year, the Nets will once again control their first-rounders.
While they waited to regain control of those first-rounders, the Nets didn't simply bide their time and wait for better opportunities to acquire talent. Accommodating salary dumps like Timofey Mozgov and DeMarre Carroll, the Nets acquired first-round picks and young players like D'Angelo Russell. Now, with the handcuffs imposed by that Celtics trade finally about to come off, GM Sean Marks and his staff will have a little more flexibility to advance the Nets' rebuild.
Here are five key questions facing the franchise this summer:
1. Will Joe Harris re-sign with the Nets?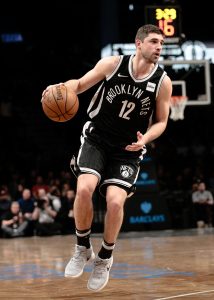 One upside of the Nets' lengthy rebuild and their dearth of lottery picks was the opportunity to give unheralded players a chance to earn minutes. Harris, a 2014 second-rounder who was unable to carve out a role in Cleveland, enjoyed a breakout season in 2017/18 for the Nets, averaging 10.8 PPG on .491/.419/.827 shooting.
While Harris isn't an elite defender, players who shoot like he can are highly sought-after in today's NBA, so the Nets figure to face some competition for the 26-year-old. Still, Harris has spoken glowingly about his experience in Brooklyn, and doesn't sound like a player looking to move on to greener pastures.
It's probably unfair to expect a former second-round pick like Harris to sign a team-friendly contract, since he may never get a better shot at a big payday. However, the Nets can afford to bring him back at his market rate, and will be in good position to do so even though he's not a restricted free agent. Re-signing Harris at anything less than the mid-level exception should be viewed as a favorable outcome for Brooklyn.
2. Will the Nets venture back into the restricted free agent market?

Before the Nets attempt to finalize a new deal with Harris, whose cap hold is minimal, the club figures to explore the free agent market to see if it wants to place a bid on any outside targets. Unlike in 2016 and 2017, the Nets don't project to have significant cap room this summer, with $81MM+ already tied up in guaranteed contracts. As such, we likely won't see the club propose any offer sheets as sizable as the ones for Otto Porter last year or Allen Crabbe two years ago.
Nevertheless, the Nets have a little breathing room to go after a restricted free agent and offer more than the mid-level. The team has shown a willingness to consistently dive into that market, having signed four restricted free agents to offer sheets in the last two years. All those offers were matched, but that probably won't discourage Marks from trying again. It will be worth watching to see if Brooklyn goes after an intriguing second-tier RFA like Spurs forward Kyle Anderson or Clippers big man Montrezl Harrell.
3. How aggressively will the Nets pursue extensions for D'Angelo Russell and Rondae Hollis-Jefferson?

In 2019, the Nets could have a couple of their own restricted free agents to worry about, but the club has the opportunity to prevent Russell and/or Hollis-Jefferson from reaching the market next July by working out extensions this offseason. Both players will be eligible to sign new deals between July 1 and the start of the 2018/19 regular season.
Russell, in particular, is an interesting case. In order to acquire the Lakers guard last June, the Nets took on Mozgov's burdensome contract and surrendered longtime Net Brook Lopez, along with the first-round pick that became Kyle Kuzma. While that package was a signal that Brooklyn believed in the former second overall pick, Russell battled injuries and inconsistency in 2017/18, clouding his long-term value. Despite his struggles, Russell is only 22 years old, and if the Nets are still confident that he's a franchise cornerstone, this offseason could provide a golden opportunity to get a modest discount on his next contract.
Hollis-Jefferson, meanwhile, has made impressive strides during his three years with the Nets, setting new career highs in PPG (13.9), RPG (6.8), FG% (.472), and several other categories last season. The 23-year-old is a sort of bizarro version of Harris — neither player is a bona-fide 3-and-D wing, but Harris' three-point shooting provides more value than his defense, while the reverse is true for Hollis-Jefferson, a career 23.7% shooter from beyond the arc. If RHJ can improve his three-point shot, his value would increase substantially, but until the Nets see proof of that, they may be reluctant to invest too heavily.
4. What's the outlook for the backcourt?

With Russell frequently sidelined and Jeremy Lin out for the entire year, Spencer Dinwiddie emerged as a reliable point guard option for the Nets in 2017/18, and remains under contract for the minimum next season. All three players figure to be healthy to start the 2018/19 campaign, which is a good problem for the Nets to have, but still raises some questions about what the backcourt rotation will look like.
If Russell, Lin, and Dinwiddie all stick with the Nets through the summer, the club will probably have to play a couple of them alongside one another in order to make sure they all get enough minutes. But Brooklyn also has a pair of pretty solid options at shooting guard, in Crabbe and Caris LeVert.
The Nets can probably get away with playing three of those five guards at a time on a regular basis, and if the team is hit with the injury bug again, those depth chart issues will go away quickly. Still, the backcourt is an area of strength that the club could consider dealing from this offseason.
5. What does the Nets' rebuilding timeline look like?

The Nets have won between 20 and 28 games in each of the last three seasons. In a typical rebuilding process, the front office would be talking about taking the next step around this point, and we'd be speculating on possible veteran free agent additions who could help the club reach the playoffs in 2018/19.
However, this has been an atypical rebuild due to the Nets' lack of lottery picks, and the team may not be ready to accelerate the process quite yet. That doesn't mean Brooklyn should tank next season, but it does mean that it probably doesn't make sense to target win-now free agents anytime soon.
The focus in Brooklyn should remain on player development, with the team looking to identify more long-term building blocks. If those players exceed expectations and put the Nets in the playoff hunt next season, that's great. If not, the team will finally have the opportunity to make a lottery pick in 2019.
---
Here's where things currently stand for the Nets financially:
Guaranteed Salary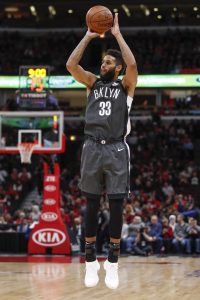 Allen Crabbe ($18,500,000)
Timofey Mozgov ($16,000,000)
DeMarre Carroll ($15,400,000)
Jeremy Lin ($12,516,746): Exercised player option
D'Angelo Russell ($7,019,698)
Deron Williams ($5,474,787) — Waived via stretch provision
Rondae Hollis-Jefferson ($2,470,357)
Jarrett Allen ($2,034,120)
Caris LeVert ($1,702,800)

Total: $81,118,508

Player Options
Team Options
Non-Guaranteed Salary
Restricted Free Agents
Unrestricted Free Agents / Other Cap Holds
Jahlil Okafor ($6,313,832): Bird rights
Randy Foye ($3,000,000): Non-Bird rights3
Dante Cunningham ($2,760,000): Non-Bird rights
No. 29 overall pick ($1,618,324)
Quincy Acy ($1,499,698): Early Bird rights
Joe Harris ($1,499,698): Early Bird rights
Total: $16,691,552

Projected Salary Cap: $101,000,000
Projected Cap Room: $13,562,427

Our Nets cap projection includes the eight players on guaranteed contracts, the two non-guaranteed contracts, and the cap holds for Harris and the team's first-round pick. That results in a total team salary of $87,437,573. Waiving Whitehead or renouncing Harris would create a little more cap room, though the difference would be pretty marginal. Any path to more significant space would have to be involved trades or cuts.
Footnotes:
Dinwiddie's salary becomes guaranteed for $250K after October 31.
Whitehead's salary becomes fully guaranteed after June 30.
Foye's cap hold remains on the Nets' books because he didn't sign a new contract after reaching free agency in 2017. The team could renounce this hold at any time.
Note: Rookie scale cap holds are estimates based on salary cap projections and could increase or decrease depending on where the cap lands.
Salary information from Basketball Insiders was used in the creation of this post. Photos courtesy of USA Today Sports Images.