The fate of the Spurs is in the hands of Kawhi Leonard and it's hard to get a clear read on his current relationship with the franchise. With Leonard, a savvy veteran core, and a world-class coaching staff, the Spurs are capable of competing in the West. Without him, however, the forecast in San Antonio is considerably more bleak, and that impacts everything, including the club's pending free agency decisions.
Given the franchise's track record of stability, I'd posit that Leonard returns at full health next season and this entire debacle gets chalked up to a superstar-level player lacking faith in an organization's medical staff mandated to prod him back into action as soon as reasonably possible.
While much of the disappointment around the team this year can be traced back to this one isolated case of melodrama, that shouldn't veil the fact that the Spurs – who've been ancient for over a decade now – are looking older than ever. Is a major shakeup right around the bend? That may be the case with or without Leonard eventually, but in 2018/19 at least, we can expect something along the lines of the status quo.
Kyle Anderson, SF, 24 (Up) – Signed to a four-year, $6MM deal in 2014
Like any good Spurs prospect, Anderson slowly marinated in winning culture for three years before taking a leap in the final year of his rookie contract. The versatile forward thrived in the minutes made available by the injury to Leonard and could draw interest as a capable, multifaceted young asset on the open market this summer. San Antonio has some flexibility to match a raise if Anderson's camp goes out and gets one — the Spurs may have no other choice if they end up needing to consider a full roster reboot anyway.
Davis Bertans, PF, 25 (Up) – Signed to a two-year, $2MM deal in 2016
Although he didn't play major minutes on a consistent basis for the Spurs in 2017/18, Bertans established himself as a player who could contribute when given an opportunity. The stretch four isn't likely to command a significant price tag as a restricted free agent, so San Antonio could probably lock him in as an affordable, yet capable rotation piece in an effort to add depth to an aging frontcourt.
Bryn Forbes, SG, 24 (Up) – Signed to a two-year, $2MM deal in 2016
With much of San Antonio's rotation planted firmly in their late-30s, competent young players that can be locked in to affordable deals are a special commodity. In Forbes, the club has a combo guard capable of instant offense off the bench. The MSU product could generate interest from other teams looking to add fresh legs and a potent long ball, but the Spurs should have enough financial flexibility to match anything within reason.
Rudy Gay, PF, 31 (Up) – Signed to a two-year, $17MM deal in 2017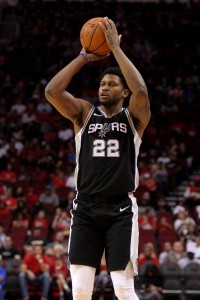 An Achilles injury forced Gay into signing a short-term "prove-it" deal with the Spurs last summer and the combo forward appears to have done just that. Still, while Gay performed admirably in a reduced role with his new franchise, it's hard to imagine he'd garner much interest on the open market given his age and relatively underwhelming portfolio as a big investment. Gay looked solid as a supplementary player for the Spurs in 2017/18 and seems to be content. Given that there won't be a long line of teams interested in overpaying for the 31-year-old in 2018, accepting the $9MM player option for next season may be Gay's best bet.
Danny Green, SG, 31 (Down) – Signed to a four-year, $40MM deal in 2015
While Green's calling card has become ever more important in today's NBA, there's no denying that the three-point specialist benefited from perfect timing the last time he hit free agency. Green could conceivably turn down his 2018/19 player option worth $10MM next season in the hopes of landing a modest raise on a lucrative short-term deal like J.J. Redick did last summer, but the former bit player could also play things safe and continue to enjoy his last haul.
Joffrey Lauvergne, C, 26 (Down) – Signed to a two-year, $3MM deal in 2017
Lauvergne has seen his role decrease as he's bounced from destination to destination over the last three seasons, but he remains a vaguely intriguing reserve asset despite the fact that he'll turn 27 before next season. This summer, the big man's best option to stick around in the league long-term might be to accept his 2018/19 player option and battle his way into a bigger role in San Antonio's frontcourt. If he does that, he could open more opportunities for himself.
Tony Parker, PG, 36 (Down) – Signed to a four-year, $56MM deal in 2014
The Spurs have consistently paid their veteran point guard eight-digit salaries for the past decade and while his place in the upper echelon of franchise history is secure, the organization doesn't face any pressure to sign him to a bloated lifetime achievement contract as he enters the twilight of his career. Parker handled a demotion to the second unit professionally this year and has previously said that he'd like to play 20 seasons. That said, if indications that the team's culture is going south are true, there may not be much of a point to keeping the band together.
Photo courtesy of USA Today Sports Images.