While the NBA won't announce this year's award winners until late in June, we're making our picks for the year's major awards over the next two weeks.
The Hoops Rumors writing team has weighed in with our choices below, but we also want to know which players, coaches, and executives you think are most deserving of the hardware this season, so jump into the comments section below to share your thoughts.
We're keeping things going today with the award for Most Improved Player. Here are our selections:
Clark Crum: Victor Oladipo (Pacers)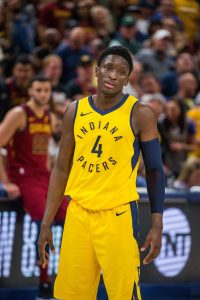 This one is pretty easy for me. As I noted within my Executive of the Year pick, Oladipo had largely underperformed as a former No. 2 overall selection in the forgettable 2013 draft before this season. Almost everyone panned the Pacers' trade for him. Yet, Oladipo came out this year and averaged career-highs in PPG (23.1), RPG (5.2), APG (4.3), FG% (.477), 3P% (.371), and SPG (2.4), a category in which he led the NBA. He may very well be named to both an All-NBA and NBA All-Defensive Team.
I also gave strong consideration to Clint Capela and Terry Rozier, while Montrezl Harrell and Spencer Dinwiddie improved mightily as well, but I ultimately couldn't see anyone but Oladipo winning this award.
Chris Crouse: Victor Oladipo (Pacers)
With Paul George no longer on the team, the Pacers headed into the season with low expectations, viewed by many as more likely to land a top–five pick than make the playoffs. However, Oladipo's unprecedented improvement, going from fringe starter to All-NBA candidate, gave Indiana life. He carried the Pacers all season and his development makes him more worthy of this award than past recipients.
Arthur Hill: Victor Oladipo (Pacers)
Even before he went head-to-head with LeBron James in the playoffs, Oladipo clearly established himself as the NBA's Most Improved Player. Oladipo's qualifications go beyond the impressive numbers, including a 7.2 PPG increase in his scoring average. He provided the Pacers with an All-Star level performer to take the place of Paul George and enabled the franchise to claim the fifth seed when many thought it would collapse. Not bad for a guy who has been traded the past two summers.
Dana Gauruder: Victor Oladipo (Pacers)
The Magic traded away the second pick of the 2013 draft after three ho-hum seasons. The Thunder dealt him after one year to get Paul George, which could very well turn into a one-season rental. Given a lead dog role, Oladipo blossomed in Indiana, not only scoring 23.1 PPG but improving his shooting percentages in the process. Defensively, he doubled his steals rate. The Pacers have a star they can build around, one who doesn't openly pine to play in Los Angeles.
Austin Kent: Victor Oladipo (Pacers)
There are a number of players who made notable improvements this season but Oladipo is the clear–cut top choice for the award. He didn't simply continue an upward trend that he'd been on for years — he completely changed his perception in the league.
There's no denying that the former No. 2 overall pick's value was throttled during his one year in Oklahoma City, but his first year as a Pacer exceeded even the most ambitious outlook one could have had for him out of the draft back in 2013.
Luke Adams: Victor Oladipo (Pacers)
While the qualifications for Most Improved Player can be confusing, Oladipo could very well be a unanimous pick this year for the reasons outlined above. So rather than restating his case, I'll mention a few players whose improvement in 2017/18 also deserves recognition.
Jrue Holiday and Steven Adams elevated their games to another level this season, silencing doubts about their massive contracts. Fourth-year bigs Clint Capela and Aaron Gordon improved all around as they near restricted free agency, while Fred VanVleet, Jamal Murray, Jaylen Brown, and Domantas Sabonis are among the players who made impressive second-year leaps. E'Twaun Moore and Joe Ingles also deserve credit for becoming key starters after multiple seasons as solid bench players.
Who is your pick for Most Improved Player? Share your choices and your thoughts in the comment section below!
Previously:
Still to come next week:
Sixth Man of the Year
Rookie of the Year
Defensive Player of the Year
Most Valuable Player
Photo courtesy of USA Today Sports Images.