The Magic are hiring Steve Clifford to be their new head coach, reports ESPN's Adrian Wojnarowski. League sources tell Wojnarowski that Orlando has reached an agreement on a four-year contract with the former Hornets coach. Meanwhile, the team has confirmed the deal in a press release.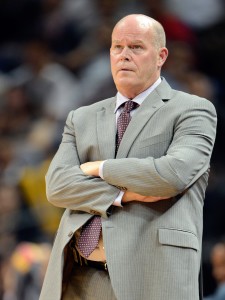 According to Wojnarowski, Magic president of basketball operations Jeff Weltman views Clifford as the right combination of "tactical coach, teacher, and disciplinarian for a young, developing roster." Clifford met with a team ownership group on Tuesday and is expected to be officially introduced at a press conference on Wednesday, Woj adds.
[RELATED: Five Key Offseason Questions: Orlando Magic]
Widely respected in coaching circles, Clifford led the Hornets to a 196-214 (.478) record over five years, including back-to-back 36-46 seasons before he was dismissed last month. Prior to taking over as head coach of the Hornets, Clifford held a number of NBA assistant jobs, including one in Orlando from 2007 to 2012 under Stan Van Gundy, so this is a reunion of sorts for him.
Clifford, who was let go by Charlotte at season's end, expressed a desire to coach again next season and interviewed for the Suns' and Bucks' jobs before they hired Igor Kokoskov and Mike Budenholzer, respectively.
The former Hornets head coach missed 21 games last season due to sleep deprivation and severe headaches, but Wojnarowski indicates that Clifford is in good health now, and Orlando's doctors are confident that he's ready to resume the "full-time grind."
Having assumed control of Orlando's front office in 2017, Weltman and GM John Hammond are looking to put their own stamp on the organization after firing Frank Vogel at the end of the regular season. According to Wojnarowski, Weltman and Hammond had interest in hiring Clifford five years ago when both executives were members of the Bucks' front office. However, he landed with the Hornets instead at that time.
No team's coaching search this spring has lasted longer than the Magic's, as the club spent nearly seven weeks seeking out Vogel's replacement. The franchise will bet on Clifford being a long-term solution on its bench after having gone through four other head coaches since Van Gundy's departure in 2012.
The Magic didn't publicly confirm which candidates they were interviewing for their head coaching vacancy during their lengthy search. However, University of Houston coach Kelvin Sampson, Trail Blazers assistant David Vanterpool, and Spurs assistant Ime Udoka were among the contenders who reportedly interviewed for the position. Orlando also met with David Fizdale before he was hired by the Knicks.
The Pistons and Raptors are now the only two teams still on the lookout for new head coaches, as our tracker shows.
Photo courtesy of USA Today Sports Images.