The Raptors have fired head coach Dwane Casey, reports ESPN's Adrian Wojnarowski. The move had been anticipated, with reports earlier this week indicating that Toronto was leaning toward making a coaching change. The club has issued a press release confirming its decision.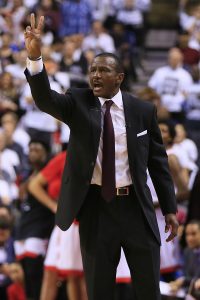 "After careful consideration, I have decided this is a very difficult but necessary step the franchise must take. As a team, we are constantly trying to grow and improve in order to get to the next level," Raptors president Masai Ujiri said in a statement. "We celebrate everything Dwane has done for the organization, we thank him, and we wish him nothing but the best in future. He was instrumental in creating the identity and culture of who we are as a team, and we are so proud of that."
Although it's not a total surprise, it's still remarkable that Casey will be looking for a new job just one month after he finished the regular season with a 59-23 record, establishing a new Raptors franchise record for wins in a season. On Wednesday, the National Basketball Coaches Association announced that Casey was its pick for Coach of the Year; he's a strong candidate to also win the official award, which is voted on by media members.
Casey, who took over as the Raptors' head coach in 2011, is the winningest coach in team history, leading the club to a 320-238 (.573) regular season record during his tenure. The Raps have enjoyed the best run in franchise history during the last five years, winning between 48 and 59 games each season and making five straight postseason appearances.
However, despite their regular season success, the Raptors have struggled to make deep playoff runs. After consecutive first-round exits in 2014 and 2015, Toronto has won at least one series in each season since then, but have been unable to mount a serious challenge against the Cavaliers, winning just two total postseason contests in three years against Cleveland. The Raptors were swept out of the playoffs by the Cavs in the Eastern Conference Semifinals this spring.
While we'll have to wait to see how expansive the Raptors' search for a new head coach is, the team has a pair of strong internal candidates in assistant Nick Nurse and Raptors 905 head coach Jerry Stackhouse. Assistant coach Rex Kalamian could also receive consideration.
As for outside candidates, Kevin O'Connor of The Ringer (Twitter link) says to keep an eye on Mike Budenholzer, sources tell Wojnarowski that the former Hawks head coach will likely get a "close inspection" from the Raptors.
Casey's dismissal may also have an impact on other head coaching searches around the NBA. The Magic continue to seek out a new head coach, and former Raptors GM Jeff Weltman is currently the head of basketball operations in Orlando, so he knows Casey well. Vince Ellis of the Detroit Free Press notes (via Twitter) that the Pistons had been monitoring the Casey situation in Toronto, so they could have interest as well.
Casey had one year left on his contract, worth $6MM, Wojnarowski notes.
Photo courtesy of USA Today Sports Images.