9:09am: The National Basketball Coaches Association has made Casey's win official, issuing a press release to confirm the news.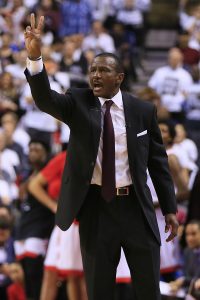 "The Michael H. Goldberg NBCA Coach of the Year Award for the top NBA Coach as voted by his peers is one of the most meaningful in all of pro sports," Mavs coach and NBCA president Rick Carlisle said in a statement. "Dwane Casey once again maximized the Toronto roster to achieve the top record in the Eastern Conference. Congratulations to Dwane on this prestigious recognition."
8:32am: While rumors swirl about his job security, Raptors head coach Dwane Casey will be recognized by his fellow NBA coaches, reports Marc Stein of The New York Times. According to Stein, Casey has been named the National Basketball Coaches Association's Coach of the Year for 2017/18. He'll be formally announced as the winner later today, Stein adds.
This award, introduced in 2017, isn't the NBA's official Coach of the Year award, which is voted on by media members and is represented by the Red Auerbach Trophy. That award will be presented at the league's awards show in June. The Coaches Association's version of Coach of the Year is voted on by the NBA's 30 head coaches.
Casey did an excellent job with the Raptors during the regular season, leading the club to a franchise-record 59-wins despite some speculation that Toronto would take a step back this season. Casey revamped the Raps' offense to rely more heavily on ball movement and three-point shooting, and put together arguably the league's best five-man bench unit.
However, the Raptors' head coach now finds himself on the hot seat due to the team's performance in the postseason. For a third straight year, Toronto was eliminated in the playoffs by Cleveland, and there's a sense that a new voice may be needed on the sidelines. The Raptors have now lost 10 consecutive playoff games to the Cavs, and struggled to make adjustments to slow down Cleveland's offense during this year's four-game sweep.
While winning this award doesn't necessarily make Casey the frontrunner to be named the NBA's Coach of the Year in June, he figures to be a strong candidate, whether or not he still has his job by the time that award is announced. A year ago, Mike D'Antoni and Erik Spoelstra were co-recipients of the NBCA's first Coach of the Year award. D'Antoni later won the NBA's Coach of the Year award, with Spoelstra among the three finalists.
According to Stein, D'Antoni was one of seven other coaches besides Casey to receive at least one vote for the NBCA's award this season. The rest were Brett Brown, Nate McMillan, Gregg Popovich, Quin Snyder, Terry Stotts, and Doc Rivers.
Photo courtesy of USA Today Sports Images.