After winning a playoff series and pushing the Celtics to a seventh game in the Eastern Conference Semifinals in 2017, the Wizards entered the 2017/18 season looking to compete for a spot in the NBA Finals. However, the club battled injuries and inconsistent play through the year, ultimately taking a step back. Washington finished eighth in the East at 43-39, and was quickly dispatched in the first round of the postseason.
With no cap room available in 2018, the Wizards have no clear path to improving their roster, so general manager Ernie Grunfeld will have to get creative as he seeks out potential upgrades.
Here are five key questions facing the franchise this summer:
1. Will the Wizards keep their "Big Three" intact?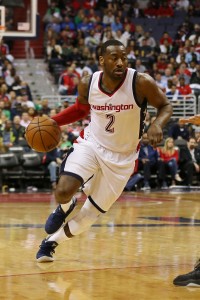 It's not quite LeBron James, Dwyane Wade, and Chris Bosh, but the Wizards have their own Big Three, with long-term, maximum-salary contracts on their books for John Wall, Bradley Beal, and Otto Porter. The trio counts for more than $70MM on Washington's cap in 2018/19, and that figure will increase substantially the following year when Wall's new super-max extension takes effect.
Although modern NBA teams need star players in order to seriously contend for a title, it's not clear if the Wizards' trio has quite enough star-power to justify the team's huge investment. Wall has battled knee issues during his career, and Beal and Porter have combined for just one All-Star appearance between them. As long as those three players remain on the roster, it will be tricky to add productive complementary pieces around them, and they aren't the sort of superstars who can thrive without those complementary pieces.
It's fair to wonder if the Wizards will seriously consider the possibility of breaking up their Big Three this summer. Wall's super-max extension and knee issues cloud his value, while Beal is coming off a career year, so Porter may be the most logical trade candidate of the three. Teams around the NBA covet three-and-D wings, and Porter fits very nicely into that role, having knocked down 43.7% of his three-pointers over the last two seasons.
Porter's salary is probably a little too high to expect a huge return, but if a team is willing to part with an impact big man for him, the Wizards should listen. One popular hypothetical scenario would see Washington acquiring Wall's former Kentucky teammate DeMarcus Cousins in a sign-and-trade with the Pelicans, who could use a wing like Porter. However, there are a number of CBA roadblocks that could get in the way of such a deal, even if both teams agreed on value.
2. How will the Wizards address the center position?

Whether or not they explore a major trade, the Wizards will probably try to find a way to make a change at the center spot, where Marcin Gortat and Ian Mahinmi will earn nearly $30MM between them in 2018/19. Gortat and Mahinmi have their moments, but their offensive games are limited, and neither player is the sort of elite defender who can anchor a defense.
If the Wizards keep Porter, their best shot at landing an impact player in a trade might be attaching Kelly Oubre and/or a first-round pick to Gortat's expiring contract, since Mahinmi's deal still has negative value. While there may not be a ton of impact centers on the trade market, I'd expect Washington to kick the tires on guys like Hassan Whiteside, DeAndre Jordan, and Jonas Valanciunas, among others.
The Wizards' ability to go after a center in free agency will be limited, given the team's lack of cap room, so the draft may be the only other avenue to address the position in a real way. If Texas A&M's Robert Williams slips out of the lottery to No. 15, he'd be a great fit.
3. Are the Wizards willing to pay the tax again?

I've already identified several of the Wizards' highest-paid players as trade candidates, and that's not just due to on-court factors. One of just a handful of taxpaying teams in the NBA in 2017/18, the Wizards' reward for their willingness to spend was a 43-win season and a first-round playoff exit. As such, team ownership may not be quite so eager to go over the tax line again in 2018/19.
The Wizards aren't technically over the projected tax threshold yet, but with Jason Smith having opted in and Jodie Meeks expected to follow suit, team salary will increase to nearly $125MM for 10 players, not counting the cap hold for the club's first-round pick. So in order to get out of the tax, Washington will need to make some trades or cuts.
While the Wizards' four highest-paid players are under contract for multiple seasons, the team will have a number of players on expiring deals, including Gortat, Markieff Morris, Smith, Meeks, Tomas Satoransky, and Oubre. Satoransky and Oubre provide solid value at modest prices, so Gortat, Morris, Smith, and Meeks should be among the players on the trade block. If they can't be moved, the stretch provision could help the Wizards sneak below the tax line.
4. How can the Wizards improve their bench?

While the Wizards' bench was more productive in 2017/18 than it was the previous season, it still had a negative net rating. Satoransky has emerged as a capable backup point guard and Oubre can be a capable sixth man when he's playing well, but too many of the team's other rotation players struggled to consistently produce.
One big disappointment last season was Meeks, who posted his worst 3PT% (.343) since his rookie season, then missed the playoffs after being suspended for violating the league's anti-drug policy. The Wizards may have to hope for a bounce-back year from the veteran sharpshooter, since the team probably won't have the cap flexibility to go after a shooter like Marco Belinelli, Wayne Ellington, or Joe Harris.
In the frontcourt, Mike Scott's strong season as the backup power forward in D.C. may end up pricing him out of the Wizards' range. In that case, the team would need to address its depth behind Morris at the four. Once again, the Wizards' lack of cap flexibility figures to hurt them, but Dante Cunningham, Amir Johnson, and Kevon Looney are among the free agents the team could kick the tires on.
5. What will the Wizards do with the No. 15 overall pick?

The best way for Washington to add a young, inexpensive player to its bench rotation will be with the No. 15 overall pick in this year's draft. The Wizards have made a habit of trading their first-round picks in recent years, and it's possible they'll do so again this year if there's a deal that allows them to trim salary and acquire a rotation player in one fell swoop.
Still, I think the Wizards will want to keep this year's first-rounder. The 2018 draft class is a deep and talented one, and Washington's front office certainly recognizes that rookie contracts are the best tools for balancing out the expensive veteran contracts on the team's cap.
So who should the Wizards pick at No. 15? As I noted earlier, Williams would be an ideal target for at that spot, but I expect him to come off the board in the lottery. If Williams is unavailable, adding a wing may be the best course of action for the Wizards. Lonnie Walker, Miles Bridges, Zhaire Smith, and Troy Brown are among the prospects who could be available.
---
Here's where things currently stand for the Wizards financially:
Guaranteed Salary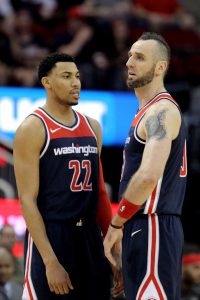 Otto Porter ($26,011,913)
Bradley Beal ($25,434,262)
John Wall ($19,169,800)
Ian Mahinmi ($15,944,154)
Marcin Gortat ($13,565,218)
Markieff Morris ($8,600,000)
Jason Smith ($5,450,000): Exercised player option
Kelly Oubre ($3,208,630)
Tomas Satoransky ($3,129,187)
Martell Webster ($833,333) — Waived via stretch provision

Total: $121,346,497

Player Options
Team Options
Non-Guaranteed Salary
Restricted Free Agents
Unrestricted Free Agents / Other Cap Holds
Tim Frazier ($3,800,000): Bird rights
No. 15 overall pick ($2,725,615)
Chris McCullough ($2,243,326): Bird rights1
Ty Lawson ($1,499,698): Non-Bird rights
Mike Scott ($1,499,698): Non-Bird rights
Ramon Sessions ($1,499,698): Non-Bird rights
Total: $13,268,035
Projected Salary Cap: $101,000,000
Projected Cap Room: None

The Wizards will be well over the cap threshold again in 2018/19, barring major cuts and/or trades. If we assume Meeks exercises his player option, the Wizards' total team salary – taking into account their 10 player contracts, plus cap charges for their first-round pick and an empty roster spot – would get all the way up to $128,357,923.
Footnotes:
The Wizards can't offer McCullough a starting salary worth more than his cap hold, since they declined his fourth-year rookie scale option worth that amount.
Note: Rookie scale cap holds are estimates based on salary cap projections and could increase or decrease depending on where the cap lands.
Salary information from Basketball Insiders was used in the creation of this post. Photos courtesy of USA Today Sports Images.