One of the NBA's all-time best players can become a free agent this summer, and despite rumors about which cities he does and doesn't like, or where his kids might be attending school next fall, LeBron James' next team remains a mystery.
We will, of course, be covering all the latest news and rumors on James' decision in the coming weeks, but before he decides on his home for the 2018/19 season, we want to take a look at several key factors which will help determine where LeBron will continue his career.
Let's dive right in…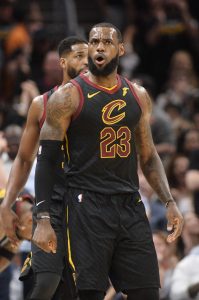 Why June 29, not July 1, may be the most important LeBron-related date of the summer:
Discussing James' upcoming "free agency" is getting a step ahead of ourselves, since there's a very real chance that the four-time MVP won't become a free agent at all. James currently holds a player option for the 2018/19 season.
Star free agents usually decline player options because doing so gives them a chance to earn a larger salary and to potentially secure a long-term deal if they so choose. However, in James' case, his $35,607,968 player-option salary actually exceeds the projected maximum salary based on a $101MM cap ($35.35MM). As such, there may not be a strong incentive to opt out of his contract.
Exercising that player option would open up more doors for James this offseason. There are barely any teams around the league that project to have $35MM+ available in cap room to sign him outright as a free agent, but virtually any club could put together a trade package to acquire him if he opts in.
This situation is very reminiscent of Chris Paul's 2017. Widely expected to reach free agency, Paul instead picked up his 2017/18 player option before his late-June deadline in order to accommodate a trade to the Rockets, who didn't have the cap space to sign CP3 outright.
A looming June 29 player-option decision deadline means that James and his representatives may ultimately have to make a decision on his next destination before the end of the month. If LeBron wants to go to a team that will need to trade for him after he opts in, he'll have to reach an understanding with the Cavaliers by June 29 to ensure that they don't just keep him for next season once he picks up his option. Additionally, in that scenario, the Cavs would need to feel comfortable that they'll be able to work out an acceptable trade with the team James wants to join.
It's an unusual situation, and one that could mean we find out James' 2018/19 destination even before the new league year begins on July 1.
Only two teams can realistically sign James using cap room:
If James does opt out and reaches free agency, we can all but eliminate several potential suitors from the mix. Houston, Golden State, and Miami are among the potential LeBron landing spots recently identified by ESPN's Stephen A. Smith (via Twitter), but those teams would have to gut their rosters or sacrifice key free agents to create the cap room to sign him. And a sign-and-trade deal to any of those clubs is extremely unlikely, given their salary projections — a team that acquires a player via sign-and-trade can't cross the luxury-tax apron at all after that point.
In addition to the Rockets, Warriors, and Heat, teams like the Celtics, Spurs, and Clippers have been cited as possible destinations for James. Those clubs also project to be well over the cap though, with extremely difficult paths to carving out $35MM+ in space. A sign-and-trade deal is more plausible for these clubs, but it's worth noting that a sign-and-trade wouldn't be the most favorable outcome for LeBron if he wants to maximize his future earnings.
That leaves the Lakers and Sixers as the only viable suitors with cap room available to sign James. The Lakers will probably have enough room for two max-salary free agents, so $35MM in space is no issue for them.
As for the 76ers, they're currently on track to have about $25MM in cap room, so they'd have to make one or two more moves to free up an extra $10MM, but that shouldn't be difficult. Moving Jerryd Bayless' expiring contract ($8.58MM) and the No. 26 pick in this year's draft ($1.69MM cap hold) would just about do the trick, and Philadelphia has no shortage of other valuable assets it could dangle if necessary — there aren't many pieces the team wouldn't give up if LeBron said he was coming.
Their cap flexibility makes the Lakers and Sixers the two most dangerous threats for James, especially if he opts for free agency. Los Angeles and Philadelphia aren't the only two teams that could create enough cap room to sign James, but it's hard to imagine James joining a team like the Hawks, Mavericks, Pacers, Bulls, Kings, or Suns.
It's possible another wild-card suitor will emerge in the James sweepstakes. His on-court fit with clubs like the Nuggets, Timberwolves, Bucks, Wizards, Jazz, Raptors, Thunder, or Trail Blazers is fun to imagine. Again though, it's hard to picture any of those clubs receiving serious consideration. It still seems like only about six to eight teams have a real chance of luring LeBron out of Cleveland.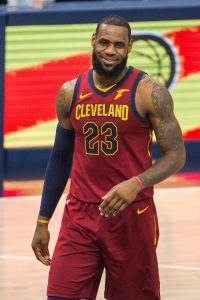 Why holding James' Bird rights don't give the Cavaliers a huge leg up in negotiations:
Speaking of the Cavaliers, we haven't discussed them much yet, but they obviously have an advantage in not having to worry about whether James opts in or out — with his Bird rights in hand, the Cavs can offer the 33-year-old a more lucrative deal than any other team this summer by tacking on a fifth guaranteed year.
However, the Cavs' advantage in this instance isn't nearly as significant as it might be in other cases, due to the presence of James' lucrative player option. By way of illustration, here's what a contract would look like for LeBron if he declines his player option, then signs a five-year, maximum-salary contract with the Cavs (based on a $101MM cap):
| Year | Salary |
| --- | --- |
| 2018/19 | $35,350,000 |
| 2019/20 | $38,178,000 |
| 2020/21 | $41,006,000 |
| 2021/22 | $43,834,000 |
| 2022/23 | $46,662,000 |
| Total | $205,030,000 |
While that's more guaranteed money than he could secure by signing directly as a free agent with another team, or by being a part of a sign-and-trade deal, James could essentially match that total by taking another path.
If he opts into the final year of his current contract and is traded to another team, James would be eligible to sign an extension six months after the trade was completed, tacking on four extra seasons to his one remaining year. If he signed a four-year, maximum-salary extension at that point, his contract would look like this (based on a $108MM projected cap for 2019/20):
| Year | Salary |
| --- | --- |
| 2018/19 | $35,607,968 |
| 2019/20 | $37,800,000 |
| 2020/21 | $40,824,000 |
| 2021/22 | $43,848,000 |
| 2022/23 | $46,872,000 |
| Total | $204,951,968 |
In other words, if the Cavs are willing to accommodate a trade after LeBron opts in, he could end up earning about the same amount over the next five years that he would have if he'd re-signed in Cleveland.
While their ability to offer James a longer and more lucrative contract is somewhat negated by this wrinkle, it will give the Cavs some extra leverage in trade talks. Since being traded to his new team rather than signing as a free agent would allow LeBron to best maximize his earnings, the Cavs could ask for some solid pieces in return for their cooperation in facilitating a deal. For instance, if James wants to go to the Rockets, the Cavs could reasonably ask for a package headlined by P.J. Tucker and Eric Gordon, rather than settling for one that includes Ryan Anderson.
Why working out a trade with Cleveland could be tricky:
If James decides that he wants to leave Cleveland, the Cavaliers aren't obliged to go to extra lengths to get him to his preferred landing spot to the detriment of their own roster. The Cavs would probably be happy to negotiate a trade that see them acquire some valuable young players or draft picks, but they won't take on bad contracts and negative assets in a deal.
The Cavs' position is complicated by the fact that they already have more than $102MM in guaranteed salary on their books for the 2018/19 season. In order for an over-the-cap team to acquire James and his $35.6MM option salary, that team would have to send out about $28.4MM in salary of its own. That would push the Cavs' team salary beyond $130MM, which isn't feasible for the franchise — if LeBron leaves, Dan Gilbert may not tear down his roster, but he'll have no interest in paying the tax.
That means the Cavs would want to acquire players who could – if need be – easily be flipped to other teams for positive value or salary relief. In negotiations with Houston, Cleveland would ask for Gordon and Tucker rather than Anderson. If they talk to the Clippers, the Cavs would want Tobias Harris, not Danilo Gallinari, to headline the deal. In talks with the Heat, the Cavs would likely be unwilling to take on overpriced players like Hassan Whiteside and/or Tyler Johnson.
The Cavs' leverage would be stronger in some of these situations than others. For example, the Rockets would probably have to relent to Cleveland's demands, since surrendering Tucker and Gordon for LeBron would still leave Houston with James Harden and the Bird rights for free agents Chris Paul and Clint Capela. Other teams may drive a harder bargain, preferring to try to dump their unwanted pieces on other clubs in an effort to open up cap room to sign James outright, rather than giving in to the Cavs' asking price.
Of James' potential suitors, only the Lakers – and the Sixers, to a lesser extent – would have a simple path to signing him outright, so if LeBron opts to head to L.A. or Philadelphia, the process could be relatively simple. If he wants to go anywhere else, the machinations of making it happen would be fascinating to follow.
Why the Over-38 rule won't be a factor:
James' ability to sign a long-term contract this summer would have been compromised if the Over-36 rule from the league's previous Collective Bargaining Agreement was still in place. However, James and Paul played instrumental roles in getting that rule changed to the Over-38 rule in the league's latest CBA.
With many NBA veterans continuing to play at a high level well into their mid- to late-30s these days, the change made sense. Still, it's hard not to notice how directly the tweak will impact Paul and James, who are both 33 years old this summer and would be able to sign five-year, maximum-salary contracts without having to worry about the rule.
For the full breakdown on how the Over-38 rule works, be sure to check out our glossary entry.
Photos courtesy of USA Today Sports Images.