The NBA's new league year will officially begin on Sunday at 12:01 am eastern time, and this year's free agent period should be fascinating, given the lack of cap room available around the league. There may not be enough money to go around for all the quality players who will be seeking raises and multiyear deals.
Listed below are our top 50 free agents for the 2018/19 NBA season. The players on this list are on track to reach free agency on July 1, though a small handful could still pick up options for next season.

Our rankings take into account both a player's short-term and long-term value. If we were to consider solely a player's worth for the 2018/19 season, a veteran like Dwyane Wade would likely place higher, while younger free agents with upside, such as Jabari Parker and Zach LaVine, might be ranked a little lower.
Our top-50 list is a group effort, with Austin Kent, Clark Crum, Arthur Hill, and I all contributing to our composite rankings.
In addition to the players listed below, there are plenty of other notable free agents available this summer. You can check out our breakdowns of free agents by position/type and by team for the full picture.
Here are our top 50 free agents of 2018:
---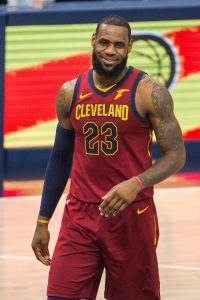 1. LeBron James, F, Cavaliers
Even at 33 years old, James will easily command a four- or five-year, maximum-salary contract if that's what he wants. One of the NBA's all-time greats, LeBron was operating at the height of his powers in 2017/18 and while we don't think he can do this forever, he has shown no signs of slowing down. The team that ends up with him on its roster becomes an instant contender.
2. Kevin Durant, F, Warriors
You could make a case that Durant deserves to top this list after earning his second consecutive NBA Finals MVP, but whether he comes in at No. 1 or No. 2, his free agency will be a mere formality. He has already indicated that he'll opt out of his current contract to sign a new deal with the Warriors.
3. Nikola Jokic, C, Nuggets (RFA)
Like Durant, Jokic is unlikely to generate much drama with his free agent decision. The Nuggets could have had him back on a paltry $1.6MM team option, but chose to decline that option in order to lock him up to a long-term deal. The two sides are expected to finalize a five-year, maximum-salary agreement soon after the new league year begins.
4. Paul George, F, Thunder
Viewed as a virtual lock a year ago to eventually end up with the Lakers, George is still seriously considering heading to Los Angeles, but the Thunder remain very much in the mix too. The All-Star forward will have to decide whether a second year with Russell Westbrook and company can produce better results than the first one did, or whether it makes more sense to start fresh in L.A.
5. Chris Paul, G, Rockets
Paul had the chance to reach free agency a year ago, but exercised his player option to facilitate a trade to the Rockets instead. At the time, there was a belief that it was only a matter of time before CP3 and the Rockets finalized a longer-term arrangement. As such, it would be a major surprise if Paul leaves Houston this summer.
6. Clint Capela, C, Rockets (RFA)
While Paul may be the Rockets' most important free agent, Capela isn't far behind. The young big man hasn't developed a reliable jump shot, but he can do virtually everything else you'd want from your center, setting screens, finishing at the rim, and protecting the basket on defense. Even if it means matching a substantial offer sheet and/or going into the tax, the Rockets are expected to make a strong effort to keep Capela.
7. DeMarcus Cousins, C, Pelicans
Cousins, who averaged 25.2 PPG, 12.9 RPG, 5.4 APG, 1.6 BPG, and 1.6 SPG in 48 contests for the Pelicans, was headed for a monster year before an Achilles tear sidelined him. The standout center is still in the midst of his recovery from that injury, complicating his value. It will be interesting to see if he has to settle for a shorter-term deal, or one that includes injury protections.
8. Julius Randle, F/C, Lakers (RFA)
A solid rebounder throughout his young NBA career, Randle expanded his offensive game in 2017/18, recording 18.6 PPG, 3.1 APG, and a .560 FG% in his 49 starts. He could be a cap casualty in Los Angeles, depending on what sort of moves the Lakers can make in free agency and on the trade market, but the club will do all it can to avoid letting him get away for nothing.
9. Aaron Gordon, F, Magic (RFA)
After being frequently forced into a small forward role in a crowded Orlando frontcourt in 2016/17, Gordon returned to his natural power forward spot last year and enjoyed his best season as a pro. At 22 years old, the former fourth overall pick still has plenty of room to develop into an even more dynamic player. Improving his three-point efficiency (.336 3PT%, 2.0 3PG in 2017/18) could help put him on a track to stardom.
10. DeAndre Jordan, C, Clippers (player option)
Jordan's offensive game remains limited and his shot-blocking numbers fell off significantly in 2017/18 (1.1 blocks per 36 minutes). He'll turn 30 next month, so suitors will be wary of investing too heavily in him, but Jordan is still an elite rebounder and a strong defensive presence in the middle.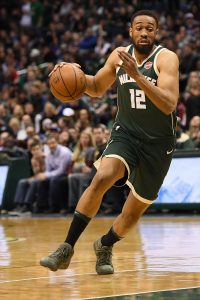 11. Jabari Parker, F, Bucks (RFA)
A pair of ACL tears since Parker entered the NBA have hurt his stock. The former No. 2 overall pick has flashed tantalizing potential when healthy though, including when he averaged 20.1 PPG on .490/.365/.743 shooting in 2016/17. Parker is still just 23, so he's the sort of player who could be worth a roll of the dice if his medicals look okay.
12. Zach LaVine, G, Bulls (RFA)
Like Parker, LaVine was in the midst of a career year in 2016/17 before going down with an ACL tear. And like Parker, LaVine failed to make much of an impact last season after returning from that injury. His brief, unspectacular audition for the Bulls clouds his value, but LaVine looked like a player on the rise before going down with that knee injury. If a team is confident he can pick up where he left off, he'll be in line for a nice payday.
13. Tyreke Evans, G, Grizzlies
Evans is coming off his best season since his 2009/10 Rookie of the Year campaign, having posted 19.4 PPG, 5.2 APG, and 5.1 RPG in 52 games for the Grizzlies. Memphis only has the mid-level exception available to offer Evans, and it's very possible that won't be enough.
14. Marcus Smart, G, Celtics (RFA)
While he's capable of knocking down the occasional big three, Smart's overall shooting numbers (.367/.301/.729 in 2017/18) leave plenty to be desired. His defense and his locker-room presence make up for his offensive shortcomings, however — Smart has been a leader on a Celtics team that has appeared in consecutive Eastern Conference Finals, and is one of the league's best perimeter defenders.
15. Trevor Ariza, F, Rockets
Ariza's nightmarish 0-for-12 showing in Game 7 of the Western Conference Finals may be fresh in many fans' minds, but it shouldn't have a real impact on his stock in free agency. Reliable three-and-D wings like Ariza are a crucial part of Houston's offense, so rival teams may go to extra lengths to pry Ariza away from the Rockets, which could pay off financially for the veteran forward.
16. Jusuf Nurkic, C, Trail Blazers (RFA)
Nurkic will likely never be a primary scoring option on offense, and he needs to be a little more consistent on defense, but promising young centers with his skill set typically do well in free agency. Although he likely won't command anything close to the max, an eight-figure annual salary seems well within reach for Nurkic.
17. J.J. Redick, G, Sixers
After signing a one-year, $23MM deal with the Sixers a year ago, Redick may be in line for another big offer from Philadelphia if the team is unable to land its top free agent targets. If the 34-year-old wants to find one last long-term contract, he should have no shortage of suitors, as his three-point shooting (.439 3PT% over the last four seasons) makes him a fit on any NBA roster.
18. Will Barton, G, Nuggets
An underrated part of the Nuggets' rotation, Barton is capable of playing off the ball and hitting three-pointers (.370 3PT%). He can also handle the point and run the offense when called upon (4.1 APG). Barton is still very much in his prime at age 27, and his versatility will make him an appealing target for teams looking for a player who can fill out a starting lineup or lead a second unit.
19. Rajon Rondo, G, Pelicans
Rondo is unlikely to receive the sort of big-money offers that his friend and teammate Cousins will, but his importance to the Pelicans shouldn't be understated. The veteran point guard helped set the culture in New Orleans and gave the team options in the backcourt, allowing Jrue Holiday to thrive at the two. Coming off a postseason in which he averaged a double-double (10.3 PPG, 12.2 APG), Rondo will be in line for a raise on last year's $3.3MM salary.
20. Derrick Favors, F/C, Jazz
Favors isn't an ideal fit as a power forward alongside a shot-blocking center like Rudy Gobert, since the pairing can create some floor-spacing issues, but the Jazz have made it work. Teams eyeing Favors in free agency this summer could envision him in a similar role, or they could be targeting him as a center, which is probably his natural position.
21. Isaiah Thomas, G, Lakers
A year ago, Thomas looked like a potential maximum-salary candidate for 2018. He won't get anything close to that now, but if his hip is in better shape than it was last season, he's an intriguing buy-low option. While Thomas will almost certainly never match his 2016/17 numbers, he had two other 20+ PPG years on his résumé prior to that season.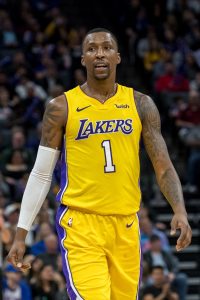 22. Kentavious Caldwell-Pope, G, Lakers
After failing to secure the kind of lucrative, long-term contract he sought in 2017, Caldwell-Pope improved his shooting numbers and increased his standing as a three-and-D swingman. However, his odds of a mega-deal likely won't be any better this time around, given the lack of teams with cap space.
23. Rodney Hood, G, Cavaliers (RFA)
Teams will be wary of committing big-time money to Hood after the Jazz essentially gave up on him and the Cavaliers saw him refuse to enter a playoff game. Still, 25-year-old swingmen who can shoot and score like Hood aren't easy to find. He may not receive a massive offer sheet, but his market shouldn't bottom out either.
24. Avery Bradley, G, Clippers
Traded from the Celtics to the Pistons to the Clippers during the 2017/18 league year, Bradley seemingly saw his value diminish at each stop, partly due to health problems. His three-point shot (.369 3PT%) remained reliable though, and he still has a solid defensive reputation. A contender that can add Bradley using its mid-level exception may get a bargain.
25. Fred VanVleet, G, Raptors (RFA)
VanVleet entered the 2017/18 season with fewer than 300 NBA minutes under his belt, but he morphed into Kyle Lowry Lite over the course of the year, running the Raptors' five-man bench unit, knocking down big shots, and playing tenacious defense on opposing guards. While Toronto will look to re-sign him, a back-loaded offer using the Arenas provision could create problems for the cap-strapped Raps.
26. Brook Lopez, C, Lakers
Lopez's days as a 20+ PPG scorer are probably over, but the veteran has a useful skill set at the five. He averaged two blocked shots per 36 minutes in 2017/18, and continued to hit just enough three-pointers (.345 3PT%) to make teams pay attention to him beyond the arc. Lopez is only 30, so he should have a few more productive seasons left in him.
27. Kyle Anderson, F, Spurs (RFA)
The Spurs have been willing to let several restricted free agents walk in recent years, including Jonathon Simmons last summer and Boban Marjanovic the year before. I expect the team to make a stronger effort to retain Anderson, particularly with Kawhi Leonard's future in San Antonio up in the air. Anderson's numbers don't jump off the page, but he played his role well, scoring efficiently (.527 FG%) and playing good defense.
28. Rudy Gay, F, Spurs
Anderson's teammate Gay is an offense-first player who didn't get the chance to contribute a ton on offense during his lone season in San Antonio, averaging a career-low 9.4 shot attempts per game. Another year removed from his Achilles tear, Gay will be looking for a healthier season in 2018/19, and I wouldn't be surprised if he also seeks a larger role than the one he had with the Spurs.
29. Wayne Ellington, G, Heat
With NBA teams launching more three-pointers than ever, sharpshooters like Ellington should do well for themselves on the open market this offseason. Only six players in the NBA attempted more threes per game last season than Ellington's 7.5, and the Heat veteran put them in at a 39.2% rate. Those numbers should earn him a raise on last year's $6.27MM salary, and Miami may have trouble keeping him, given the team's proximity to the tax line.
30. Marco Belinelli, G, Sixers
Another three-point specialist, Belinelli launched 5.3 threes per game after joining the Sixers, making 38.5% of them. Like Ellington, he should attract plenty of interest from teams in need of floor-spacers, and most of the league's clubs fit that bill.
31. Joe Harris, F, Nets
Harris improved his numbers across the board for the Nets in 2017/18, posting an impressive shooting line of .491/.419/.827. While Harris' percentages could slip if his shot volume increases, he can afford a little regression.
32. Nerlens Noel, C, Mavericks
After posting 10.5 PPG, 8.1 RPG, 1.8 SPG, and 1.7 BPG in his first two NBA seasons, Noel struggled to carve out a regular role in Philadelphia and Dallas. At age 24, he still has plenty of upside as an athletic and versatile difference-maker on defense.
33. Montrezl Harrell, C, Clippers (RFA)
An apparent throw-in piece in last summer's Chris Paul blockbuster, Harrell emerged as DeAndre Jordan's primary backup and nearly matched Jordan's scoring output despite playing just 17.0 minutes per game. It's not clear if Harrell is ready for a larger role, but his impressive per-minute production off the bench makes him worth a flier.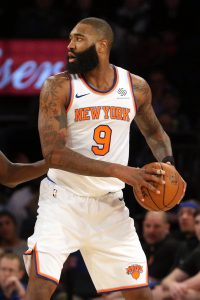 34. Kyle O'Quinn, C, Knicks
Unlike the two bigs just ahead of him on this list, O'Quinn probably doesn't have much untapped potential left. Nonetheless, there's value in his reliability as a rim protector and rebounder. He'd be an excellent backup center for any team, and may even find a situation where he can start.
35. Dwyane Wade, G, Heat
Wade showed in the Heat's lone playoff win – when he poured in 28 points on 11-of-16 shooting – that he still has something left in the tank. He's unlikely to leave Miami again, so if he opts to continue his career, he'll fit in nicely as the leader of the Heat's second unit.
36. Mario Hezonja, F, Magic
Considered a probable bust after his first two NBA seasons, Hezonja bounced back in a big way in 2017/18, making a career-best 44.2% of his field goal attempts and getting his 3PT% back up to .337. Since they turned down their fourth-year option on Hezonja's rookie contract, the Magic will be limited in what they can offer the 23-year-old, which could allow him to find a payday elsewhere.
37. Dante Exum, G, Jazz (RFA)
Another former fifth overall pick like Hezonja, Exum also hasn't turned into the kind of NBA player that many experts and fans expected. However, in Exum's case, injuries deserve much of the blame. The talented young point guard has been limited to 80 regular-season games over the last three seasons. When he got healthy down the stretch in 2017/18, he flashed his play-making potential.
38. Elfrid Payton, G, Suns
In Payton's first nine games as a Sun, he averaged 16.4 PPG, 8.2 APG, and 8.0 RPG with a pair of triple-doubles. However, he saw his production and his playing time dwindle the rest of the way, and his shortcomings as a shooter and a defender ultimately helped spell the end of his stint in Phoenix. With the Suns not planning to re-sign him, we'll see if another team can get more out of the former top-10 pick.
39. Luc Mbah a Moute, F, Rockets
Although Mbah a Moute didn't receive the same sort of attention as teammates Trevor Ariza and P.J. Tucker, he played a similar role for the Rockets, spacing the floor (.364 3PT%) and playing good defense on opposing wings. A shoulder injury sidelined him for part of the postseason and limited his ability to make an impact when he returned, but he proved his worth with his regular-season play.
40. Ersan Ilyasova, F, Sixers
Ilyasova can't seem to find a permanent home, having played for five teams in the last three seasons, including two separate stints with the Sixers. He keeps fitting into lineups as a reliable stretch four though. Since 2011/12, Ilyasova has never averaged fewer than 10 PPG and has knocked down 37.5% of his three-pointers.
41. Aron Baynes, C, Celtics
A nice fit in Boston alongside Al Horford, Baynes appears likely to sign a new multiyear deal with the Celtics. Baynes' value comes from his rebounding and defense, but if he continues to have the sort of success from three-point range that he did during the playoffs (11 for 23), he'll provide an even better return on investment.
42. David Nwaba, G, Bulls (RFA)
Nwaba's calling card is his defense, and he's unlikely to evolve into a go-to scoring option. But if he can maintain his shooting rates (.478 FG%, .346 3PT%) with a slightly higher volume, you won't be able to ignore him on offense.
43. Anthony Tolliver, F, Pistons
Tolliver's three-point shot was more effective than ever in 2017/18, as he made 2.0 per game at a 43.6% clip. While you'd like to see a few more rebounds out of a 6'8″ forward who plays nearly exclusively at the four, he's a solid rotation player.
44. Tony Parker, G, Spurs
Parker, who turned 36 last month, has seen his scoring numbers decline over each of the last five seasons, and was phased out of his starting role in 2017/18. The six-time All-Star should probably be viewed as a veteran leader who plays backup minutes from here on out.
45. Nemanja Bjelica, F, Timberwolves (RFA)
Like most Timberwolves players, Bjelica was overused when he was part of the starting lineup (34.0 MPG in 21 starts) and underused off the bench (14.3 MPG in 46 games). He's not the sort of player who should get 30 minutes a night, but a 6'10" forward who makes 41.5% of his three-pointers, as Bjelica did last season, can be a key part of any team's second unit.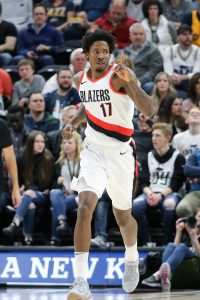 46. Ed Davis, C, Trail Blazers
A stabilizing force in the middle for the Blazers when Jusuf Nurkic struggled, Davis remained a force on the glass in 2017/18, ripping down 7.4 rebounds in just 18.9 minutes per contest. The big man is still just 29 years old, so could receive multiyear offers from teams seeking a veteran center.
47. Amir Johnson, F/C, Sixers
Many of Johnson's best traits don't translate to the box score, but he's willing to do whatever a team needs, whether that means setting screens and making the right pass on offense, or boxing out on defense. He'd be a solid third or fourth big man for most NBA teams.
48. Michael Beasley, F, Knicks
As long as you know what you're getting – and what you're not – from Beasley, the former No. 2 overall pick is worth a shot. In 150 games for the Rockets, Bucks, and Knicks over the last three seasons, he has racked up 21.5 points and 8.6 rebounds per 36 minutes.
49. Jeff Green, F, Cavaliers
At times during his stint in Cleveland, Green looked like the third-best player on Cleveland's roster. At other times, he looked like he should be out of the rotation entirely. The good version of Green shows up often enough that he'll continue to receive plenty of NBA interest from clubs in need of a forward with some defensive versatility.
50. Jerami Grant, F, Thunder
After flashing an improved three-point shot in 2016/17, Grant struggled with that shot last season, but he provided value to the Thunder with his defense and his improved mid-range game. Grant, who is still just 24 years old, could be a sneaky buy for a rival team this summer with the Thunder at risk of going deep into the tax.
Ten more free agents we considered:
Note: Enes Kanter and Dirk Nowitzki aren't included on this list since Kanter is expected to pick up his player option and Nowitzki is a lock to return to the Mavericks, either on his team option or a new deal.
Photos courtesy of USA Today Sports Images.