Not every free agent enters the NBA offseason looking to sign a long-term contract. Just ask Kevin Durant, who – for the third year in a row – has the ability to opt out of his new contract with the Warriors after just one season. Still, nearly all of the most lucrative free agent deals signed this offseason span four or five years, with only a handful of top players having received contracts of that length.
It's possible that another free agent – perhaps Rodney Hood – could join this group of long-term signees, but for now, just 11 players have signed four- or five-year contracts with NBA teams this offseason.
Those 11 deals all rank in the top 13 contracts of the 2018 offseason in terms of overall value, and each of the other two contracts in that group – Durant's two-year, $61.5MM pact and Jabari Parker's two-year, $40MM contract – may see its value chopped in half if the second-year option is voided.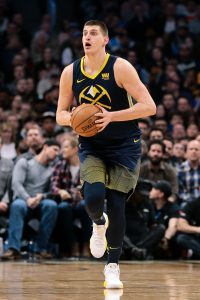 All 11 players who signed four- or five-year deals were among the best free agents in this year's class. Six ranked in the top 10 of our top-50 list, and 10 were in the top 20. Only Kyle Anderson (No. 27) was the exception, and his deal was a little longer and more lucrative than anticipated because it was an offer sheet designed not to be matched by the Spurs.
Speaking of restricted free agents, much has been made of the challenges some RFAs face as they try to find fair deals on the open market. However, of the 11 players who signed the longest contracts this offseason, seven were restricted free agents. Nikola Jokic led the way with his five-year contract worth $142MM+, but Clint Capela, Zach LaVine, Aaron Gordon, and several other RFAs did pretty well for themselves too.
In total, the 11 players who signed four- or five-year deals this offseason will receive a combined $1.024 billion if they play out their entire contracts.
Here's the full list of 2018 free agents who signed four- or five-year contracts, sorted by overall value:
Salary information from Basketball Insiders was used in the creation of this post. Photo courtesy of USA Today Sports Images.