July 24: The team has officially re-signed Harrell, according to a team press release.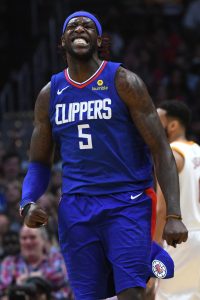 "Montrezl is a tough, hard-playing, gritty competitor who is committed to winning," said President of Basketball Operations Lawrence Frank. "We love his passion and energy, and are very excited to have Trezz back in a Clippers uniform."
July 19: Restricted free agent center Montrezl Harrell has agreed to a two-year, $12MM deal to return to the Clippers, per Adrian Wojnarowski of ESPN. According to Brad Turner of the Los Angeles Times, Harrell's contract will be fully guaranteed.
Harrell, 24, was one of the last remaining restricted free agents on the market with a reasonable potential to sign a significant deal. Only Clint Capela and Rodney Hood now remain.
An over-the-cap team, the Clippers had already split their entire non-taxpayer mid-level exception on forwards Luc Mbah a Moute and Mike Scott, but were able to re-sign Harrell using his Bird rights.
Harrell had a breakout season in 2017/18, playing in 76 games while averaging 11.0 points and 4.0 rebounds per contest and shooting a blistering 63.5 percent from the field. His 24.73 PER was good enough for 12th best in the entire NBA among qualified players.
The Clippers lost big man DeAndre Jordan in free agency to the Mavericks, but did acquire center Marcin Gortat from the Wizards in a trade for Austin Rivers. Accordingly, Harrell and Gortat will now seemingly compete for time at the center position for the Clippers in 2018/19, with Boban Marjanovic providing reserve minutes.