JULY 2: The Pacers have guaranteed Collison's $10MM salary for the 2018/19 season, a source tells Jordan Schultz of Yahoo Sports (Twitter link). Indiana also guaranteed Bogdanovic's '18/19 salary last week.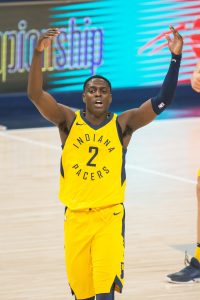 JUNE 21: The Pacers are expected to bring back Darren Collison and guarantee his $10MM contract for next season, tweets Scott Agness of Vigilant Sports. Collison only has a $2MM partial guarantee for now, but will be in line for his full salary if Indiana doesn't waive him before July 1.
"Everything is so fluid but at the end of the day, we said our top six, seven guys we wanted to have back. And then make additions," said president of basketball operations Kevin Pritchard.
Collison turned in a steady performance during his first season in Indiana, appearing in 69 games and posting a 12.4/2.6/5.3 line. The nine-year veteran signed with the Pacers as a free agent last summer.
Indiana still has to address partially guaranteed contracts for Bojan Bogdanovic ($10.5MM) and Al Jefferson ($10MM). Bogdanovic has a $1.5MM guarantee, while Jefferson's is $4MM. Alex Poythress ($1,544,951) and Ike Anigbogu ($690,000 guaranteed out of $1,378,242) have smaller non-guaranteed deals.
Photo courtesy of USA Today Sports Images.