The Thunder have talked to the Nets about a possible trade involving Carmelo Anthony, according to Mitch Lawrence of Forbes and The Sporting News, who reports (via Twitter) that Brooklyn would be looking to move Jeremy Lin in such a deal. The Nets, who would want draft picks, would buy out or waive Anthony if they acquired him, Lawrence adds.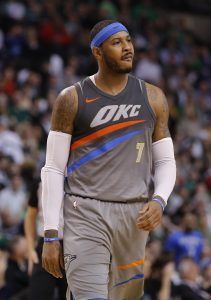 While it may be true that the Thunder and Nets have explored a potential trade, it's hard to see how it would work with Lin as the primary outgoing piece. After buying out Dwight Howard, the Nets reportedly have a little less than $11MM in cap room available, so they wouldn't necessarily have to match Anthony's $27.93MM salary, since salary-matching rules only apply to over-the-cap teams. Still, they'd have to send out more than Lin's $12.5MM expiring contract in order to remain under the cap after completing a deal.
The Nets could create a little extra space by waiving Isaiah Whitehead, who has a non-guaranteed $1.54MM salary, but they'd still be about $4MM short of having enough outgoing salary to complete a Lin-for-Anthony swap while remaining under the cap.
The Nets players who earn less than Lin are youngsters with positive value, so the team wouldn't simply throw them into an offer to make the money work. Adding a highly-paid vet like Allen Crabbe or DeMarre Carroll wouldn't make much sense from the Thunder's perspective, since their goal is to cut costs.
On top of all the cap-related roadblocks in the way of a potential swap, Brian Lewis of The New York Post notes (via Twitter) that Lin has been told the Nets will tell him if they plan to trade him. As Lewis relays, Lin hasn't gotten a call at this point, so if there have been trade discussions, they likely haven't gotten serious.
"My agent called me just to clarify," Lin told Lewis. "But no, I don't think there's any… I don't think that has any truth to it."
While a Thunder/Nets swap seems like a long shot, we know that Oklahoma City is exploring potential trade options involving Anthony before simply buying him out or waiving him. The Lin example is instructive for laying out how a potential deal could work.
Although no team has the cap space necessary to absorb Anthony's contract outright, the Nets and three other teams – the Kings, Bulls, and Hawks – have enough room to send out significantly less salary than they receive. That makes them potential trade partners for the Thunder, who are looking for ways to reduce a potential record-breaking tax bill.
For instance, the Kings are currently about $19MM below the cap. That means they could trade a player like Iman Shumpert ($11MM salary) to Oklahoma City and take back Anthony without going over the cap. That would be ideal for the Thunder, who could waive and stretch Shumpert across three seasons and create an annual cap hit of about $3.67MM instead of the $9.31MM annual cap charge that waiving Anthony would create (assuming neither player gives back money in a buyout). The tax savings for OKC in 2018/19 would be massive, and the smaller annual cap charges would help reduce the team's tax bills in future seasons too.
[RELATED: Hoops Rumors Glossary: Stretch Provision]
So what would be in it for the Thunder's trade partners? They wouldn't be hanging onto Anthony, who has a no-trade clause and almost certainly wouldn't approve a trade to a non-contender unless he knew he'd be waived shortly thereafter. So presumably any team willing to talk trade with the Thunder would be seeking draft picks and/or young players along with Carmelo.
The problem is that Oklahoma City isn't exactly asset-rich on either front. Terrance Ferguson is really the only intriguing young prospect on the Thunder's roster, and the team's 2020 first-round pick (top-20 protected) is committed to Orlando.
The Stepien rule prevents teams from trading back-to-back future first-round picks, so the Thunder wouldn't be able to trade their 2019 first-rounder outright, and would have to get creative with conditions in order to trade any other first-rounder before 2022.
It's possible that 2022 and 2024 first-round picks would entice one of those teams with cap room to use up the rest of their space on Anthony, only to subsequently waive him. But the further in the future those picks are, the less they'll appeal to current general managers, who have no assurances they'll even still hold their jobs by 2022 or 2024.
One intriguing option would be for one of those teams with cap room to trade a multiyear contract to the Thunder in exchange for Anthony. That way there would be a little more incentive for OKC's trade partner to make a deal, since that club would be clearing cap room for future free agent periods. It also wouldn't necessarily hurt the Thunder, who could spread the player's money across more than three seasons using the stretch provision if he's on a multiyear deal.
Omer Asik of the Bulls would be a perfect target for the Thunder in this scenario. Asik is earning $11.29MM in 2018/19, then has a $3MM guarantee on his 2019/20 salary. If the Thunder acquire him, they could stretch his remaining guaranteed money ($14.29MM) across five seasons for an annual cap hit of just $2.86MM.
The Bulls, meanwhile, would be able to clear $3MM from their books for the summer of 2019 — that's not a huge amount, but if the team wants to be players in free agency next year, that added flexibility could come in handy. Of course, from Chicago's perspective, including a contract like Cristiano Felicio's ($24MM over three years) in such a deal would probably be preferable to moving Asik's.
Another way for the Thunder to increase trade interest in Anthony would be to attach its 2020 first-round pick with reverse protection. The 2020 selection traded to the Magic will only change hands if it falls between 21 and 30, so OKC could theoretically send that pick to another team if it lands in the top 20.
Given the lack of teams with cap room around the NBA and the dearth of appealing assets the Thunder could attach to Anthony, a trade ultimately seems unlikely. Simply waiving and stretching Carmelo would create upwards of $90-100MM in tax savings for Oklahoma City, and that number could increase if the veteran forward accepts a buyout. That's probably where we're headed, as interesting as the trade scenarios are to consider.
Salary information from Basketball Insiders was used in the creation of this post. Photo courtesy of USA Today Sports Images.