3:03pm: The trade is now official, the Grizzlies and Kings announced in a pair of press releases.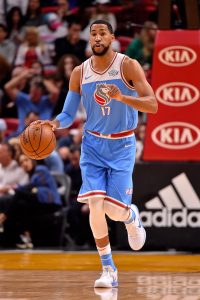 10:44am: The Kings and Grizzlies are in the process of finalizing a trade that will send Garrett Temple to Memphis, reports ESPN's Adrian Wojnarowski (via Twitter). According to Wojnarowski, Sacramento will receive Ben McLemore, Deyonta Davis, and cash in the deal. The Kings will also get a 2021 second-round pick from the Grizzlies, tweets Chris Herrington.
The move will add a established, versatile contributor to Memphis' rotation. Temple, who is a strong defender and can play multiple backcourt and wing positions, averaged a career-best 8.4 PPG last year for the Kings, chipping in 2.3 RPG and 1.9 APG with a .392 3PT%.
While Temple has seen most of his minutes on the wing in recent years, Grizzlies starting point guard Mike Conley is coming off an injury-plagued 2017/18 season and Memphis doesn't have a reliable veteran behind Conley on the depth chart, with Andrew Harrison, Jevon Carter, and Kobi Simmons in the backup mix. Temple could provide the club with another ball-handler when Conley is on or off the court.
The Grizzlies will add a little money to their payroll as a result of the deal, but the salary difference is minimal, and won't have an impact beyond 2018/19. Temple is earning $8MM in the final year of his contract and McLemore is on an expiring deal worth $5.46MM. Temple and McLemore will be unrestricted free agents next summer, while Davis – who is earning about $1.54MM this year – will be eligible for restricted free agency.
Memphis is now less than $1MM away from the luxury-tax line, according to ESPN's Bobby Marks, who notes that recently-signed second-rounder Carter received a guaranteed two-year minimum-salary deal from the club.
For the Kings, the move represents a reunion with former seventh overall pick McLemore, who spent the first four years of his NBA career in Sacramento. He battled health issues and struggled last season for Memphis, averaging a career-worst 7.5 PPG on 4.21/.346/.828 shooting.
As for Davis, he showed some promise in a part-time role for the Grizzlies last season, posting 5.8 PPG and 4.0 RPG in 62 games (15.2 MPG). I wouldn't expect either McLemore or Davis to take on a major role for the Kings, but they could earn spots in the rotation with strong showings in training camp.
The trade will open up a little extra cap room for the Kings, who now have about $20.5MM in space, easily the most in the league. Sacramento has 14 players under contract, so it will be interesting to see what the club has in mind for its remaining cap room and its final open roster spot.
Photo courtesy of USA Today Sports Images.