JULY 8: The new contract with Paul is official, the Rockets announced on Twitter.
JUNE 30: The Rockets will lock up Chris Paul to a long-term deal, according to ESPN's Adrian Wojnarowski, who reports (via Twitter) that the All-Star point guard has agreed to a four-year, maximum-salary contract with Houston.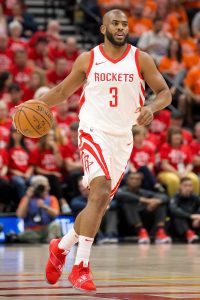 As our breakdown of max salaries for 2018/19 shows, a four-year max for Paul should be worth $159,730,592.
Paul turned in a stellar season in his first year in Houston, dispelling any concerns about his ability to mesh with James Harden. Paul averaged 18.6 points and 7.9 assists and helped the Rockets post the NBA's best record at 65-17. However, he suffered a hamstring injury late in Game 5 of the Western Conference finals and missed the last two games as Houston fell to the Warriors.
The big payday for Paul comes a year after he bypassed free agency and opted in to the final year of his $24.6MM contract to help facilitate a trade from the Clippers to the Rockets. At the time, there was a belief that CP3 and the Rockets had a general understanding that the team would take care of him when he eventually reached unrestricted free agency.
That turned out to be the case, though the 33-year-old was eligible for a full max contract over five seasons, so Houston got a bit of a break with a four-year deal.
With Paul locked up, the Rockets will now shift their focus to retaining key contributors like Clint Capela and Luc Mbah a Moute. If Houston re-signs Capela to a lucrative new deal, team salary figures to exceed the luxury tax threshold for 2018/19.
Photo courtesy of USA Today Sports Images.