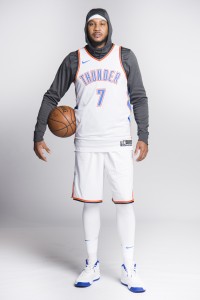 While the specifics haven't yet been finalized, the Thunder and Carmelo Anthony will part ways at some point this summer, according to ESPN's Adrian Wojnarowski and Royce Young. Per ESPN's report, the Thunder and Anthony's camp are expected to work together to figure out whether Anthony will be traded, waived and stretched, or bought out and stretched.
According to Wojnarowski and Young, both sides are on board with ending the relationship. Anthony recognizes that he'd be in line for a scaled-back role if he remains in Oklahoma City, and the Thunder want to cut costs by trying to get out from under Carmelo's contract.
Anthony, who opted into the final year of his current contract, is in line for a salary of $27,928,140 as a result of waiving his early termination option. With the Thunder's team salary projected to significantly exceed the luxury tax line, clearing a good chunk of Carmelo's exorbitant salary would be the quickest way to creating substantial savings for 2018/19.
As cap expert Albert Nahmad tweets, simply waiving and stretching Anthony could reduce Oklahoma City's projected luxury tax bill by about $91-95MM, and the team would only have to pay a third of his salary this season. Of course, stretching Anthony would create $9.3MM+ cap hits in 2019/20 and 2020/21, when the Thunder also figure to have repeater tax concerns, which is why OKC will explore trade and buyout options too.
The Bulls are the only team that currently has the cap flexibility to absorb Anthony's contract outright, though a couple other clubs could take on Carmelo if they sent out a little salary in the deal. However, a trade is probably unlikely, given the lack of teams with cap room and the fact that the Thunder would have to attach multiple assets to him in order to incentivize such a swap. Anthony also has a no-trade clause and could veto any deal he didn't like.
A buyout is perhaps the most viable path for the Thunder. While Anthony is unlikely to give up major money, every dollar he's willing to surrender would be worth exponentially more to Oklahoma City, given the team's tax outlook. If he were to agree to reduce his Thunder salary by even $4MM or so, OKC could stretch his salary at about $8MM per year rather than $9.3MM+ annually.
If and when Anthony and the Thunder figure out his exit route, it will be interesting to see which clubs step up as suitors for the veteran forward. While he isn't the player he once was, Carmelo still averaged 16.2 PPG and 5.8 RPG with a .357 3PT% last season for OKC, and could make sense in certain roles for a number of contenders.
The Lakers and Rockets seem likely to emerge as possible options for Anthony. Both teams have $5MM+ available in cap room or a mid-level exception and are expected to contend in the West. And each club has one of Carmelo's good friends – LeBron James and Chris Paul – on its roster.
Photo courtesy of USA Today Sports Images.