JULY 6th, 11:10pm: The signing is official, according to a team press release.
JULY 2nd, 7:36pm: The rich are about to get richer, as free agent center DeMarcus Cousins has agreed to a contract with the Warriors, Shams Charania of Yahoo Sports tweets. It'll be a one-year, $5.3MM deal, with the Dubs using the taxpayer mid-level exception to add Cousins, tweets ESPN's Adrian Wojnarowski.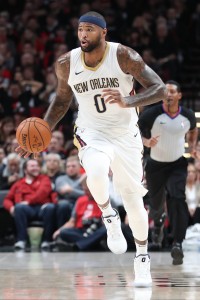 It's a shocking move for both Cousins and the defending champions, who initially didn't appear to be locks to use their mid-level exception at all. However, when Kevin Durant agreed to a contract with a starting salary of $30MM rather than his max of $35.65MM, it opened the door for the Warriors to take advantage of the savings by using their MLE, which is worth $5.337MM.
Signing Cousins will cost the Warriors exponentially more than $5.337MM due to their projected luxury tax penalties, but the investment figures to be worth it for one of the NBA's very best centers. Golden State will now have the opportunity to play an incredible five-man unit consisting of Cousins, Durant, Stephen Curry, Klay Thompson, and Draymond Green.
The club also retains key contributors like Andre Iguodala, Shaun Livingston, Jordan Bell, and Quinn Cook, with youngsters Damian Jones and Jacob Evans expected to contribute as well.
While others Cousins suitors like the Pelicans and Lakers will undoubtedly be upset about seeing him sign with the Warriors for a salary they could have topped, it didn't appear that New Orleans, L.A. or any other team was willing to make a huge offer for the big man, with cap space drying up around the league.
Of course, it's also extremely unlikely that Cousins would have accepted a $5.3MM offer from any other team. No other club gives him as clear a path to his first NBA title, and as one source close to him explains to Marc J. Spears of The Undefeated (Twitter link): "He's about winning."
Signing a one-year pact will also allow Cousins to rebuild his value after suffering a torn Achilles during the 2017/18 season. According to Wojnarowski (Twitter link), the Warriors have no intention of rushing their newly-added star back to the court, so a December or January return appears likely. If Cousins returns to form during the second half of the 2018/19 campaign, he'll be able to reach the free agent market again a year from now and potentially land a more lucrative longer-term deal.
Before going down with that Achilles injury, Cousins was posting the best numbers of his career, filling up the stat sheet with 25.2 PPG, 12.9 RPG, 5.4 APG, 1.6 SPG, and 1.6 BPG. He also made 2.2 three-pointers per game at a 35.4% rate. Achilles tears aren't easy to come back from, so there's no guarantee that he'll ever be the same player he was before the injury, but even if he's operating at 60-70% capacity in 2018/19, he'll make the already-stacked Warriors even more dangerous.
The move comes approximately 24 hours after LeBron James' agency announced that he'd be heading to the Lakers. While LeBron, Magic Johnson, and the new-look Lakers dominated much of the coverage during the first two days of NBA free agency, the Warriors' latest splash signals that they have no intention of giving up control of the Pacific Division – or the Western Conference, or the NBA – anytime soon.
Luke Adams contributed to this post. Photo courtesy of USA Today Sports Images.