Twenty-three players became eligible for rookie scale extensions when the 2018/19 NBA league year began in July. One of those 23, Devin Booker, quickly finalized a new deal with the Suns, leaving 22 other players who could sign rookie scale extensions before the October 15 deadline. In the weeks leading up to that deadline, we'll be taking a closer look at some of the strongest candidates for new contracts.
Our examination of this year's candidates for rookie scale extensions continues today with Knicks big man Kristaps Porzingis. Let's dive in…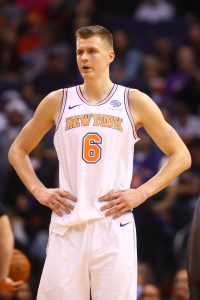 Why the Knicks should give him an extension:
Porzingis' unique skill-set, which helped earn him his Unicorn nickname, is also his strongest argument in favor of a lucrative long-term deal. There simply aren't any other NBA players – now or in the history of the league – who stand 7'3″ but still possess the athleticism and outside shooting ability (.395 3PT%) of Porzingis.
In his first three NBA seasons, Porzingis just kept getting better, increasing his PPG from 14.3 to 18.1 to 22.7. He has also developed into one of the league's best shot-blockers, establishing a new career high with 2.4 BPG in 2017/18.
While his play has yet to translate to much team success for the Knicks, Porzingis' on/off-court numbers reveal his value to the team — New York was noticeably better both offensively and defensively when the Latvian big man was on the court (+0.1 net rating) in 2017/18 than when he sat (-7.0 net rating).
Porzingis is still just 23 years old and there's a sense that he still has plenty of potential yet to be unlocked. New head coach David Fizdale could be the man for the job — reportedly, he and Porzingis have hit it off already, which is a positive sign for the franchise after the young star didn't always see eye-to-eye with former head coach Jeff Hornacek.
Why the Knicks should avoid an extension:
The 2017/18 season was Porzingis' best as a pro, but it was also his briefest — a torn ACL ended his year after just 48 games, and he's not expected to be ready to play at the start of the 2018/19 campaign.
While it's probably unfair to say Porzingis is injury-prone, he has never played more than 72 games in a season, and many players who stand 7'3″ or taller have battled leg injuries throughout their NBA careers. ACL tears are no joke, so even if New York expects Porzingis to make a full recovery, the team should be wary of making a massive investment in him while he's still rehabbing the injury.
In terms of non-health-related concerns, Porzingis' modest rebounding numbers (6.6 RPG in 2017/18) are somewhat surprising, but he has typically played alongside prolific rebounders like Enes Kanter and Joakim Noah in the frontcourt, and probably could grab a few more boards if he was counted on to do so.
The Knicks also may want to avoid an extension this year if they have aspirations of making a big splash during the 2019 free agent period. Porzingis' cap hold as a restricted free agent would cost less than the cap charge on a new contract, so if the Knicks hold off on re-signing him until next July, the team could maximize its cap flexibility, as we detail below.
Points of comparison:
Porzingis' best and simplest point of comparison is another player who is a "unicorn" in his own right: Sixers center Joel Embiid. Last fall, Embiid signed a five-year, maximum salary contract with the Sixers that included some injury protection for the club.
While the Knicks could explore including similar injury-protection language in an offer for Porzingis, it seems unlikely that his camp would go for that — Embiid had only appeared in 31 NBA games over three seasons when he signed his deal, whereas the Knicks' star has logged 186 contests. The 76ers' durability concerns with Embiid were arguably more pressing and more justified than the Knicks' with Porzingis, despite his ACL tear.
Cap outlook:
Assuming they stretch Noah's contract at some point after September 1, the Knicks could enter the summer of 2019 with only about $48.14MM in guaranteed salary on their books. That figure doesn't include any non-guaranteed salaries or cap holds.
If Porzingis is a restricted free agent at that point, his cap hold would be worth $17,091,162, increasing the Knicks' total commitments to about $65.23MM. After taking into account a handful of cap holds for empty roster spots, New York would still have upwards of $38MM in cap room in that scenario, allowing the team to pursue a star free agent before eventually going over the cap to re-sign Porzingis.
If Porzingis signs an extension this year, his cap charge for 2019/20 would increase to a projected $27.25MM, cutting into the Knicks' projected cap room by approximately $10MM and compromising the team's ability to afford a maximum-salary free agent without making additional cost-cutting moves.
That wouldn't be the end of the world — there's no guarantee that the Knicks will be able to land a star in 2019 free agency anyway, and if they did get a commitment from someone after having extended Porzingis, it shouldn't be too hard to trade a player like Courtney Lee in a deal that clears a little extra cap space. Plus, allowing Porzingis to reach restricted free agency would open up the door for another team to sign him a shorter-term offer sheet (ie. four years with a player option) that would let him reach unrestricted free agency earlier.
Still, if the Knicks want to maximize their 2019 flexibility, it probably makes sense to hold off on a Porzingis extension for now.
Conclusion:
Like fellow star big man Karl-Anthony Towns, Porzingis is a lock to get a massive new deal at some point — it's just a matter of when. If it happens this year, it probably won't happen until very close to the October 15 deadline, to give the Knicks as much time as possible to evaluate the 23-year-old's ACL recovery process.
Given Porzingis' rocky relationships with Hornacek and Phil Jackson in past years, the Knicks won't want to risk upsetting their potential franchise player again. So if it's important to Porzingis that he gets his new deal this year, I think the Knicks will be ready to comply.
On the other hand, it's not out of the question that the Knicks are able to convince Porzingis it's best for the team's long-term interests to wait until next summer to finalize his new deal — that would allow New York to maximize its cap flexibility and potentially add a star free agent to play alongside the big man a year from now.
That approach wouldn't be without its risks for Porzingis. If he doesn't look great after returning from his ACL injury, or if he re-injures his leg, the Knicks would gain some additional leverage in contract talks next summer. Porzingis has more upside than either Zach LaVine or Jabari Parker, but it's still worth looking at how their respective free agent values took a hit after they returned from their own ACL injuries. Even if it would hamstring the Knicks' spending power a little next summer, it might be in Porzingis' best interests to push for an extension sooner rather than later.
Will Porzingis get extended by October 15?
Our prediction: Yes, unless he's willing to wait.
Our estimate: Four or five years, maximum salary (or very close to it).
Photo courtesy of USA Today Sports Images.