The pain was bearable, but Al Jefferson still had tears in his eyes. One night after he injured his knee after a routine block, Jefferson sat inside a doctor's office; his season was over and he wondered if his career was too.
It was February 8, 2009, when Jefferson, then a member of the Timberwolves, swatted a dunk attempt by Sean Marks, the current general manager of the Nets. Jefferson landed awkwardly on his right knee, hopped nine times on his left foot, and collapsed to the hardwood.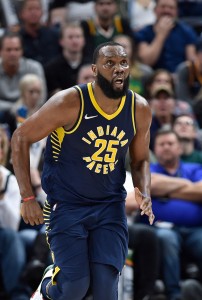 "What happened was, I went up and blocked a shot, I blocked it on the backboard and threw my body off so I came down wrong," Jefferson told Hoops Rumors in February during a Pacers shootaround in Brooklyn. "I heard [my ACL] pop, as soon as I hit the ground. I was like 'Oh, s**t!'"
Jefferson said he wanted to return to the game, but with 27 seconds left, it wasn't worth risking further injury. In reality, Jefferson's injury was as serious as it gets.
"I actually injured my MCL earlier that year and that was more pain," Jefferson said. "I'm thinking like, 'Oh, it's not as bad, the pain is going away.' So, when I went and got the MRI and [the doctor] told me it was an ACL tear, I just remember tears in my eyes thinking 'ugh!'"
Jefferson, 24 at the time, was in the midst of his best season, averaging 23.1 PPG and 11.0 RPG. He was viewed as a potential cornerstone for a rebuilding Minnesota team that featured talented rookie and future All-Star Kevin Love.
Two years removed from the departure of Kevin Garnett, Jefferson's development was vital to the Timberwolves' future. That future hinged on the ligaments inside the 6'10" center's right knee.
The ACL is a thick, index finger-sized cord that stabilizes the knee and is one of four main ligaments that connects the femur (thighbone) to the tibia (shinbone). A tear of the ACL is usually caused by a swift change in direction, which is common among basketball players. The injury is often times a freak accident on a routine play and not the result of years of wear and tear.
Statistics compiled by the ACL Recovery Club and Hoops Rumors show that since 1970, 97 NBA players suffered a torn ACL either before or after their debut. Of those 97 players, nine of them suffered the injury twice.
"I had my injury in 2009. You look back to the 1980s, [a torn ACL] was pretty much a career-ending injury," Jefferson said.
Jefferson is right. From 1970 through 1990, 18 players tore their ACL and eight of them played three or fewer seasons after their return. The list of players who never played again after a torn ACL include Hall-of-Famer Billy Cunningham, 1973 first overall pick Doug Collins, and NBA champion Chris Andersen.
RECOVERY
There was one common descriptor used among players who suffered the injury and went through the recovery process: mental struggle.
The severity of an ACL tear determines the prognosis and estimated recovery time. Jefferson was fortunate in that he was healthy and back on the court seven months after the injury. The normal timeline is usually anywhere from nine months to one year.
According to Jefferson, he still discusses his ACL tear to this day with trainers, some of whom marvel at how quickly he recovered. Jefferson's production returned to near his pre-injury levels, as he averaged 21.8 PPG and 10.8 RPG for the Bobcats in 2013, five years after the injury.

"I didn't know it at the time, but luckily I didn't make it worse because I came back too fast," Jefferson said.
Former first-round pick Speedy Claxton was not as fortunate. In a preseason game during his rookie year in 2000, Claxton went for a layup, but – in an attempt to evade a defender – his knee buckled and he collapsed. Claxton detailed a similar initial reaction to Jefferson — he was in obvious discomfort, but the initial shock wore off and he didn't believe the injury was serious.
He was wrong.
"We were in the training room and I told the doctor, 'You know, my knee is feeling better,'" Claxton said to Hoops Rumors in a phone interview. "He's like, 'Okay, get up and walk.' So I got off the table, tried to walk and collapsed. I realized, it's over."
Claxton suffered a complete tear of his ACL, which ended his first NBA season before it started. And for a point guard nicknamed Speedy, any knee injury is a concern.
As Claxton explained, coming back from the injury isn't the hard part — the hardest part is physically and mentally adjusting to playing on an already-wounded knee.
"You probably start to feel like your old self a year and a half after the injury. The mental aspect of it is the toughest, It's a long, grueling rehab process and you don't know if you're ever going to be the same," Claxton said. "It really doesn't start feeling normal until around the three- or four-month mark. That's when you have to start learning to walk and start jogging – it feels weird."
Recent history shows that recovering from a torn ACL produces a mixed bag of results. Since 2010, 33 players suffered the injury, and none of them have made any All-Star appearances upon returning — though, of course, many weren't All-Stars before suffering the injury.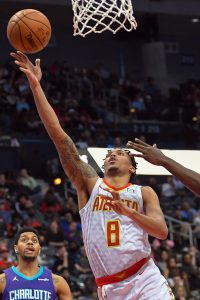 In Claxton's second season back from his ACL injury, he played a pivotal role off the bench for the 2003 NBA champion Spurs. In four of his seven NBA seasons, Claxton played at least 60 games. However, he also struggled with knee injuries the rest of his career.
"My quickness came back, but my athleticism didn't come back to where it was," Claxton said. "But it wasn't like what it was before the injury."
DOUBLE TROUBLE
It's one thing to fight through a major injury to resume your professional career. It's another to do it before that career has even started.
In mid-March, the Hawks signed guard Damion Lee to a 10-day contract before eventually giving him a second 10-day contract and then signing him for the rest of the season. On the surface, it was a depth move and an audition of a young player for a rebuilding team. For Lee, it meant fulfilling an NBA dream that was twice almost torn away.
Lee spoke to Hoops Rumors about his improbable journey to the NBA last month, detailing two torn ACLs: one in his right knee in November 2013 at Drexel University as a junior, then one in his left knee just 16 games into his professional career in December 2016. The first tear robbed Lee of a year of development, so he stayed behind in college for an additional year as a transfer student at Louisville.
"Retirement has never crossed my mind," Lee told Hoops Rumors via email. "After the second injury in 2016, it actually made me stronger and motivated me, because I knew that I have returned from the same injury. My belief during the entire rehab process was that I could return to the court the second time around stronger than ever."
The 25-year-old persisted and showed his talent in the G League this season, averaging 15.8 PPG, 4.9 RPG and 2.6 APG in 38 games with the Santa Cruz Warriors.
"I think the biggest challenge is mental. It takes confidence to know that you will physically get back to where you were as long as you take care of your body and your mental state," Lee said. "The mental challenges start with convincing yourself you can bend your knee, you can squat that amount of weight. It takes trust in yourself and your ability to overcome mental hurdles."
Lee's teammate with Santa Cruz this season, Chris Boucher, has also torn his ACL — he did so just two months after Lee suffered the injury for a second time. Boucher, a senior at Oregon, had a lanky frame but his 6'10", 200-pound body made for an intriguing NBA prospect.
Instead, he had to deal with a shortened final collegiate season, missing out on being selected in the NBA Draft and the money that comes with it. Boucher rehabbed diligently and ended up signing a two-way contract with the Warriors, meaning that he was able to spend up to 45 days with the NBA team and the rest of the time with the G League squad.
"I had a lot of conversations with [Warriors guard] Shaun Livingston," Boucher told Hoops Rumors in an email interview, citing Livingston's horrific 2007 knee injury in which he tore his ACL and PCL, sprained his MCL, and dislocated his kneecap. "He had one of the worst injuries in NBA history, and he taught me a lot about how to keep my mind prepared for the daily rehab process."
Livingston miraculously recovered and has enjoyed a productive career, having been part of two championship teams in Oakland. The 25-year-old Boucher hopes to follow in those footsteps while keeping his knee ligaments intact.
Boucher, a Montreal native, played well in 20 G League games, posting numbers similar to his college days as he averaged 11.8 PPG, 7.5 RPG, and 2.2 BPG. Boucher's work earned him a promotion to Golden State and he played one minute of NBA basketball against the Lakers on March 13.
"I feel like I returned from this injury a lot more explosive and physically stronger than I've ever been," Boucher said. "After the All-Star Break, playing in the NBA G League for a month, I definitely feel better on the court than I've ever felt before. I've never felt stronger than where I am at this point in my career."
PROGNOSIS
Lee and Boucher are just two recent examples of persistence paying off. Whether or not they can sustain their success remains to be seen. The fact remains that a torn ACL, while not a career-ending injury, still has a major impact, both mentally and physically.
The most recent ACL tear was suffered by Knicks All-Star Kristaps Porzingis in February. His injury not only affects his career trajectory moving forward — it threatens a rebuilding strategy for a Knicks franchise that plans to make him its centerpiece.
At 22 years old, Porzingis is one of the youngest players to suffer the injury in recent years, joining the likes of Spencer Dinwiddie, Jabari Parker, and Dante Exum. Dinwiddie has found success with the Nets since returning, winning the Skills Challenge at NBA All-Star weekend in February.
As for Parker, he averaged 20.1 PPG in 2016/17 after coming back from his first ACL tear, but suffered a second ACL injury last February that ended his season early. Now he's headed for restricted free agency this summer with a twice-repaired knee, which diminished his performance and will adversely impact his earning potential.
As Porzingis recovers, he explained to reporters, including Marc Berman of the New York Post, that he needs to embrace one personality trait he lacks in order to successfully rehab the injury.
"I'm an impatient individual in life, small things also,'' said Porzingis, who is eligible for a contract extension for the first time this offseason. "But I know one thing: I'm going to have to be patient with the knee."
As Jefferson massaged his once-torn-up right knee inside Barclays Center, loosening up the muscles around it, he said he's confident that Porzingis can recover to full strength. Jefferson cited Porzingis' age, overall talent, and style of play as reasons for him returning to form.
Ultimately, recovering effectively will be determined by Porzingis' persistence and patience.
"Now I see guys are really taking their time, like they should, to come back and come back right and make sure they are 100%. I think that's the best way to do it," Jefferson said.
Photos courtesy of USA Today Sports Images.