No NBA player has been with the same team longer than Dirk Nowitzki, who is entering his 21st season with the Mavericks. Nowitzki's longevity in Dallas allows him to once again top our annual list of the NBA's longest-tenured players by team, but there was plenty of upheaval in the list's top 10 this offseason.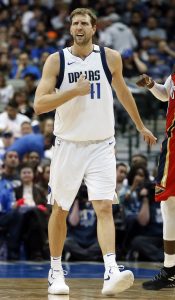 Tony Parker, who had been with the Spurs since 2001, is now a Hornet. Nick Collison, who had been with the Thunder since 2003, retired. Other long-tenured players like DeAndre Jordan (Clippers), DeMar DeRozan (Raptors), and Wilson Chandler (Nuggets) are now on new teams too.
In some cases, the newest longest-tenured player for those teams is a surprising one. For instance, with Jordan no longer in Los Angeles, would you believe the player that has been with the Clippers the longest is Wesley Johnson? Meanwhile, after letting Julius Randle walk in free agency, the Lakers don't have any players who have been on their roster for longer than two years, making 20-year-old Brandon Ingram the longest-tenured Laker.
Be sure to check out the rosters and depth charts at RosterResource.com for full details on how and when each team acquired every player on its roster.
Here are the NBA's current longest-tenured players by team:
Photo courtesy of USA Today Sports Images.