After the NBA salary cap increased by nearly 35% for the 2016/17 league year, it has grown at a far more modest rate in two subsequent seasons, increasing from $94.1MM to $99.1MM to $101.9MM. Still, the cap spike in 2016 resulted in a free agent spending spree that is still haunting some teams.
Many of the clubs that currently project to be taxpayers for the 2018/19 season still have an unwieldy contract or two from the summer of 2016 on their books. That list includes Ian Mahinmi for the Wizards, Evan Turner for the Trail Blazers, and Hassan Whiteside and Tyler Johnson for the Heat.
Even this year's projected taxpayers that spent their money more wisely in 2016 can blame that summer at least in part for their substantial team salaries — clubs like the Warriors and Celtics likely wouldn't have been able to land stars like Kevin Durant and Al Horford without the cap spike, and commitments to those players are helping push both teams into tax territory today.
In total, nearly one-third of the NBA's teams could end up over the luxury tax threshold this season. Currently, eight teams have crossed that $123.733MM line, while two more are narrowly below it. Teams have until the end of the 2018/19 regular season to adjust team salary in an effort to get back under the tax line, but most of those clubs will have little leverage if they try to dump salary, so it won't be easy to cut costs.
Here's an early look at the teams likely to finish 2018/19 as taxpayers: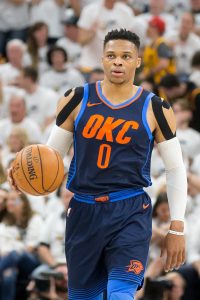 Oklahoma City Thunder
Current guaranteed team salary (approximate): $149.58MM
The Thunder have actually reduced their projected tax bill in the last month by trading Carmelo Anthony and his $28MM salary, but this roster will still have a massive price tag attached to it. Because they'll finish the season having been in the tax in three of the last four years, the Thunder will be subject to the repeater tax, resulting in more punitive penalties. As a result, their tax bill currently projects to be worth a staggering $93.19MM.
Golden State Warriors
Current guaranteed team salary (approximate): $143.64MM
The Warriors will actually get off relatively easy this year, despite a projected tax bill of $51MM+ if Patrick McCaw returns on his qualifying offer. Klay Thompson and Draymond Green are still on old contracts that pay them well below their current maximum salaries, and Golden State won't get hit with the repeater tax until 2019/20. If Thompson and Durant sign lucrative new deals next summer, the Dubs may well face more significant tax penalties in future seasons.
Toronto Raptors
Current guaranteed team salary (approximate): $139.79MM
The Raptors have avoided the tax during their recent run of 50-win seasons, but they're unlikely to do so again this year. Even if they're able to dump one unwanted contract, it probably won't be enough to slip below the tax line. That's not the end of the world though, as team ownership should be willing to pay a little extra in 2018/19 for what could be a championship-caliber roster. Some money will come off the books in 2019, and much more will be cleared by 2020, so the club likely won't have to worry about spending the next several years in tax territory.
Washington Wizards
Current guaranteed team salary (approximate): $134.86MM
One of four taxpayers last season, the Wizards came away with little to show for the extra investment in their roster — the club finished eighth in the East and was eliminated in the first round of the playoffs. That didn't dissuade ownership from spending big again this season on a roster that looks pretty similar to last year's, plus Dwight Howard. Based on their current team salary, the Wizards are on the hook for a projected tax bill of $19MM+.
Houston Rockets
Current guaranteed team salary (approximate): $133.72MM
The Rockets' guaranteed team salary currently only accounts for 11 fully guaranteed contracts and one partially guaranteed deal, so that total figures to increase by the time Houston sets its final 14- or 15-man roster. With expensive multiyear deals for James Harden, Chris Paul, Clint Capela and others on the books for 2019/20 as well, it will be interesting to see just how willing new owner Tilman Fertitta is to remain in tax territory for multiple years if the Rockets once again fall short of the NBA Finals in 2018/19.
Portland Trail Blazers
Current guaranteed team salary (approximate): $131.64MM
The Trail Blazers deftly ducked below the tax line at the 2018 trade deadline when they shipped Noah Vonleh's expiring contract to Chicago. Barring a fire sale, it will be more difficult to get below that threshold this season — the Blazers would have to shed about $8MM to do so, and there are no big expiring contracts on their books that would make good trade chips.
Miami Heat
Current guaranteed team salary (approximate): $126.98MM
Like the Rockets, the Heat don't have a full roster yet, so their total guaranteed team salary is based on just 12 players. If they bring back Dwyane Wade and Udonis Haslem, even on minimum salary contracts, the gap between the Heat's team salary and the tax line will increase. That will make it trickier to get out of the tax at the trade deadline, though Miami has reportedly explored potential trades this offseason involving some of the team's highest-paid players.
Boston Celtics
Current guaranteed team salary (approximate): $126.75MM
The Celtics' tax bill is currently only projected to be about $5.8MM, which is modest enough that the club won't do anything drastic to move below the tax line. Still, the front office will be mindful of the cost of the roster in future seasons. With lucrative new contracts for the likes of Kyrie Irving, Jaylen Brown, and Jayson Tatum due before too long, the Celtics could eventually become a perennial taxpayer, so it might be in the club's best interests to sneak out of the tax in 2018/19 to avoid starting the clock on the repeater tax.
---
Outside of the eight teams listed above, the Pistons and Grizzlies will be the wariest about their standing in relation to the tax line in 2018/19. Both clubs currently have about $123.25MM in team salary on their books, leaving them less than $500K away from tax territory. Memphis could create some extra breathing room by waiving Andrew Harrison's non-guaranteed salary.
Salary information from Basketball Insiders was used in the creation of this post.
Photo courtesy of USA Today Sports Images.