Shortly after the July moratorium ended last month, Suns guard Devin Booker became the first player to sign a rookie scale extension in 2018, inking a five-year, maximum salary contract that will take effect in 2019/20. Currently, it's projected to be worth just over $158MM.
While Booker was the first fourth-year player to sign a rookie scale extension this year, he likely won't be the last. Twenty-two other players are extension-eligible up until the first day of the regular season, and in a typical NBA offseason, between four and eight rookie scale extensions are completed.
Listed below are all the rookie scale extensions that have been signed over the last five offseasons. These deals should help give us an idea of what we can expect this year
Typically, at least a couple mega-deals are completed in each offseason, so it's a safe bet that at least one more star (likely Karl-Anthony Towns) will join Booker in that group. A handful of less lucrative contracts are often finalized in each offseason too, so non-stars can be extension candidates — Bobby Portis, Larry Nance, Justise Winslow, and Trey Lyles are among the players who could fit that bill this offseason.
Here's the full list of rookie scale extensions from the last five years:
2017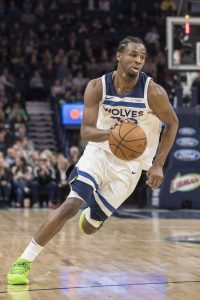 2016
2015
2014
2013
Photo courtesy of USA Today Sports Images.