NBA teams have now completed the brunt of their offseason work, with the draft and free agency practically distant memories. Still, with training camps more than a month away, most clubs around the league have at least one or two outstanding issues they've yet to address.
Over the next week, we'll be looking at all 30 NBA teams, separating them by division and checking in on the key outstanding question that each club still needs to answer before the 2018/19 regular season begins.
We're starting today with the Atlantic division, so let's dive right in…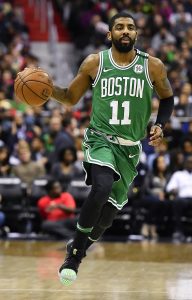 Boston Celtics
Will Gordon Hayward and Kyrie Irving be fully recovered and ready for the season?
Outside of continuing to work with both Hayward and Irving during their rehab processes, the Celtics don't have a ton of agency when it comes to answering this question — they can only hope for the best for their two injured stars.
While Hayward and Irving are both expected to be ready to go for the 2018/19 season, that's not an absolute lock, as neither player has participated in 5-on-5 action to date.
Given the constant speculation about the health of other key Eastern players returning from injuries (think Kawhi Leonard), it only seems fair to take a similar view on the Celtics — they'll be title contenders if Hayward and Irving get healthy and stay healthy. With just over two months until opening night arrives, that's the key issue facing a Celtics team that otherwise seems all set for the season.
Brooklyn Nets
Will D'Angelo Russell or Rondae Hollis-Jefferson receive rookie scale extensions from the Nets?
Much has been made about the Nets' projected 2019 cap space, particularly after the team was able to ditch Timofey Mozgov's pricey multiyear contract earlier this summer. While we expect the Nets to pursue multiple top free agents from other clubs, it's also worth noting that they could be faced with decisions on a couple key restricted free agents of their own.
Russell and Hollis-Jefferson are eligible for rookie scale extensions right up until October 15, but if they don't sign new deals by that point, they'll be on track for restricted free agency next summer. While the Nets would still have the right of first refusal on both players at that point, they'd have less control over each player's future — if another team comes in with an aggressive offer sheet for either RFA, it could complicate Brooklyn's own free agency plans.
Even if the Nets view Russell and Hollis-Jefferson as key parts of their core, I wouldn't be surprised if neither player is extended this year. Letting those contracts expire will allow Brooklyn to maximize its flexibility in the free agent market in 2019.
New York Knicks
Will the Knicks sign Kristaps Porzingis to a rookie scale extension?
Like their crosstown rivals, the Knicks have a rookie scale extension of their own to worry about. Porzingis is a lock to be extended by New York at some point, likely on a maximum-salary deal. But the timing of his next contract remains up in the air.
The Knicks don't project to have as much cap room next offseason as the Nets and other clubs, but they can still create enough space to potentially make a splash on the free agent market. That would become much more difficult with a new extension for Porzingis already on their cap.
If the Knicks sign KP to a max extension now, he'd count for approximately $27.25MM in 2019/20 when the new league year begins. If they wait until next year to give him a new deal, his cap hold would be about $17.1MM until he officially signs, creating about $10MM in extra space for the Knicks to use before going over the cap to lock up Porzingis.
Between the extra cap flexibility and Porzingis' ongoing ACL recovery, I expect New York to pass on a rookie scale extension this year. If they take that route though, the Knicks will have to be ready to put a huge, player-friendly offer on the table next year to avoid having Porzingis accept an offer sheet from another team that would allow him to reach free agency sooner.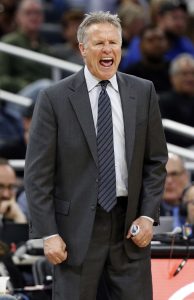 Philadelphia 76ers
Who will the Sixers hire as their new head of basketball operations?
Since Bryan Colangelo's dismissal in early June, the Sixers have operated without a permanent general manager. Head coach Brett Brown has technically served as the interim GM over the last couple months, though several members of Philadelphia's front office have been involved in roster decisions.
With the Sixers' roster for 2018/19 all but set, there's no longer a rush to get a permanent replacement for Colangelo installed right away, but it's still an issue the organization should look to address before the regular season begins.
The 76ers reportedly made a run at Rockets GM Daryl Morey, and have been rumored to be targeting other big names too. However, outside of the Morey report, we haven't heard a whole lot of specifics on the team's search as of late.
Although the top candidates for the job and the timeline for a hire remain uncertain, it's important that the Sixers get this right — next summer will be the last time that the club projects to have significant cap room before extensions for Ben Simmons and Dario Saric are due, so it'll be a big year for Philadelphia's front office.
Toronto Raptors
Will the Raptors look to shed salary before the season begins?
The Raptors' offseason player movement has been fairly clear-cut — Kawhi Leonard replaces DeMar DeRozan as the team's on-court leader, and Greg Monroe and Danny Green figure to step in for Jakob Poeltl and Lucas Nogueira in the rotation. However, those roster moves didn't cut costs at all for a Raptors squad whose team salary is now well beyond the tax line.
With approximately $140MM in guaranteed money on Toronto's books after the signing of Monroe, it will be interesting to see whether the club still hopes to shed salary in a salary-dump deal, or if team ownership is prepared to pay a sizable tax bill for a roster with the potential to contend for a title.
While Green or C.J. Miles would probably be easier to trade, the Raptors may prefer to move someone like Norman Powell, assuming they're still looking to make a deal. Powell no longer has a clear role in a crowded wing rotation and his four-year, $42MM extension represents one of the only commitments on Toronto's books beyond 2019/20.
I'd be surprised if the Raptors haven't talked to the Kings, who could use some help at small forward and still have the cap room necessary to take on Powell. But there's not necessarily a huge rush for the Raps to move a contract or two immediately — they could always wait until the trade deadline to try again to trim salary.
Photos courtesy of USA Today Sports Images.