Boris Diaw, who played 14 seasons in the NBA, has officially retired from basketball, according to a tweet from Sportando. The versatile big man played for five teams, but is best known for his time in San Antonio, where he won a championship in 2014.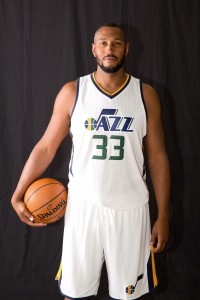 A French native, the 36-year-old spent last season with Paris-Levallois. He built a strong international reputation in France before coming to the NBA, winning the FIBA Europe Under-18 Championship in 2000. He was named captain of the French national team in 2006 and led his nation to the gold medal at the 2013 EuroBasket tournament.
Diaw was drafted by the Hawks with the 21st pick in 2003. He spent two years in Atlanta before being traded to the Suns, and later played for the Bobcats and Spurs before finishing his NBA career with the Jazz in 2017. Several playoff teams reportedly had interest in signing him late last season, but nothing ever materialized.
Over the course of his NBA career, Diaw averaged 8.6 PPG, 4.4 RPG, and 3.5 APG in 1,064 contests (27.0 MPG). According to Basketball-Reference, the 2006 NBA Most Improved Player earned more than $80MM during his 14 seasons in the NBA.
Photo courtesy of USA Today Sports Images.