Twenty-three players became eligible for rookie scale extensions when the 2018/19 NBA league year began in July. One of those 23, Devin Booker, quickly finalized a new deal with the Suns, leaving 22 other players who could sign rookie scale extensions before the October 15 deadline. In the weeks leading up to that deadline, we'll be taking a closer look at some of the strongest candidates for new contracts.
[RELATED: 2018 NBA Extension Candidate Series]
Our examination of this year's candidates for rookie scale extensions continues today with Nets guard D'Angelo Russell. Let's dive in…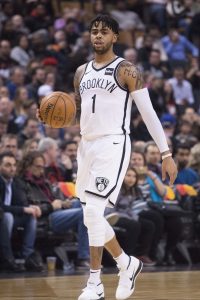 Why the Nets should give him an extension:
The second overall pick in the 2015 draft, Russell was the first player to come off the board after Karl-Anthony Towns was selected. A play-making point guard with size, the former Ohio State star has shown intriguing upside during his first three NBA seasons, averaging 14.6 PPG, 4.3 APG, and 3.6 RPG in 191 games (27.8 MPG).
Given the Nets' dearth of lottery picks in recent years, a result of their ill-fated trade with the Celtics years ago, the team was willing to surrender longtime center Brook Lopez and a first-round pick for Russell last summer, taking on Timofey Mozgov's oversized contract in the process.
That trade signaled that the Nets believed in Russell's potential, and with the club's cap now cleared of pricey long-term deals, this could be the time to invest in his future. Injuries and adjustments to Kenny Atkinson's system limited Russell's impact in his first year in Brooklyn, but the club is reportedly excited to see what he can do in year two. If the 22-year-old enjoys a breakout season, he'll only get more expensive as a restricted free agent in 2019.
Why the Nets should avoid an extension:
Beyond clearing Mozgov's contract and clearing a path for Lonzo Ball to assume point guard duties, there's a reason the Lakers were willing to trade Russell in 2017. The young guard faced scrutiny about his work ethic and his drive in Los Angeles, with president of basketball operations Magic Johnson hinting after the trade was completed that the franchise didn't necessarily view Russell as a "leader."
Russell's on-court production may also be a cause for a concern, as he hasn't shown much improvement in that department since his rookie season. Most players who enter the NBA as 19-year-olds and develop into reliable regulars see their numbers steadily rise over the course of their rookie contracts, but Russell's 2017/18 stats (15.5 PPG on .414/.324/.740 shooting) look awfully similar to his 2015/16 figures (13.2 PPG on .410/.351/.737 shooting).
Russell didn't exactly make a strong case for a long-term contract during his first season as a Net, with injuries limiting him to 48 games. He was outplayed by former second-round pick Spencer Dinwiddie at times, and his on/off-court numbers weren't flattering — Brooklyn had a -7.1 net rating when Russell played, including an ugly 111.7 defensive mark. Those numbers improved to -2.8 and 107.0 when he wasn't on the court.
Points of comparison:
Among recent recipients of rookie scale extensions, Dennis Schroder may be the best point of comparison for Russell. Schroder, who signed a four-year, $62MM extension with the Hawks during the 2016 offseason, had similar per-minute numbers to Russell in their respective third NBA seasons. Schroder also faced questions about his shooting ability and his locker-room fit.
The Hawks' investment in Schroder initially looked like a good one, as he enjoyed his best year after signing his new deal, and kept improving once he became the focal point of the team's offense. However, Atlanta's new front office group, which wasn't responsible for drafting or extending Schroder, wasn't particularly attached to him, and his off-court issues became a problem when he was arrested last year on a battery charge. The Hawks dumped his contract to the Thunder in a trade this summer.
An extension for Russell won't necessarily play out like Schroder's did, of course, but it's a case that the Nets should keep in mind as they weigh whether or not to make a long-term commitment to their young guard.
Cap outlook:
The Nets project to open up a big chunk of cap room in 2019, with virtually no guaranteed money on their books by the 2020/21 season.
At first glance, it may seem logical to avoid extending Russell until the team gets a sense of what it can do with its '19 cap space, but if Nets management is confident that the former No. 2 pick is a long-term building block, it actually might make sense to sign him sooner rather than later.
Because he was such a high draft pick, Russell would have a pricey cap hold as a restricted free agent next summer — he'd count for more than $21MM against the Nets' cap until the team re-signs or renounces him. If Brooklyn extends him, his starting salary would almost certainly be less than that, creating extra room to spend on outside free agents.
Of course, if the Nets aren't yet convinced whether Russell is a part of their future, waiting on a new deal is the right move. Renouncing him next summer would create an extra $21MM in cap room which could be used on another signing or trade.
Conclusion:
Although the Nets traded for Russell last offseason believing that he was capable of becoming an important piece in their rebuilding process, his underwhelming 2017/18 performance may give Sean Marks and company pause.
Having finally regained control of their own first-round draft picks and cleared their cap of unwanted contracts, the Nets will be extra careful not to make any major missteps during this key stage of their rebuild. In the case of Russell, locking him up to a long-term deal now, before he enjoys a true breakout season, could pay off in a big way down the road. But the risk probably isn't worth the potential reward.
With few salary commitments on their cap beyond this season, the Nets can afford to be patient with Russell and evaluate him further in 2018/19. If he shows this season that he's a keeper, Brooklyn will still have the right of first refusal when he reaches restricted free agency and probably won't mind paying a little extra at that point to re-sign him.
Will Russell get extended by October 15?
Our prediction: No.
Our estimate: RFA in 2019.
Photo courtesy of USA Today Sports Images.