When he was fired by the Cavaliers on Sunday, Tyronn Lue became the 24th NBA head coach to be replaced during a season since 2010/11, by our count.
NBA head coaching changes have historically happened far more frequently in the offseason than during the season, but teams haven't hesitated to make changes on the fly over the course of this decade. Outside of 2016/17, which represented the rare season in which no head coaches were fired, there have been in-season changes made every year since 2010/11, with most seasons featuring multiple firings.
With the Cavaliers and "acting" coach Larry Drew still trying to figure out whether he'll officially take on the interim role or whether he'll get a longer-term deal with the team, we're going to take a look back at the other in-season changes from the last several years to get a sense of how those situations compared to Cleveland's and how long the replacements panned out in those scenarios.
Let's dive in…
2017/18: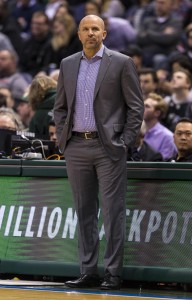 January 22, 2018: Bucks replaced Jason Kidd (23-22) with Joe Prunty (interim).
November 27, 2017: Grizzlies replaced David Fizdale (7-12) with J.B. Bickerstaff (promoted to permanent role).
October 22, 2017: Suns replaced Earl Watson (0-3) with Jay Triano (interim).
No team this decade has made an in-season coaching change faster than Phoenix did last season. The Suns, like the Bucks, installed an interim coach who was eventually replaced in the spring, but the Grizzlies have stuck with Fizdale's interim replacement, signing Bickerstaff to a new multiyear contract at season's end.
2015/16:
February 8, 2016: Knicks replaced Derek Fisher (23-31) with Kurt Rambis (interim).
February 1, 2016: Suns replaced Jeff Hornacek (14-35) with Earl Watson (9-24) (promoted to permanent).
January 22, 2016: Cavaliers replaced David Blatt (30-11) with Tyronn Lue (promoted to permanent role).
January 10, 2016: Nets replaced Lionel Hollins (10-27) with Tony Brown (interim).
November 18, 2015: Rockets replaced Kevin McHale (4-7) with J.B. Bickerstaff (interim).
Blatt's dismissal still stands out as one of the most shocking on this list, given his club's win-loss record — the Cavaliers were on pace for a 60-win season at the time of his ouster. Of course, that move ultimately ended up paying major dividends, as Lue's Cavs won the title five months later. Lue and Watson were the only in-season replacements in this group who kept their jobs past the end of the season. Less than three years later, both of them have been let go.
2014/15:
March 3, 2015: Nuggets replaced Brian Shaw (20-39) with Melvin Hunt (interim).
February 5, 2015: Magic replaced Jacque Vaughn (15-37) with James Borrego (interim).
December 15, 2014: Kings replaced Michael Malone (11-13) with Tyrone Corbin (interim), then George Karl (permanent).
The Kings were one of the only teams on this list to make multiple in-season changes in the same season. After installing Corbin as the interim coach following Malone's firing, Sacramento remained on the lookout for a longer-term hire and ultimately decided to bring Karl aboard. Of the Kings' three head coaches that season, Malone easily had the best record over Corbin (7-21) and Karl (11-19), who only lasted one more season in Sacramento.
2013/14:
February 9, 2014: Pistons replaced Maurice Cheeks (21-29) with John Loyer (interim).
The 2013/14 season was a fairly quiet one for coaching changes, and the Pistons' decision to replace Cheeks with Loyer doesn't look great in hindsight — Loyer posted an 8-24 record to finish out the year and hasn't held a coaching position since then.
2012/13: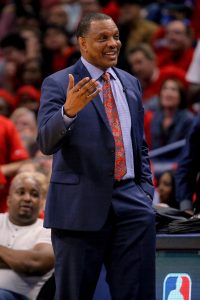 January 18, 2013: Suns replaced Alvin Gentry (13-28) with Lindsey Hunter (interim).
January 8, 2013: Bucks replaced Scott Skiles (16-16) with Jim Boylan (interim).
December 27, 2012: Nets replaced Avery Johnson (14-14) with P.J. Carlesimo (interim).
November 9, 2012: Lakers replaced Mike Brown (1-4) with Bernie Bickerstaff (interim), then Mike D'Antoni (permanent).
The 2013/14 campaign may have featured the most high-profile changes of any season this decade, with the Lakers' quick dismissal of Brown and the Nets' decision to fire Johnson both coming as surprises. As for Hunter and Boylan, they posted worse records than the men they replaced and neither of them have earned a shot at another NBA head coaching job.
2011/12:
March 15, 2012: Trail Blazers replaced Nate McMillan (20-23) with Kaleb Canales (interim).
March 13, 2012: Knicks replaced Mike D'Antoni (18-24) with Mike Woodson (promoted to permanent role).
January 24, 2012: Wizards replaced Flip Saunders (2-15) with Randy Wittman (promoted to permanent role).
January 5, 2012: Kings replaced Paul Westphal (2-5) with Keith Smart (promoted to permanent).
Even in the strike-shortened 2011/12 campaign, there was enough time for four teams to make coaching changes, though D'Antoni's departure from the Knicks was more of a resignation than a firing. In-season replacements Woodson and Wittman both eventually led their respective teams to appearances in the Eastern Conference Semifinals after shedding their interim titles.
2010/11:
February 10, 2011: Jazz replaced Jerry Sloan (31-23) with Tyrone Corbin (interim).
January 30, 2011: Pacers replaced Jim O'Brien (17-27) with Frank Vogel (promoted to permanent).
December 22, 2010: Bobcats (Hornets) replaced Larry Brown (9-19) with Paul Silas (promoted to permanent role).
The 2010/11 season was the last time we saw two of the winningest coaches in NBA history on the sidelines, as both Sloan and Brown abruptly resigned from their positions with the Jazz and Bobcats, respectively, after clashing with players. As for the Pacers, they had far more success with Vogel than most teams on this list had with their own in-season replacements — Indiana made the playoffs in five of Vogel's six seasons with the organization, appearing in the Eastern Conference Finals twice.
Photos courtesy of USA Today Sports Images.