Richard Jefferson has retired after 17 NBA seasons and appears headed for a job in television, tweets Marc Stein of The New York Times. Jefferson published a post on Instagram in which he announced his decision.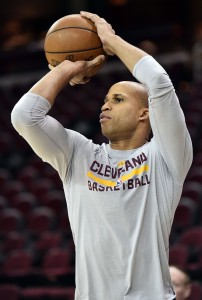 Jefferson, 38, played with eight teams during his 17-year NBA career after breaking in with the Nets in 2001. He reached the NBA Finals twice in New Jersey, then won a title in 2016 with the Cavaliers. After winning that championship two years ago, Jefferson announced during Cleveland's locker room celebration that he was planning to retire, but changed his mind and returned for two more years.
In 1,181 career regular season games, Jefferson recorded averages of 12.6 PPG, 4.0 RPG, and 2.0 APG. His most productive seasons came with the Nets, including an impressive 2007/08 showing in which he put up 22.6 PPG, 4.2 RPG, and 3.1 APG with a .466/.362/.798 shooting line. The former University of Arizona standout also appeared in 140 total postseason contests.
Jefferson wrapped up his his NBA career with the Nuggets last season, but was barely used, appearing in just 20 games and averaging 8.2 minutes per night. The veteran forward wasn't in training camp with anyone this fall and decided to move on to his next job.
Jefferson's next job may see him heading back to New York to cover his old team, the Nets. A September report suggested that he was leaning toward joining the YES Network team for Nets broadcasts unless he received an NBA contract offer. According to a separate report, Jefferson – who co-hosts a podcast with Channing Frye – also received TV interest from ESPN and for Clippers game broadcasts.
Photo courtesy of USA Today Sports Images.