The Rockets have made the Timberwolves a trade offer for Jimmy Butler that includes four first-round picks, according to a Thursday report. However, there's still no indication that the Wolves are close to accepting that offer, or any others, per Jon Krawczynski of The Athletic (Twitter link).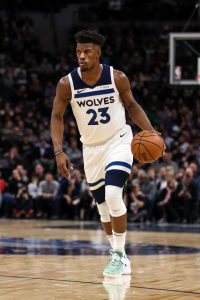 While it may seem shocking that Minnesota would turn down an offer featuring so many first-rounders, it's worth digging into the details on those picks to get a sense of when they might change hands and how high they might land. Various reports on Houston's offer haven't entirely filled in those gaps, but we can make a few deductions based on a pair of rules included in the NBA's Collective Bargaining Agreement.
The Stepien Rule:
As we explain in a glossary entry, this rule – named after former Cavaliers owner Ted Stepien – prevents teams from making trades that leave them without first-round picks in consecutive future years. A team that traded away its 2018 first-round pick can now trade away its 2019 first-rounder. However, if that team trades its 2019 first-round pick, it would be prohibited from trading away its 2020 first-rounder, unless it has acquired another team's '19 or '20 pick.
This sounds a little complicated, but the upshot is that the Rockets couldn't simply offer their 2019, 2020, 2021, and 2022 first-rounders to Minnesota — they'd have to spread them out more than that, to avoid leaving themselves without first-round picks in consecutive future seasons.
The Seven-Year Rule:
The other key restriction on traded draft picks is that teams can't trade future selections more than seven years in advance. That means that during the 2018/19 league year, the latest pick a club could trade is a 2025 selection — the 2026 draft is eight years away.
---
When the Hawks reportedly offered four first-round picks to the Pacers for Paul George at the 2017 trade deadline, their situation was a little different. Because Atlanta had already acquired a handful of extra first-rounders, the club could have just sent Indiana four first-rounders from the 2017, 2018, and 2019 drafts and avoided violating the Stepien rule.
The Rockets, on the other hand, don't have the luxury of having stockpiled extra draft picks. They only hold their own. So, in order to adhere to both the Stepien rule and the seven-year-rule, Houston only has one path to putting four first-rounders on the table — they'd have to offer their 2019, 2021, 2023, and 2025 picks.
Now, typically when a team trades away a first-round pick, that pick will include some sort of protection, and will roll over to the following year if it doesn't convey. For example, the Cavaliers owe the Hawks their 2019 first-rounder, but it's top-10 protected. If it lands in the top 10, Cleveland would instead owe Atlanta its 2020 first-round pick, which would once again be top-10 protected.
Due to the limitations imposed by the Stepien rule and the seven-year rule, it would be very tricky for the Rockets to include similar protections on the first-rounders they're offering to Minnesota. That 2019 first-rounder couldn't roll over to 2020 without impacting the traded 2021 pick, due to the Stepien rule, which in turn would create a domino effect on the rest of the picks.
That doesn't necessarily mean that all four picks would be unprotected though. Let's say that Houston, confident in its ability to be a contender for at least the next three years, made the 2019 and 2021 first-rounders unprotected, believing that they'll fall in the mid- to late-20s. But maybe the Rockets are less confident about that 2023 pick. In theory, they could put protections on it like the Raptors put on the pick they traded to the Spurs in the DeMar DeRozan/Kawhi Leonard blockbuster this summer.
The Raptors' first-round pick acquired by San Antonio in that trade is top-20 protected. If it lands in the top 20, the Spurs would instead receive a pair of second-round picks (2020 and 2023). Houston could do something similar with that 2023 first-rounder — maybe it could be top-10 protected, and would turn into 2023 and 2024 second-rounders if it lands in the top 10. The Rockets could perhaps take a similar approach with that 2025 pick, though the seven-year rule would be a hindrance.
We don't know for sure that the Rockets are going that route, but a couple reports on their latest offer indicated that there are, at least, "limited" protections on the picks they offered. If that's the case, it would reduce the chances of one or two of those first-rounders turning into a blue chip asset, like multiple Nets picks did in their infamous trade with the Celtics. That would reduce the appeal of the offer for Minnesota.
It's also worth noting that the Rockets would still need to send out enough salary to take back Butler's $20.45MM salary. An Eric Gordon/P.J. Tucker combination would work, but I'm skeptical that Houston would put those players on the table in an offer that also features four first-rounders — a willingness to surrender four picks suggests a win-now mentality, and Gordon and Tucker are two players that will help the Rockets win now.
Instead, the Rockets are believed to be offering a package of Brandon Knight ($14.63MM) and Marquese Chriss ($3.21MM). Those players, acquired from Phoenix on August 31, can be aggregated in a trade two months after that deal — so, anytime after next Wednesday.
Chriss still has some upside and his cap hit is modest, but Knight hasn't played since 2016/17 due to injuries and has another guaranteed year on his contract beyond this season, reducing his value. Neither of those players would have the sort of immediate impact that Tom Thibodeau is seeking in a trade package for Butler.
Ultimately, while a Rockets offer that features four first-round picks sounds tantalizing on the surface, there are multiple variables that could diminish the actual value of the offer, and at least a couple of those first-rounders wouldn't change hands for at least five years.
It's unclear whether those 2023 and 2025 picks would sway GM Scott Layden and Thibodeau, who may not be a part of the Timberwolves organization by then. Perhaps owner Glen Taylor would be more tempted by the offer, but it's worth considering that Taylor is 77 years old and has been waiting for years for his franchise to return to contention — he also may not be enthusiastic about the idea of counting on a player drafted in 2025.
The Timberwolves still have more than three months until this season's trade deadline, so we'll see if they remain patient or if this latest offer helps push the saga toward a resolution.
Photo courtesy of USA Today Sports Images.