NOVEMBER 29: The Cavaliers and Jazz have officially issued press releases confirming the trade.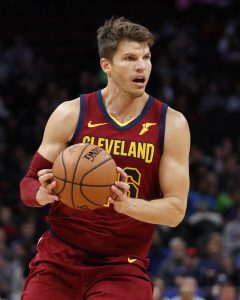 NOVEMBER 28: The Jazz have agreed to trade Alec Burks and two future second-round picks to the Cavaliers in exchange for sharpshooting veteran Kyle Korver, according to Adrian Wojnarowski of ESPN (Twitter links). Wojnarowski adds that the picks being sent to Cleveland are Utah's 2020 second-round pick and a 2021 second-round pick via the Wizards.
Korver, 37, is averaging 6.8 points on 46.1% shooting from the field and 46.3% from beyond the arc in 15.7 minutes per game so far this season. The 15-year veteran previously played three seasons in Utah, from 2007-10, before signing with the Bulls in the summer of 2010.
Burks, meanwhile, is averaging 8.4 points on 41.2% shooting from the field and 37.2% from beyond the arc in an almost identical 15.8 minutes per game. The 27-year-old guard has spent his entire seven-year career in Utah after being drafted 12th overall in 2011.
The Jazz, who have stumbled out of the gate to a disappointing record of 9-12 and currently sit as the 14-seed in the Western Conference, rank 29th in 3-point shooting. The trade for Korver will likely improve upon that figure and open things up for Donovan Mitchell, who has yet to show much improvement upon his scintillating rookie campaign.
As Bobby Marks of ESPN notes, Korver has a $7.56MM cap hit this season and will earn $7.5MM in 2019-20. But, his salary for next season is only guaranteed for $3.44MM before July 7, 2019. Burks is in the final year of his contract with a cap hit of $11.54MM.
Under NBA trade rules, the Cavaliers are able to absorb a player whose salary is up to $5MM more than Korver's salary (i.e. $12.56MM), meaning Burks' salary of $11.54MM will fit nicely and still keep the Cavs over $4MM under the luxury-tax level. Moreover, the Cavs create an additional $3.44MM in cap space for next season, the amount of Korver's 2019/20 guarantee, thanks to Burks being on an expiring contract.
The Jazz, meanwhile, will create a $3.98MM trade exception, that figure representing the difference between the two players' salaries. They'll have one year from the date of the trade to use that exception to acquire another player, if they so wish.
Earlier today, we relayed how the Cavs were willing to take on long-term salary in exchange for other assets, so being able to get two draft picks and an expiring contract for Korver must feel like a real win for Cleveland's front office.