The blockbuster trade agreed upon today by the Sixers and Timberwolves that sends Jimmy Butler to Philadelphia will, of course, have massive on-court ramifications for both teams. However, it's also worth taking a closer look at the deal from a financial perspective to see exactly how it worked, how it will impact the players involved, and how it will affect the Sixers' and Timberwolves' short- and long-term cap outlook.
Let's dive right in and examine the financial implications of today's mega-deal…
How salary-matching works in the trade: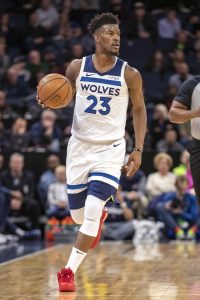 Butler's cap hit for the 2018/19 season is $20,445,779. In order to meet the salary-matching requirements to land Butler, the Sixers have to send out at least $15.45MM in salaries of their own, which means that Robert Covington ($10,464,092) and Dario Saric ($2,526,840) aren't enough. That explains the inclusion of Jerryd Bayless ($8,575,916) in the deal.
[RELATED: Hoops Rumors Glossary: Traded Player Exception]
With Bayless in the mix, his salary – combined with Covington's – allows the Sixers to take back up to about $24MM, which is more than enough to acquire Butler and Justin Patton ($2,667,600) without even having to use Saric for salary-matching purposes. That means the 76ers will create a traded player exception worth Saric's $2,526,840 salary. It will expire in a year.
From the Timberwolves' perspective, Butler's outgoing salary is big enough to absorb Covington's, Saric's, and Bayless' without needing to use Patton for matching purposes. Because Patton – like Saric – was technically traded for "nothing," Minnesota will create a trade exception worth $2,667,600, the amount of Patton's salary.
The impact on Jimmy Butler's potential earnings:
This trade won't make Butler eligible to earn any more – or any less – money when he reaches free agency in 2019. However, it's now the Sixers – rather than the Timberwolves – who will have the ability to offer him more years and more money than any other team, since his Bird rights will be traded along with him.
Based on a $109MM salary cap projection for 2019/20, Butler will be eligible for a five-year, maximum salary deal worth $189.66MM with the 76ers. If he signs with any other team, Butler's projected maximum contract would be four years and $140.61MM. That's certainly one reason why the Sixers are so optimistic that they can lock up the 29-year-old long-term.
Technically, Butler would be eligible to sign an in-season contract extension before he becomes an unrestricted free agent in 2019, but there would be strict limitations on such a deal and it wouldn't make sense for him from a financial perspective.
How the deal affects the Timberwolves' financial situation:
The difference between the incoming and outgoing salaries in this deal is very marginal. While Butler's and Patton's cap hits exceed Covington's, Saric's, and Bayless' by about $1.55MM, Butler's cap charge is inflated by a signing bonus that has already been paid, so the gap is even smaller than it appears. According to cap expert Albert Nahmad (Twitter link), the swap will only end up saving the Wolves – and costing the Sixers – about $170K this season.
The Wolves are less than $3MM from the luxury tax line this season, so a little extra breathing room doesn't hurt, but the financial effects of this deal will really show up in future seasons. If things had gone well with Butler and he ended up re-signing in Minnesota, the club would almost certainly have crossed the tax line (which projects to land at $132MM) next season if it hadn't found a way to dump salary elsewhere.
Instead, the added cap hits for Covington and Saric amount to far less than a max deal for Butler would have, and the Wolves have approximately $108.71MM committed to eight players for 2019/20, assuming Jeff Teague exercises his $19MM player option. That gives the club plenty of flexibility to fill out its roster without having to worry about the luxury tax, and the same goes for seasons beyond that.
Of course, as currently constructed, the Wolves won't have any actual room under the cap to add another major piece to their roster in 2019. The team could keep looking for a Gorgui Dieng trade partner to try to create some space, but it's more likely that Minnesota will simply enter next offseason as an over-the-cap team and use its mid-level exception in any foray into free agency.
How the deal affects the Sixers' financial situation:
The Sixers had long been viewed as a potential major player in free agency during the summer of 2019. That could still happen, even with Butler in the mix.
Taking into account the guaranteed salaries for Joel Embiid, Ben Simmons, Markelle Fultz, Zhaire Smith, Landry Shamet, and Jonah Bolden, along with cap holds for Butler and T.J. McConnell, Philadelphia projects to have slightly over $21MM in cap room in the offseason, based on a $109MM cap. That's not enough for a maximum-salary free agent, but it's enough to add another impact free agent without compromising the team's ability to re-sign Butler.
In order for the Sixers to create enough room to go after another max free agent, they'd need to get to $32.7MM in cap room for a player with between 7-9 years of experience (like a Kawhi Leonard or Klay Thompson) or $38.15MM for a player with 10+ years of experience (such as Kevin Durant).
That seems like a long shot — even if the club renounced or traded everyone except for Simmons, Embiid, and Butler, that would only open up $34.64MM in space. Trading Fultz and Smith and renouncing McConnell could create just over $32.7MM in space, enough for certain max free agents.
If Butler decides he doesn't want to re-sign in Philadelphia, the Sixers would obviously have much more flexibility — their projected cap room would jump from $21MM to nearly $51MM by removing Butler's $30.67MM cap hold.
Looking ahead to the future, it will be fascinating to see how the Sixers fill out their roster around their three stars if they end up locking up Butler and Simmons to long-term max contracts. Based on current cap projections, Butler, Simmons, and Embiid would count for at least $94.36MM in 2020/21 if they all get max deals, and they'd only get more expensive in future seasons.
The impact on each team's 15-man roster:
This trade will see the Timberwolves acquire three players and send out just two, which isn't a problem since Minnesota had been carrying an open roster spot. As a result, the Wolves won't have to waive anyone to accommodate their three incoming players.
Once the deal is completed, the Wolves will have 15 players on NBA contracts and the Sixers will have 14. If Minnesota wants to re-open a roster spot, Bayless could be a buyout candidate — he's on an expiring contract and, as noted earlier, his inclusion in this swap is about matching salaries. I doubt Tom Thibodeau envisions a major role for him.
James Nunnally also only has a partial guarantee and hasn't played much for the Wolves this year, so he could be the odd man out if the team wants to create a roster opening at some point.

As for the Sixers, there's no need for them to make any additional roster moves right away. However, they'll be in the market for some depth at some point after moving Covington and Saric, likely with an eye on shooting help. Their 15th roster spot is now open, but if they want to eventually add more than one player on the buyout market – like they did last season with Marco Belinelli and Ersan Ilyasova – Patton could be expendable. He's recovering from his latest foot surgery and likely doesn't have a future in Philadelphia.
Photos courtesy of USA Today Sports Images. Salary information from Basketball Insiders was used in the creation of this post.