NOVEMBER 12: The Sixers and Timberwolves have issued press releases announcing that the deal is now official.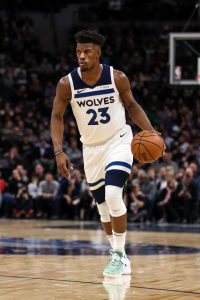 NOVEMBER 10: The Sixers have agreed to acquire Timberwolves star Jimmy Butler and Justin Patton for Robert Covington, Dario Saric, Jerryd Bayless and a 2022 second-round pick, according to Shams Charania and Jon Krawczynski of The Athletic (Twitter links). A trade call with the league to finalize the deal has been scheduled for Monday, Charania adds (via Twitter).

Elton Brand's first major move as the Sixers' general manager will allow the team to acquire a third star alongside Simmons and Embiid without having to take their chances trying to lure that sort of impact player to Philadelphia during 2019's free agent period. It should also reduce the pressure on 2017's first overall pick Markelle Fultz to develop into that third star.
Butler and the Sixers fully expect to reach an agreement on a long-term deal for the All-NBA swingman once he's eligible for free agency in 2019, per ESPN's Adrian Wojnarowski (Twitter link). Philadelphia's plan is to have a long-term big three of Butler, Ben Simmons and Joel Embiid, according to Wojnarowski, who suggests (via Twitter) that only a major injury or a poor fit alongside Simmons and Embiid could diminish the Sixers' optimism on a long-term future with Butler.
It remains to be seen how Butler will fit on and off the court in Philadelphia with the team's two young stars after failing to make things work with Karl-Anthony Towns and Andrew Wiggins in Minnesota, but the four-time All-Star should significantly increase the 76ers' ceiling. Butler will provide play-making and shooting (.361 3PT% since 2016/17) on offense, and figures to replace Covington as the team's primary perimeter stopper on defense. As for Patton, his NBA career has been derailed by foot injuries, and he's unlikely to be a Sixer beyond this season.
Even if they re-sign Butler in 2019, the Sixers won't necessarily be capped out quite yet, with Simmons still on his rookie deal. As ESPN's Bobby Marks details, with cap holds for Butler and fellow free agent T.J. McConnell to consider, the team would have about $21MM in cap room next summer. If the 76ers want to clear enough room for another max player, trading Fultz would just about get them there, though Philadelphia's cap sheet could get messy in that scenario, with an eventual max deal for Simmons also on the horizon.
For Minnesota, this trade will end a near two-month saga after Butler's trade request went public. The week before training camps got underway, word broke that Butler had asked to be traded during a meeting with Timberwolves coach and president of basketball operations Tom Thibodeau and didn't intend to report to camp.
When the Wolves didn't find a trade for Butler right away, he rejoined the team, but the last five or six weeks have been rife with drama. The 29-year-old's return to Minnesota was highlighted by a now-infamous expletive-filled rant in a preseason practice, and things hadn't quieted down much since then. Now that the Wolves have finally resolved the situation, the team will have an opportunity to focus on a future centered around former No. 1 overall picks Towns and Wiggins.
The Timberwolves will now add Covington and Saric to that long-term core — Saric won't be up for restricted free agency until 2020, while Covington is locked up through 2022. Both players make sense for Thibodeau, GM Scott Layden, and the Wolves, who didn't want to take a significant step back in their roster-building process after snapping a lengthy postseason-less streak this past spring. Covington and Saric will be able to jump into the rotation immediately and should also be part of the team for years to come.
Bayless is on an expiring contract and almost certainly won't be part of Minnesota's future plans, as he was just included in the swap for salary-matching purposes. If the Wolves don't plan for Bayless to have a role this season, he'll become a buyout candidate.
Thibodeau, Layden, owner Glen Taylor, and the Timberwolves also reportedly discussed potential Butler trades with several other teams before agreeing to terms with the Sixers. The Rockets and Heat were said to be the most aggressive suitors, as Minnesota allegedly passed on a Miami offer that included Josh Richardson and a first-round pick, and also balked at a Houston offer featuring four first-round picks.
We don't know what the protections on those Rockets' first-rounders or the Heat first-rounder would have looked like, and the Wolves likely would have had to take on an unwanted multiyear contract in each of those proposals. Still, it will still be fascinating to see how Covington and Saric pan out in Minnesota, since we have a sense of what sort of other packages were available to the Wolves.
While Thibodeau exercised plenty of patience through the Butler saga, that patience ran out after the Timberwolves concluded their 0-5 road trip on Friday, according to Wojnarowski (Twitter link). League sources told Wojnarowski that Thibodeau came to the realization Minnesota couldn't win with Butler in such a dysfunctional environment, and told associates that the team wouldn't play another game with Butler.
Wojnarowski and ESPN's Brian Windhorst also report (via Twitter) that team ownership was "heavily involved" on both sides of the negotiations, with Taylor and Josh Harris of the Sixers working closely with management to finalize a deal.
Photo courtesy of USA Today Sports Images. Luke Adams contributed to this post.