The majority of this week's analysis on the trade package the Sixers sent the Timberwolves in the Jimmy Butler trade has focused on Dario Saric and Robert Covington, and rightly so. Those are the two players expected to contribute to the Wolves right away and to become potential long-term building blocks for the franchise.
However, a third player, Jerryd Bayless, was also sent to Minnesota in the deal, and the impact his inclusion in the deal will have on the Sixers shouldn't be overlooked.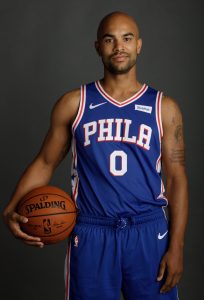 As we detailed in our financial breakdown of the Butler trade, the deal couldn't have been completed without the inclusion of Bayless. Saric's and Covington's salaries weren't enough to match Butler's $20MM+ cap hit on their own, and salary-matching became even trickier once Justin Patton was attached to Butler. In order to make the trade work financially, the 76ers had to include Bayless and his $8.58MM cap charge.
The loss of Bayless is hardly a debilitating one for the Sixers from an on-court perspective. The veteran guard has only played in 42 games over the last three seasons, with a knee injury currently keeping him on the shelf. Even when healthy, Bayless was unlikely to play much of a role for a 76ers team that already had three point guards in its rotation, in Ben Simmons, T.J. McConnell, and Markelle Fultz. If including him in the Butler deal was the final piece to acquire an All-NBA player, it was, of course, a no-brainer for Philadelphia.
Still, Bayless' lack of a rotation role, his expiring contract, and his mid-level salary made him an ideal trade chip for a Sixers team that still needs to add shooting depth. Because he wasn't part of Philadelphia's rotation, the team could afford to give him up, and because he had no guaranteed money on his deal beyond this season, he would appeal to potential trade partners who didn't want to compromise their future flexibility.
For instance, the Sixers reportedly remain interested in Cavaliers sharpshooter Kyle Korver. Without Bayless, who was a part of the Korver trade discussions between the two teams in July, the path to acquiring Korver and his $7.56MM salary becomes trickier. In order to meet the league's salary-matching rules, the Sixers would have to send out at least $4.26MM+.
The 76ers have seven players earning more than that amount. Of those seven, Butler, Simmons, Joel Embiid, and J.J. Redick aren't going anywhere; dealing Mike Muscala or Wilson Chandler wouldn't improve the team's depth, since the team is already relying on those players to be key rotation pieces; and Fultz's stock hasn't fallen so far that Philadelphia would move him for Korver.
That means in order to match Korver's salary, the Sixers would have to package at least a couple lesser-paid players. The expiring contracts for Patton ($2.67MM) and Furkan Korkmaz ($1.74MM) would work, and would probably be the most likely package – along with a draft pick or two – if Philadelphia makes a play for Korver or another shooter in his salary range, such as Jeremy Lamb or Wayne Ellington.
The Sixers' salary-matching options would become more complicated if they wanted to go after a player with a higher salary though. For instance, Kevin O'Connor of The Ringer suggested in a podcast that Kentavious Caldwell-Pope is one player on the team's radar, as Bryan Kalbrosky of HoopsHype relays. Caldwell-Pope has a $12MM cap hit, which would be virtually impossible for the Sixers to match without using a rotation player like Chandler or a prospect like Fultz, now that Bayless is no longer on their books.
There are plenty of ways the Sixers could get creative on the trade market, and it's worth noting that the team may not even need to make any deals — after all, last season's impact in-season additions, Ersan Ilyasova and Marco Belinelli, were both signed on the buyout market.
Still, the Sixers can't count on striking gold with players like Ilyasova and Belinelli again, and not having Bayless on the roster will limit their flexibility to some extent. Sending Bayless to the Timberwolves was necessary to land Butler, and the Sixers would do it over again every day of the week, but it will be interesting to see whether a player who was an afterthought in that deal will hamstring the franchise's trade options later in the season.
Photo courtesy of USA Today Sports Images.
Salary information from Basketball Insiders was used in the creation of this post.